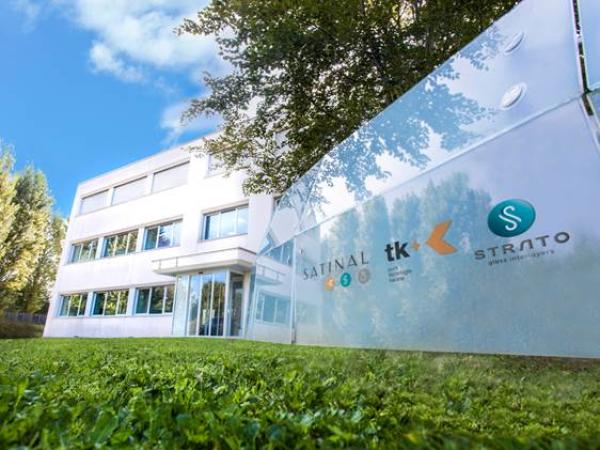 Photo source
Satinal Group
Next week Satinal will be attending Vitrum 2023, the international fair where glass technology comes alive.
Being up-to-date has always been a duty for Satinal. This is why it follows global trends, technological innovations and industry innovations by attending selected trade fairs worldwide.
At hall 7, booth G30_H29 Satinal team will be glad to welcome you and sharing all the latest news concerning the reference market.
Satinal booth FOCUS ON preview: 
Low carbon footprint test results.
Recently STRATO® has been object of in-depth analysis aiming to assess the environmental profile of its product range, in terms of CO2 impact, considering life cycle of the materials and secondary products involved.  
The assessment was carried out following the reference standards for life cycle analysis (ISO 14040:2006 and ISO 14044:2006).  
The results obtained confirmed STRATO® EVA Carbon Free range to be the best European carbon neutral product range. STRATO® obtained the ISCC PLUS certification with a score of 1,13 [kg CO2 eq] which is an extraordinary result compared with the 4.5 [kg CO2 eq] of the best potential competitor.  
With 1.13, the environmental profile of STRATO® is a reference score for developing a road map toward zero-carbon aspirations in 2050. The challenge is to create a sustainable option for customers who would buy responsibly with a look to the global warning impact.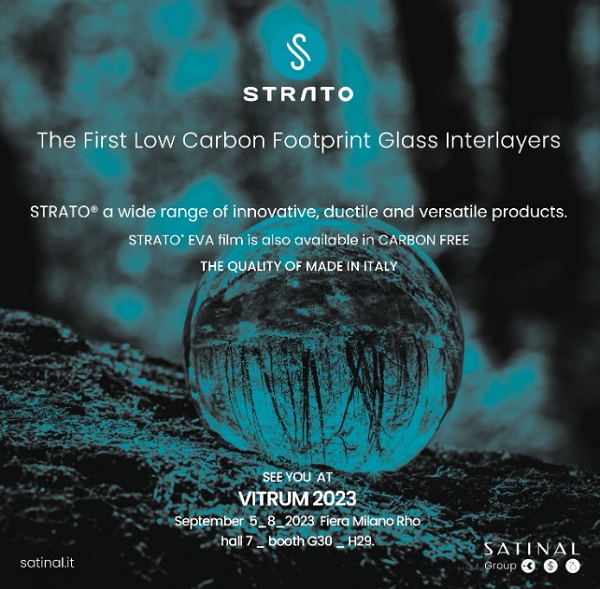 A new STRATO® Collection Products: a complete and professional tool designed to better present STRATO® product range. Come and visit Satinal booth to discover the new Made in Italy collection! 
TK Glass machinery italian quality. Find out the wide range of TK products, designed to meet the demand of medium and large companies that need to start production or increase their production capacity and improve the quality performance of the finished product.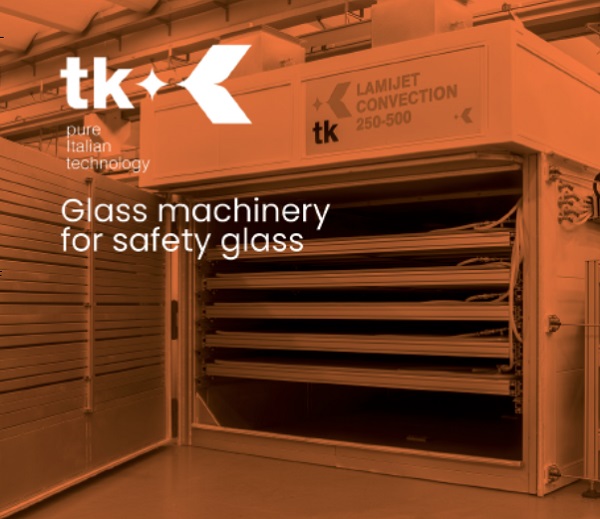 Working in close collaboration with customers, TK relies exclusively upon the best Italian technology and European components to meet its high quality and standards requirements - providing 100 percent customized solutions. 
In seeking to best provide the most appropriate and personalized solutions, TK applies a tested methodology that relies upon great attention to all steps: briefings on customer requirements, made to measure solutions, equipment design and development right up to on-site, remote and local installation, staff training and aftersales assistance.
Last but not least, Satinal Open Factory.
Preparations for the Open Factory event are underway! From 5th to 8th of September, Satinal we will be opening the doors of its plant in Erba headquarters.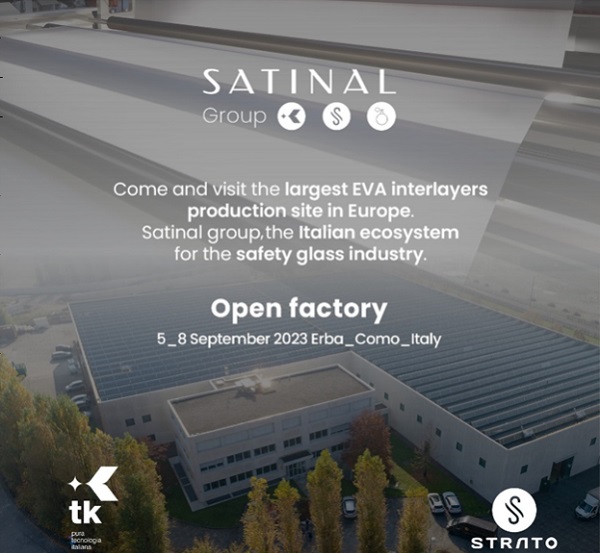 An exclusive and unique tour experience of the biggest EVA plant in Europe!
 
If you are interested in a tour of Satinal production site please confirm your participation writing to marketing@satinal.it indicating preferably day and time of availability.
Satinal team is looking forward to welcoming you at Vitrum 2023, to show all the latests news, best italian sustainable methodology applied on TK kilns and STRATO® product range.
Contacts:
E. info@satinal.it
S. www.satinal.it
T. +39 031 870573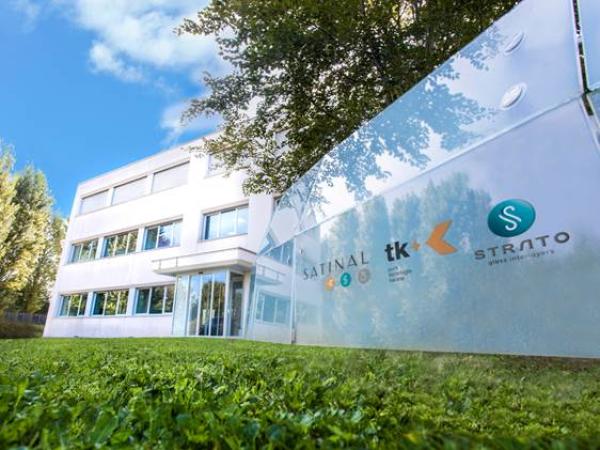 600
450
Satinal Group
2023-08-31T07:54:35
Satinal Group gets ready for Vitrum 2023
glassonweb.com