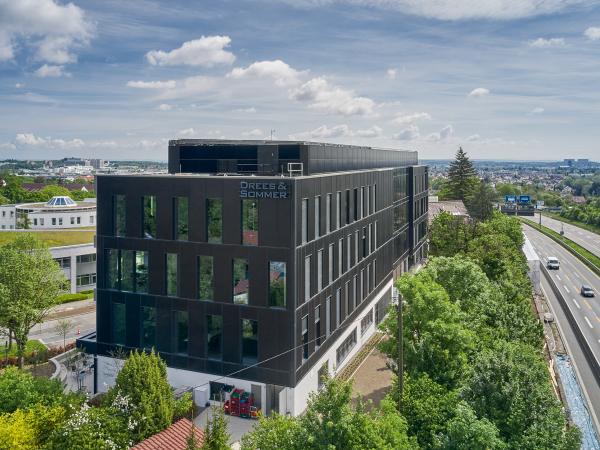 Photo source
Photographer: Jürgen Pollak / Drees & Sommer SE
New office building on the Drees & Sommer campus
With their own new office building Obere Waldplätze 12 in Stuttgart, known as OWP 12, Drees & Sommer has brought their business philosophy of "sustainable, digital, innovative, economic" to life and used lots of promising, futuristic technology from the construction industry to achieve this. OWP 12 was created using the newest planning and building methods in accordance with the Cradle to Cradle principle and it shows what energy-plus architecture can do today thanks to the slimline, high performance façade with building integrated photovoltaics (BIPV) from Schüco.
OWP 12 towers like a monolith over the A 831 just outside Stuttgart. With its compelling design the 20 metre wide and 70 metre long cuboid, designed by the Stuttgart based firm SCD Architekten Ingenieure GmbH, is a real eye-catcher. In accordance with the client's sustainability requirements the building materials used in large parts of the building largely comply with the Cradle to Cradle concept.
At the end of the 1990s, the German chemist Michael Braungart and American architect William McDonough joined forces and developed the sustainable concept of the circular economy: Cradle to Cradle, C2C for short. With regard to the construction industry, even during the construction phase the clients should think of its future demolition. In simple terms, the aim is to avoid waste and to use raw materials that, at the end of the property life cycle, will ideally have the same value for new construction projects. For this, all materials used must be, as far as possible, able to be separated into individual materials, able to be dismantled, free of pollutants and recyclable.
BIM for sustainability and prefabrication
The building materials used in the project were documented in detail in a materials passport based on the BIM model. "With the BIM model we know exactly which module with which materials we built in which location. This digital memory is therefore also a basic prerequisite for greater sustainability," explained Johannes Wiesinger, a senior technical building services expert at Drees & Sommer. The digital planning also enabled a high level of prefabrication of the modular façade and a series module fabrication that saved time and costs. Despite its technical complexity, the entire façade of OWP 12 was installed in only two-and-a-half weeks. In total, OWP 12 took two years to build, cost 22 million euros and is a blueprint for efficient cross-trade collaboration in terms of a sustainable overall concept.
The building envelope – a mini power station
The e-coFace façade from the façade fabricator FKN and Evonik combines high-end thermal insulation with sound reduction and consists of innovative, sustainable materials in several highly insulating layers. The aluminium profiles constructed by the Schüco Engineering team for this purpose have a basic depth of 90 mm and use the tried and tested internal design with thermal partitions, gaskets and insulation based on the AWS 75 aluminium window system. The gasket and coupling system from the USC 65 unitised façade series was also used. The newbuild OWP 12 is designed as an energy-plus building which will create more energy than it uses when it is in operation. The energy generation comes from geothermal and air-heating pumps as well as from photovoltaic units that are both on the roof and integrated into the façade and glazing units.
BIPV in transparent and opaque surfaces
The Schüco BIPV (Building Integrated Photovoltaics), which is on almost 700 m² of the façade surface on the south and west sides of the building, has an output of around 70 megawatt hours per year. That is about 40 percent of the PV output. Both transparent, triple-glazed insulating glass BIPV modules with black monocrystalline cells and black monocrystalline BIPV glass-glass modules were used as opaque, forward-mounted units in front of the main façade. "The requirement to reduce the natural reflection of the PV modules along the motorway due to traffic safety concerns was a challenge," explained Marco Schech, the leading project engineer for BIPV (Building Integrated Photovoltaics) at Schüco. "We then finally found a special cover glass which significantly reduced the reflection, thanks to its unusual surface structure, and fulfilled the official requirements." An interesting side effect is that the solar energy output through this special glass is actually 3% higher.
BIPV as a design element
Schech is pleased that the niche topic of BIPV is currently gaining enormous momentum due to new political requirements and a rethink among clients and companies. BIPV is also growing in popularity amongst developers because building integrated photovoltaics nowadays enables even more interesting design effects and does not limit an architects creativity. "For the OWP 12 project the PV units had 32 different formats which is quite common. This is how BIPV nestles into the different window arrangements as well as outer and corner areas and follows the architectural form perfectly." David Schenke, architect and façade specialist at Drees & Sommer, can only confirm this, "Our design goal was to integrate the photovoltaics into the façade as a design element, without letting it dictate the visual appearance, and that has worked well for us. I am an architect at heart and I think that the BIPV façade from OWP 12 is a very aesthetic solution."
More information on the wide range of applications for BIPV in Schüco systems can be found at www.schueco.de/bipv-en
Project details
Project title: OWP 12 (Obere Waldplätze 12)
Client: Drees & Sommer
Architect: SCD Architekten Ingenieure GmbH
Façade designer: Drees & Sommer
Location: Stuttgart-Vaihingen
Usage: Office building, administrative headquarters
Gross floor area: 7000 m²
Project duration: July 2017 - December 2021 
Investment costs: 22 million euros
Energy concept: Energy-plus standard
Combination of geothermal and air-heating pump
Photovoltaic units on the roof
BIPV (Building Integrated Photovoltaics):
Fabricator for façade systems: FKN Fassaden GmbH, Neuenstein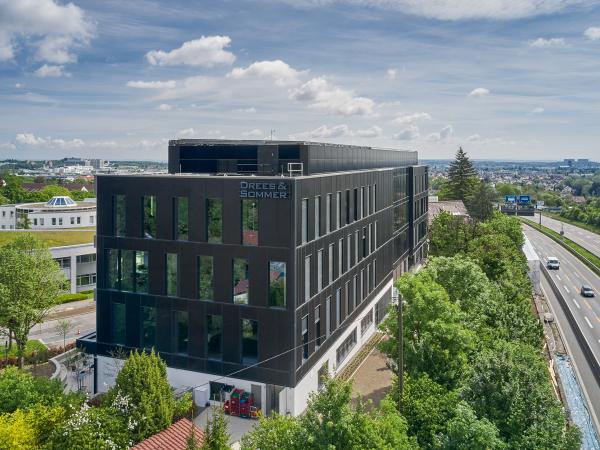 600
450
Schüco International KG
2023-10-23T07:00:00
OWP 12 – a green powerhouse with BIPV from Schüco
glassonweb.com