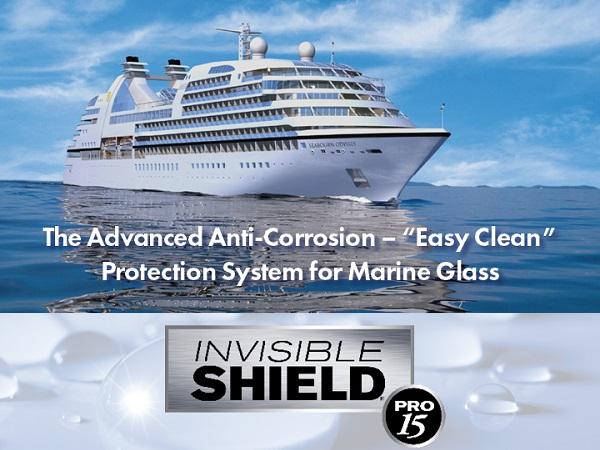 Cruise Industry News features Unelko's Innovative Nano Scale Technologies. Now, High Volume of Glass on Large Ships Can Now Withstand the Harsh Marine Elements Longer than Ever.
Scottsdale, AZ-Unelko Corporation's Invisible Shield® PRO 15 and REPEL® have shown to protect and preserve marine glass for at least 15 years.
As Heather Ohlhausen, Unelko Corporation's Director of Marketing noted, Invisible Shield PRO 15 and REPEL are so impressive in their ability to prevent permanent staining, damage and degradation of marine glass, "Cruise Industry News" offered Unelko an exclusive advertorial.
The timing for this news could not be better; growth within the cruise industry is continuing at a rapid pace, with billion dollar "mega" ships being constructed with a huge amount of glass, plastics, windows, skylights and other surfaces that allow breathtaking views of the ocean.
Until now, cleaning and maintaining all of the glass and other surfaces on a ship has been challenging-due in large part to the constant exposure to salt spray and the harsh marine environment.
Thanks to The Invisible Shield PRO 15 and REPEL nano scale technologies, glass and other polycarbonate surfaces on cruise ships can be cleaned and protected for years at a time.
"The products are being used widely by cleaning contractors and commercial cleaning companies in various industries, to protect and preserve the large volume of ship glass and other surfaces to prevent permanent staining, damage and degradation," Ohlhausen said.
"Our technologies can be applied to new surfaces, as well as older and worn glass."
By microscopically sealing the surface, Invisible Shield PRO 15 and REPEL will form a "covalent bond," and protective finish that prevents the adhesion, build up and penetration of salt, contaminants and stains. They can also easily be applied by ship crews, Ohlhausen added.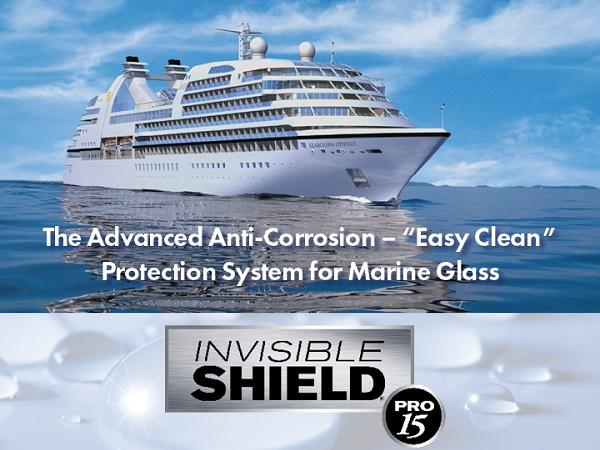 600
450
Unelko Corporation
2019-05-30T11:00:00
INVISIBLE SHIELD® PRO 15 is the "easy clean" solution to preserve & protect marine glass against the elements
glassonweb.com