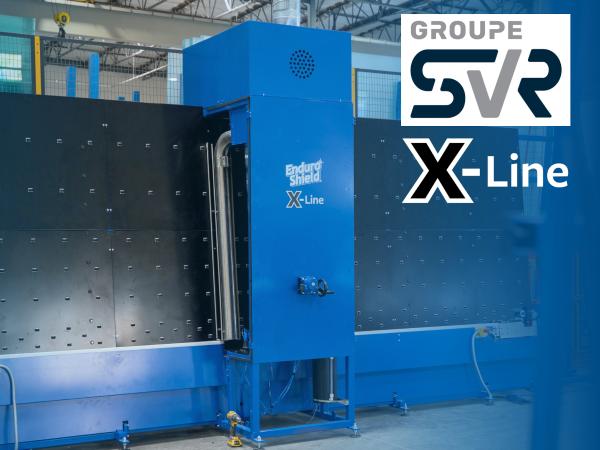 Photo source
EnduroShield
Setting a New Benchmark in Glass Innovation
Groupe SVR, a leading Canadian glass fabricator, has proudly announced the integration of the EnduroShield X-Line automatic glass coating machine into its state-of-the-art facility. This strategic move underscores the company's commitment to innovation, efficiency, and delivering unparalleled quality to its customers.
"To truly be the Amazon of the glass industry, we need tools like the X-Line that check all the boxes." Mark Rufiange
Founded by Patrick Bouffard and now helmed by his son Raphaël Bouffard, Groupe SVR has evolved from its roots as a glass installation enterprise to a premier glass fabricator and distributor in the province. The company's deep understanding of its clientele is evident in its operations. 
Mark Rufiange, Production Director for Groupe SVR, emphasizes "We know our customers. We understand their needs. Our focus on automation is a testament to our dedication to meeting the exacting demands of our clients, ensuring swift lead times and consistent quality."
Rufiange further elaborates on the company's vision, "We aspire to be the Amazon of the glass industry, emphasizing quality custom glass with unmatched lead times. Our emphasis on automation ensures consistency, which in turn guarantees quality and swift delivery. The better we perform, the more opportunities our customers have to succeed."
Groupe SVR's extensive product range includes architectural glass products ranging from 4mm to 19mm across diverse substrates. Catering to both commercial and residential sectors, the company offers solutions for interior and exterior applications. The decision to incorporate the X-Line was driven by Groupe SVR's relentless pursuit of innovation and automation.
"Our experience with EnduroShield has been nothing but positive. It's a product in demand, and the X-Line is a testament to our belief in its capabilities." Mark Rufiange
Rufiange explains, "The X-Line double-sided application delivers consistency and nullifies the margin for error. Its flexibility means that, unlike other machines on the market, there is no requirement to wait until it is filled up to make it practical. With the X-Line we can treat what we want, when we want, averaging 30 seconds per panel and reinforcing our commitment to swift deliveries." 
Designed by EnduroShield, the X-Line epitomizes customer-driven design. Its fully automated vertical system revolutionizes the application of the EnduroShield easy clean glass coating. Rufiange is confident that the X-Line will seamlessly integrate with Groupe SVR's existing production equipment, furthering their automation goals.
"We're integrating automation across the board with an advanced ERP system that will monitor the overhaul and the implementation of online ordering and processing. To truly be the Amazon of the glass industry, we need tools like the X-Line that check all the boxes." Mark Rufiange
EnduroShield X-Line Machine
600
450
EnduroShield
2023-09-11T08:00:00
Groupe SVR Embraces EnduroShield's X-Line Machine
glassonweb.com