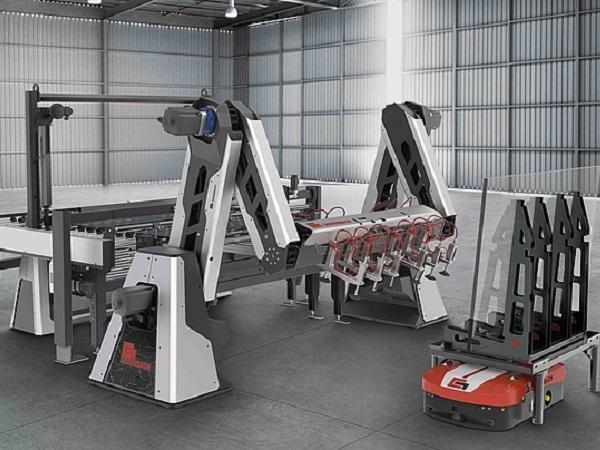 Digitalization in the glass industry - Perfected on the digital twin.
Industrie 4.0, digitalization, big data, and smart data are nothing new for Grenzebach. Among other things, for many years the high-tech company has been simulating the flow of material in complex plants for manufacturing and processing flat glass, so that it can be sure of the design before the plant is built and commissioned. Grenzebach relies on the Plant ­Simulation 3D software from Siemens, its preferred supplier of control and drive technology.
With its Grenzebach Application Server, the company also provides an IIoT platform for the data-based ­optimization of its systems. Grenzebach and ­Siemens are on the same wavelength when it comes to many areas relating to digitalization, and they ­continually apply their expertise syner­gistically to generate innovative solutions.
Innovative 3-axis fast stacker
This was the case with the development of the new tin-air speed stacker for stacking all types of glass sheet. Unlike the existing solutions, the innovative 3-axis fast stacker can pick up glass sheets from the tin side or the air side and immediately place them vertically on a glass rack – and it does it quickly, at a rate of up to 20 times per minute, which means about a 30 percent higher stacking rate than the previous technology. This makes the innovation the highest-performance stacker in its class on the market.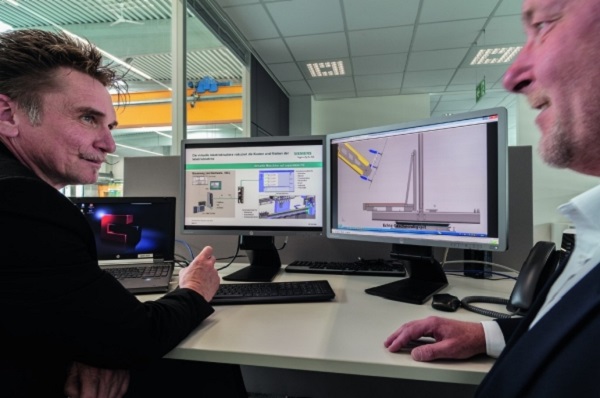 "This initial project has already proved that the digital twin saves both costs and development time and helps minimize risks." Roland Jenning, head of Innovation at Grenzebach.
The foundation of the stacker is a new servomotor-driven swing-arm stacker design with two synchronously operated articulated arms and a pivotable suction frame at the front end. This means that the suction frame level can be made to traverse a freely definable trajectory from a horizontal orientation to practically any angular or stacking position. The design covers a stacking depth of about 900 millimeters, eliminating the need for a linearly backward indexing glass rack – which in turn saves investment costs at the customer end.
Siemens was involved in the development project from the very start and assisted the Grenzebach engineers with developing the concept and selecting suitable control and drive technology. A Simotion D445 motion controller with a Handling Advanced universal library plus modular Sinamics S120 converters and Simotics S servomotors are responsible for controlling, or rather calculating on the fly, during operation.
First-time generation of a digital twin
The new approach placed higher demands on motion control and collision detection than classic stackers. "Also, in order to come to grips with potential kinematic singularities similar to those of an articulated-arm robot, we decided to build a digital twin first," says Roland Jenning, head of Innovation at Grenzebach. What they built was a virtual mechatronic model of the stacker that could be simulated and optimized in detail on a PC. Specialists from Siemens contributed a ­mathematical model for Simotion.
The digital twin was created using the NX Mechatronics Concept Designer (MCD) software from Siemens, based on Grenzebach's mechanical 3D design. This design was entered into MCD as a Step file and supplemented with relevant properties including mass inertias, dynamic threshold values, and interfering edges for collision detection to create a kinematic model that can be graphically animated.
The first motion control program for Simotion had already been created, so it was possible to prepare for virtual commissioning at an early stage. This parallelization of formerly sequential development steps is a tremendous time-saving benefit of the digitalized approach.
Simulated with hardware-in-the-loop
A hardware-in-the-loop setup was chosen to realistically simulate the programmed motion sequences on the digital twin. For this, the designated Simotion CPU is connected to the kinematic model in the Mechatronics Concept Designer via a Simit simulation unit, and actions, reactions, and signal propagation times are parameterized in a behavior model.
This makes it possible to emulate the interaction among all the participants connected to the Simotion CPU via Profinet. The program can then be tested as usual using the Simotion Scout engineering program, with MCD graphically animating the resulting traversing motions and Simit indicating errors.
This allows any vulnerabilities to be visualized in three dimensions and sequences to be successively optimized – all without manufacturing a single component or having to alter it multiple times. Finally, a largely fault-free program is transferred to the first real machine. Overall, the actual commissioning time and time to market were reduced to a significant degree.
"This initial project has already proved that the digital twin saves both costs and development time and helps minimize risks," says Jenning. And the digital twin's usefulness doesn't stop there. Once it's been generated, it can also be used to virtually simulate and verify future changes or sequences for new rack / product versions in advance – without interfering with ongoing production.
Picture credits: Siemens AG
600
450
www.siemens.com
2018-10-12T07:00:00
Grenzebach introduces a new tin-air speed stacker – the first to be virtually optimized
glassonweb.com