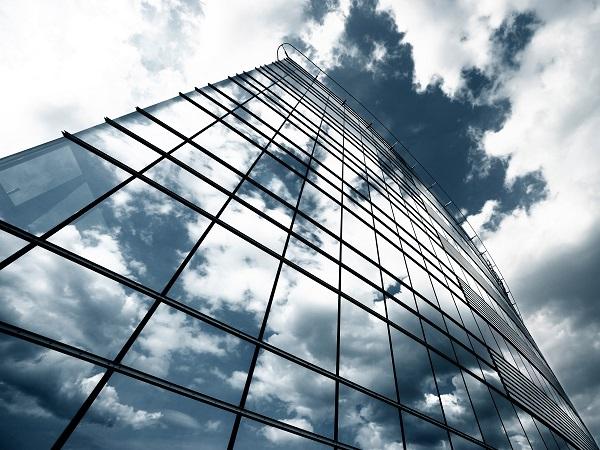 Dow is now offering the opportunity to realize an aesthetically pleasing "one-color-edge" for insulating glass.
Dow is now offering designers and specifiers the opportunity to realize an aesthetically pleasing "one-color-edge" for insulating glass, which is a key design element in modern glass facades. This color matched edge sealant system is comprised of a DOWSIL™ Primary and Secondary Sealant which, when combined, offers high performance in gas-filled insulating glass for a homogenous appearance and improved aesthetics at the glass edge.
DOWSIL™ 335 Butyl Sealant Special Black is a heat applied polyisobutylene (PIB) which is suitable for use as the primary edge seal and acts as a gas and moisture barrier. DOWSIL™ Secondary Silicone Sealants help maintain the integrity of both air and gas-filled dual and tripleglazed insulating glass units used in residential and commercial projects. Developed for use in glass assembly using both standard and warm-edge plastic or metal spacers, DOWSIL™ 335 Butyl Sealant Special Black is in full compliance with EN 1279 in an insulating glass (IG) system and offers a very low rate of moisture vapour transmission and gas permeability. It is also compatible with neutral DOWSIL™ Façade Silicones including high quality DOWSIL™ 993 Structural Glazing Sealant.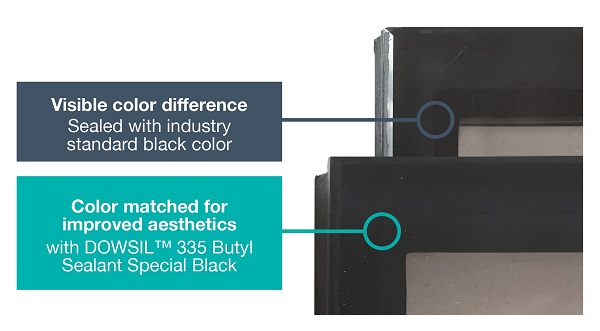 High performance in warmer climates
DOWSIL™ 335 Butyl Sealant Special Black is suitable for use in high performance glazing systems and designed to perform even under elevated temperatures in specific designs or warmer climates. It's high temperature resistance of up to 95-100°C, reduces the risk of trickles or flows of the butyl within the insulating glass. With good physical adhesion to glass and a variety of warm-edge and standard spacers, DOWSIL™ 335 Butyl Sealant can be easily applied using standard dispensing equipment.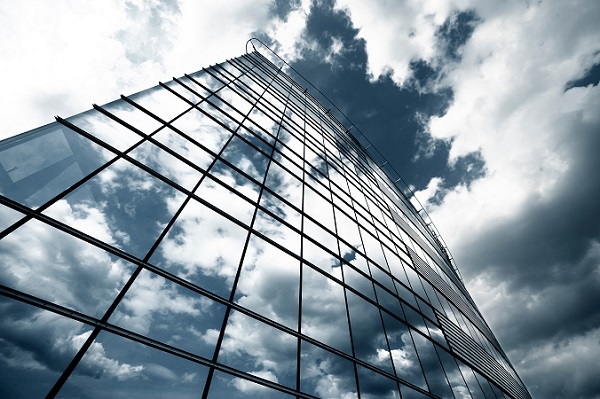 Support and experience
Dow offers a full range of high performance residential and commercial insulating glass sealant and structural façade bonding and insulation options under the DOWSIL™ Brand name which can help you meet the challenges of today and help enable distinct architectural possibilities. Our technical specialists are ready to offer advice, training and leading project support. We invite you to visit dow.com/buildingscienceconnect or find local contact information at dow.com/contactus.
About Dow Building & Infrastructure
Dow Building & Infrastructure, part of Dow Consumer Solutions, collaborates with industry professionals around the world to develop options to enhance design and aesthetics, increase durability, advance the energy efficiency of buildings, and improve the health and safety of building occupants. Taking a holistic approach, Dow brings together experience from across the company to help customers find solutions to a wide range of high-performance building challenges. Featuring DOWSIL™ brand products Dow's high-performance building options include proven materials for structural and protective glazing, weatherproofing, insulating glass, window and door fabrication, and building materials protection, as well as innovations for highefficiency insulation, lighting, and the incorporation of photovoltaic cells and solar panels into building design. Visit dow.com/construction to learn more.
About Dow
Dow (NYSE: DOW) combines global breadth; asset integration and scale; focused innovation and materials science expertise; leading business positions; and environmental, social and governance (ESG) leadership to achieve profitable growth and deliver a sustainable future. The Company's ambition is to become the most innovative, customer centric, inclusive and sustainable materials science company in the world. Dow's portfolio of plastics, industrial intermediates, coatings and silicones businesses delivers a broad range of differentiated, science-based products and solutions for its customers in high-growth market segments, such as packaging, infrastructure, mobility and consumer applications. Dow operates 104 manufacturing sites in 31 countries and employs approximately 35,700 people. Dow delivered sales of approximately $55 billion in 2021. References to Dow or the Company mean Dow Inc. and its subsidiaries. For more information, please visit www.dow.com or follow @DowNewsroom on Twitter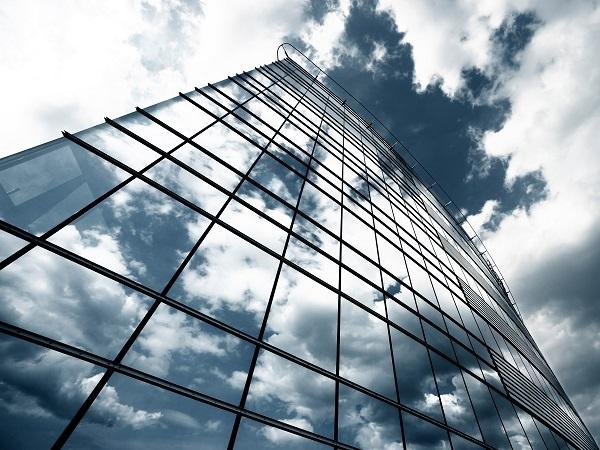 600
450
www.dow.com
2022-06-22T11:00:00
Dow: Improve the aesthetics and performance of insulating glass
glassonweb.com