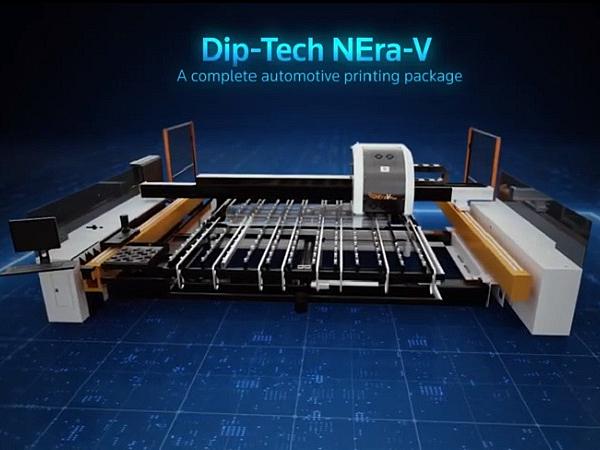 Photo source
www.dip-tech.com
This speedy, fully automated machine is ready to make digital glass printing for serial production your advantage.
The race is on to China Glass 2019, where Ferro, a world leading provider of functional coatings and color solutions for glass, is getting ready to share its complete automotive glass printing solution, starring the Dip-Tech Nera-V, from Ferro.
The Dip-Tech NEra-V is a fast and precise serial production solution for digital printing of automotive and special transportation glass. 
Its competitive advantages begin with the Raster Master, a unique plug-in that automatically creates gradient raster dots on automotive frame patterns, enabling significant labor savings. Highly user-friendly, the automated dynamic registration system enables fast setup even when printing complex, asymmetric glass panels. And the advanced print engine, variable drop size, controllable drop fix system, and full temperature control of both glass and printheads deliver consistent, high-quality results on long runs.
Ink changeover is quick and simple, with low waste, and can be done while the machine is printing. The Dip-Tech NEra-V solution includes a portfolio of standards-compliant automotive inks, that deliver high visual and functional performance for varied automotive applications. These include a broad range of Ferro industry standards-compliant glass enamels, organic inks, and digital inks, including automotive black Toyota 72, Anti-stick, and Conductive.

To hear more about the Dip-Tech NEra-V, come meet Dip-Tech's professional team in Hall E1, Booth #455 at China Glass 2019 in Beijing, China from May 22-25.
Or, stop by the booth on Thursday, May 22 at 15:00 for a riveting live event covering Ferro and Dip-Tech's Complete Solution for Automotive.
Or find more information here
https://www.dip-tech.com/products-nm/automotive-market/printers-2/nera-v
600
450
www.dip-tech.com
2019-05-20T09:00:00
Dip-Tech NEra-V - A complete automotive printing package Versatility, precision, style
glassonweb.com