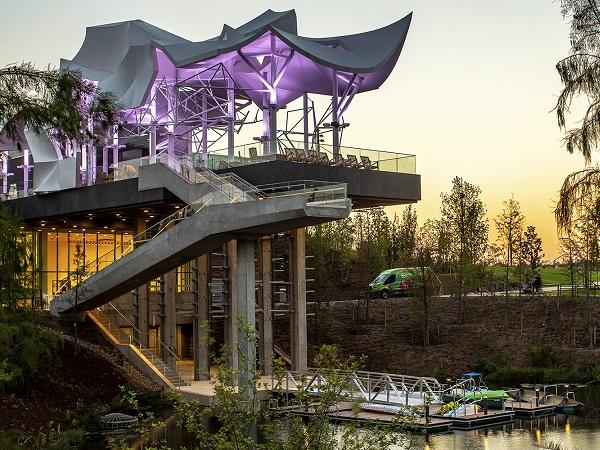 Photo source
dfisolutions.com
Diamon-Fusion low-maintenance coating to be applied to over 31,000 sq.ft. of high-profile glass at Gathering Place Riverfront Park.
Diamon-Fusion International (DFI) is thrilled to announce that they have been awarded the opportunity to apply Diamon-Fusion low-maintenance coating to various facades in Tulsa's newly built park – Gathering Place. The ground-breaking project, which currently features more than 66 acres of activities, will utilize Diamon-Fusion's easy-to-clean glass features on more than 31,000 sq. ft. of high-performance, insulated commercial glazing, including the parks "Boathouse" (central gathering place) and Williams Lodge (the parks welcoming and iconic structure).
"With such a large amount of glass surfaces to maintain and a high-degree of expectations as to the level of that maintenance, our team was challenged to ensure glass structures throughout the park would be simple to clean and stay beautiful, explained Josh Henderson, Vice President of Operations, Gathering Place. My research led me to DFI and they pointed me to the superior stain resistance and ease of cleaning Diamon-Fusion offers. The rest is history."

As briefly noted above, Diamon-Fusion low-maintenance coating creates an ultra-thin, transparent barrier that seals the peaks and valleys of the glass. This process enables water, oils, debris and other harmful contaminants to easily repel off the glass, inevitably reducing the time and costs needed to maintain facades… similar to a non-stick cooking pan.
"We are incredibly proud to have been awarded a project where sustainability is at the very heart of its design and mission. Every piece of glass used in the parks design has been specialized to fit a unique aperture in the façade, creating a distinctive challenge in maintaining the appearance of the glass. Applying Diamon-Fusion will ensure the glass is protected from the environment and create beautiful, longer-lasting glass." stated Carl Christ, Vice President of Technical Services and Business Development at DFI. 
Construction of Gathering Place began in the middle of 2014 and is now set to open in late summer 2018, serving as a cornerstone for a vibrant community in Tulsa, Oklahoma. The project was pioneered by the George Kaiser Family Foundation, funded by a mix of corporate/philanthropic Tulsa organizations and designed by renowned landscape architect Michael Van Valkenburgh Associates. It will ultimately transform nearly 100 acres of Tulsa's beautiful waterfront, along the Arkansas River.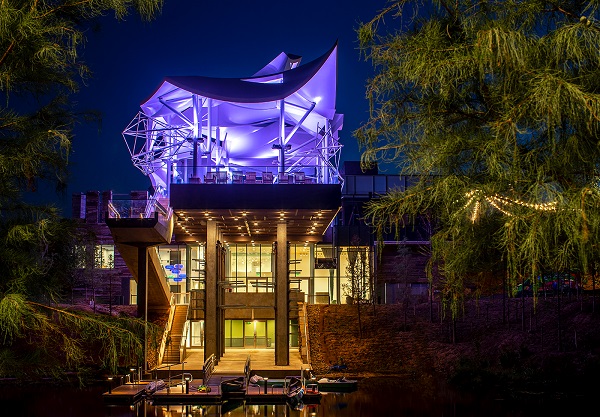 For more information about Diamon-Fusion International or Gathering Place, please visit www.dfisolutions.com  or www.gatheringplace.org, respectively.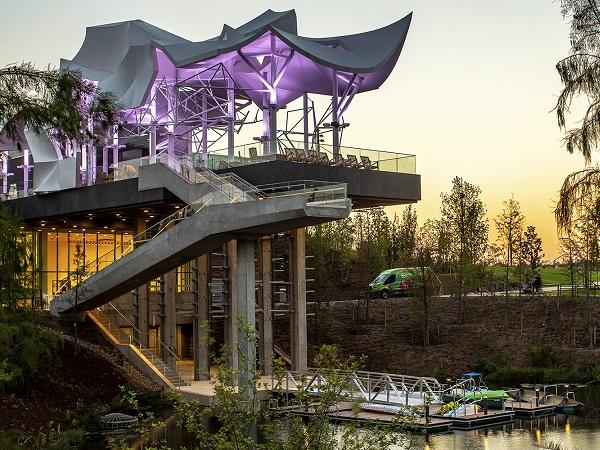 600
450
dfisolutions.com
2018-09-20T11:50:00
DFI Awarded World Class Riverfront Park Project in Tulsa, Oklahoma
glassonweb.com