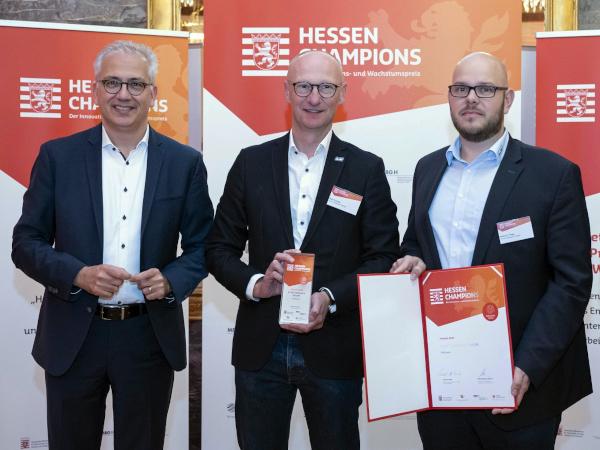 Photo source
A+W Software
Software from Hesse to the world: Minister of Economics Tarek Al-Wazir honoured the Pohlheim-based company A+W as a finalist in the 'World Market Leader' category.
This category honours Hessian companies that are global leaders in their industry with a product or service. The winners are selected by a jury from business, politics and the media.
Since the company was founded in 1977, A+W Software-GmbH has repeatedly developed innovative products and processes for the glass and window industry that mean real added value - essentially savings in glass waste, intelligent glass sorting for process optimisation and improved quality through automated glass handling. By applying A+W cutting optimisations, an average medium-sized insulating glass company reduces global CO2 emissions by about 30 tonnes per year - that adds up to megatonnes worldwide!
"With their products and services, the 'Hessen Champions 2022' contribute to shaping the change towards a climate-neutral, sustainable and future-proof economy," explained Minister of Economics Tarek Al-Wazir.
61 Hessian companies had applied to be Hessen-Champions this year. "Hessen-Champions" is a competition organised by the Hessian Ministry of Economics, the VhU (Association of Hessian Business Associations) and the Mittelständische Beteiligungsgesellschaft Hessen, carried out by Hessen Trade & Invest GmbH (HTAI).
The award ceremony for the winners and finalists took place on November 1st in front of more than 1000 invited guests at the Wiesbaden Kurhaus - under the motto "Redesigning globalisation. Securing the competitiveness of the Hessian economy in the changing world markets".
A+W is one of three finalists in the "World Market Leader" category - a great award for the entire A+W team. Winner was the company VACUUMSCHMELZE GmbH from Hanau - a great company that we congratulate from Pohlheim!
Photo above | Great joy at A+W about the award as finalist of the Hessenchampions - from left: Tarek Al-Wazir, Hessian Minister of Economics, who presented the award; Kai Frenzel, COO A+W Cantor; Dennis Tiegs, COO A+W Clarity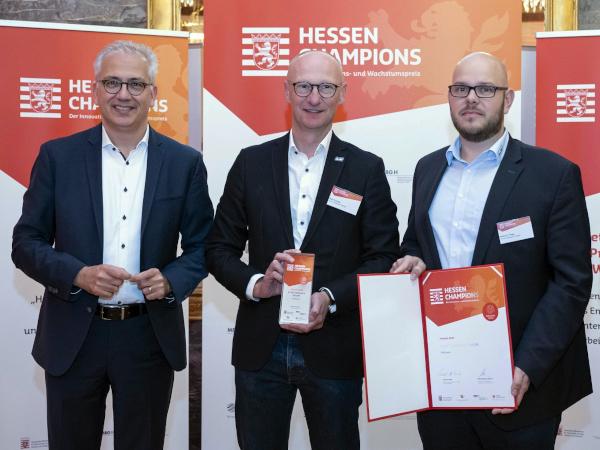 600
450
A+W Software
2022-11-04T06:10:00
A+W awarded finalist in the 'World Market Leader' category
glassonweb.com