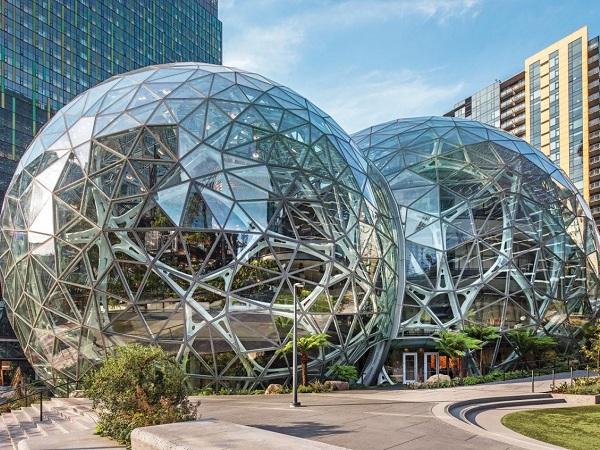 Photo source
www.vitroglazings.com
SOLARBAN 60 STARPHIRE glass supports unique forested atmosphere inside new glass-domed headquarters.
Vitro Architectural Glass (formerly PPG Glass) announced that The Spheres, Amazon's new glass-domed headquarters in downtown Seattle, has won a Best of Design Award in the "Facades" category from Architects' Newspaper. The 650,000-square-foot structure was constructed with Solarban® 60 and Starphire Ultra-Clear® glasses by Vitro Architectural Glass.
Designed by NBBJ, Seattle, as a trio of conjoined glass domes, The Spheres features five floors of meeting, relaxation and collaborative space, and contains terraces, a waterfall, river features and a forest garden consisting of more than 40,000 plants.
Solarban 60 and Starphire Ultra-Clear glasses were chosen by NBBJ for their clarity and ability to facilitate photosynthesis. Maximizing the amount of solar energy entering the building while limiting heat was imperative, according to David Sadinsky, a senior associate with the firm.  "Anything we did on the glass or low-e coating that would interfere with that process was a barrier," he explained. "That led us to look at glass composition, which eventually drove us to low-iron glass and a specific low-e coating that allowed for 480 nanometers of light to come in while rejecting heat."
NBBJ modeled more than two dozen glass products before specifying Solarban 60 coating on a Starphire Ultra-Clear glass substrate. "The primary performance criteria we were looking for was the ability of the glass to transmit a specific portion of the solar spectrum to facilitate photosynthesis, while still providing a nice architectural appearance and a clean, white-appearing light," Sadinsky added.
When united in a standard 1-inch insulating glass unit (IGU), Solarban 60 on Starphire Ultra-Clear glass produces visible light transmittance (VLT) of 74 percent and a solar heat gain coefficient (SHGC) of 0.41.
Northwestern Industries, Seattle, a Vitro Certified™ Network member was the glass fabricator. ENCLOS, Seattle, engineered, fabricated and erected the wall. 
Architects' Newspaper's Best of Design Awards is a unique project-based awards program that showcases great buildings, building elements, interiors, and installations. Entries compete in 45 categories and are judged according to criteria such as evidence of innovation, creative use of new technology, sustainability and design.
To learn more about Solarban 60 glass, Starphire Ultra-Clear glass and other high-performance Vitro Architectural Glass products, visit www.vitroglazings.com.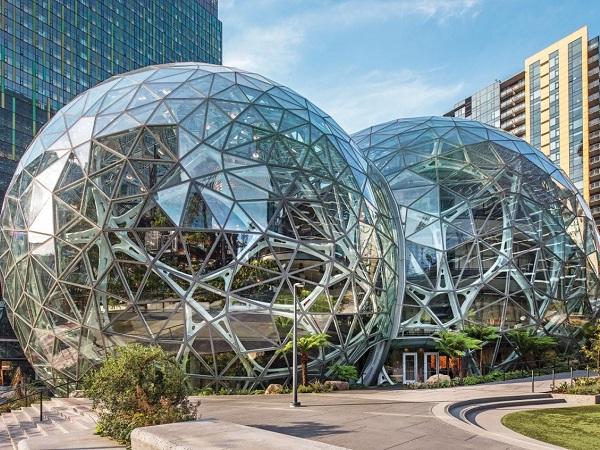 600
450
www.vitroglazings.com
2018-12-11T11:00:00
Amazon Spheres with Vitro Architectural Glass selected as "Best of Design Award" winner by Architects' Newspaper
glassonweb.com