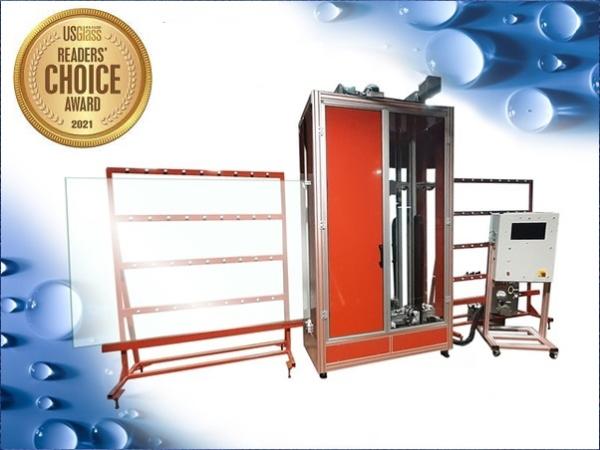 Photo source
Unelko Corporation
Invisible Shield® MICROBURST™ Glass Coating Equipment Wins 2021 USGlass Reader's Choice Award
Unelko Corporation, a Phoenix, Arizona (USA) based manufacturer of protective coatings and specialty cleaners is proud of its new Invisible Shield® MICROBURST™ Two-Sided Vertical Glass Coating Machine. The machine is unmatched from an operational, performance and safety standpoint. The Microburst brings major improvements to the commercial glass & coatings industry.
Most significant products from 2021 

Invisible Shield PRO 15 Protective Glass Coating molecularly bonds to glass utilizing ultraviolet & infrared curing technology through the machine. The durable protective coating application provides an effective solution to prevent scratching, pitting, staining, other environmental corrosion, damage to glass for easier cleaning, and long-term preservation.
The machine was designed for all sizes of glass fabricators and manufacturers who are looking for high output, space saving and energy efficient automated systems to protect volume glass including shower glass, windows, façades, IG units, partitions, railings, skylights, sand blasted/etched glass, decorated glass, windshields and much more.
Steven Ohlhausen, President of Unelko Corporation, has stated "The Microburst is even outfitted with an automated "self-cleaning" spray function, so glass exits the machine durably protected, clean and ready to install; features you just don't see on other machines."
The design allows for working on a multitude of glass thicknesses without adjustments or setup by the operator. The upper rail system is controlled to accommodate a variety of glass heights. Built in sensors automatically detect and treat only the glass in the cabin, eliminating any waste. Treated glass sheets can be offloaded with an auto-exit feed, further reducing operator interaction.
Heather Lyons, Marketing Director of Unelko states, "Unelko researched the available application equipment for these types of protective coatings; they were inefficient, they wasted product; they were literally only large spray units that presented several concerns to the industry."
For more information about the MICROBURST, visit https://glasscareexperts.com/microburst-machine/
Unelko Corporation is recognized as a leader in Advanced Glass Care & Coating Technologies for the preservation and "preventive cleaning" of all residential and commercial glass. www.unelko.com or www.glasscareexperts.com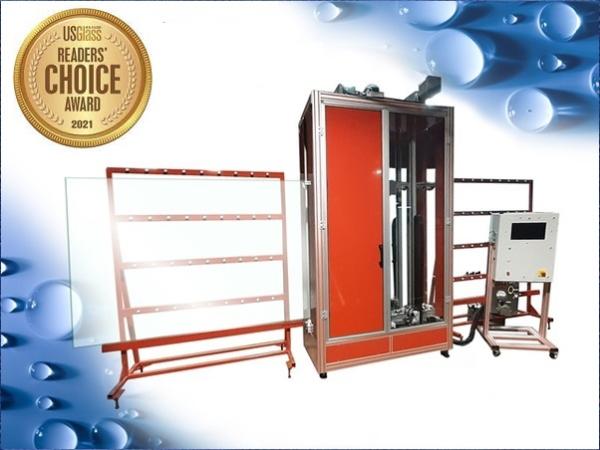 600
450
Unelko Corporation
2022-02-02T05:00:00
Unelko won the USGlass Reader's Choice Award!
glassonweb.com