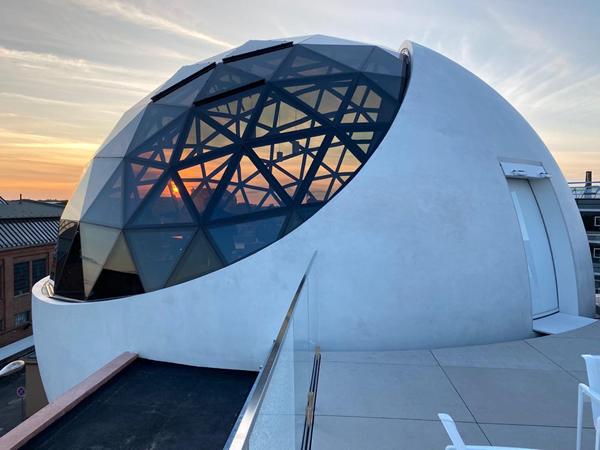 The Niemeyer Sphere – one of the final designs of renowned Brazilian architect Oscar Niemeyer – has opened in Germany. Key to realizing his vision was our eyrise liquid crystal dynamic glass technology.
Renowned Brazilian architect Oscar Niemeyer was hailed as a great artist and one of the greatest architects of his generation. In 2020, what's believed to be one of his final designs was inaugurated in Leipzig, Germany.
Known as the Niemeyer Sphere, this stunning building is based on a sketch drawn by Niemeyer in 2011, at the age of 104. The sketches were further developed by his assistant Jair Valera, with the project then executed by Harald Kern architects.
Located at the Techne Sphere industrial complex in the district of Plagwitz, the stunning white concrete and glass sphere now inhabits the corner of a 19th-century factory used by the tram manufacturer HeiterBlick and railway-crane supplier Kirow Ardelt AG. It provides an unusual and beautiful dining space – an extension to Kirow's factory canteen – with views overlooking the city.
 
Vital to both the final visual effect and usage of the space was our liquid crystal dynamic glass technology– eyrise. Used throughout the lattice pattern glass facade, the windows offer impressive sun protection while respecting the purity of Niemeyer's design.
Each of the 144 individually manufactured triangular glass modules of various sizes darken and lighten instantaneously, thanks to eyrise's advanced liquid crystal dynamic glass technology controlled by a bespoke app.
"The building is essentially a glass bowl in a southwest orientation," explains Harald Kern, the lead architect on the project. "So the fear of it getting overheated in summer was very high. We went looking for invisible shading that goes with the Niemeyer architecture."
The liquid crystals were specially mixed for the project so that they can switch slowly from a neutral soft grey to a nearly black. This black and white contrast effect perfectly echoes other designs by Niemeyer.
"This space and the building are all about wellbeing," says Ludwig Koehne, head of HeiterBlick and Kirow. "And the glass makes such a big contribution to that. I think only with these kinds of windows could we realize the vision that we had to make a perfect evening destination that people really want to go to."
As well as ensuring the temperature inside the building remains optimal for people inside, no matter the weather, the windows also provide protection from glare. This ensures ultimate comfort and wellbeing for diners, while also allowing them to experience the beautiful views across the city.
"A fusion of art with technology, the sphere sets new standards in architecture for our increasingly digital world," says Kai Beckmann, CEO of our Performance Materials business sector. "This space is all about wellbeing, sustainability, and controlling the building's energy footprint. Our eyrise liquid crystal dynamic glass technology makes this possible by providing invisible shading and preventing overheating while remaining true to Niemeyer's vision."
Impressions of the Niemeyer Sphere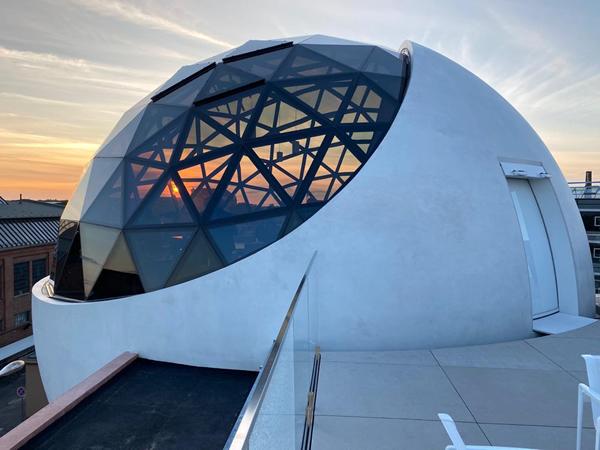 600
450
www.merckgroup.com
2021-01-25T11:08:33
Liquid crystal glass helps realize the Niemeyer Sphere | eyrise®
glassonweb.com