Photo source
Mappi International
Mappi's MTH Series Convection furnace offers reliability, innovation and impeccable service.
Size matters, it's not just a cliche, but very often, in the modern glass industry, a necessity that cannot be avoided. Furnaces with a very large load surface have been around for some time, but in most cases they create problems when they do not work at full load, especially in terms of energy consumption and management flexibility. Precisely to respond to this type of need, Mappi created MTH, and Josef Bleier of Impra is one of the first to have installed it and to be able to judge it.
"Since the first tests, MTH has proven to be exactly the tempering furnace we needed: a machine capable of combining large production volumes and great flexibility". Impra is a company based in the Czech Republic offering products for the flat glass building industry. It provides a complete service to large companies operating above all in the construction industry. Working above all in this particular market, it must be able both to offer large volumes and to be able to ensure the highest quality, both functionally and aesthetically. It must also be able to respond to the requests and needs of architects and builders.
The machine purchased from Impra is a MTH Series Convection 2600 5000 SUPER LOW E SYSTEM GHBS Xtreme Profile Convection tempering furnace. Let's hear what Joseph Bleier says again: "We chose this furnace because it brings with it the typical characteristics of every Mappi oven, namely reliability, innovation, impeccable after-sales service and technical support. Sometimes those who buy a furnace think that what they are buying is a machine. Instead, we are convinced that what you buy is a relationship of trust with a partner, a relationship that must last for years, just like the working life of a furnace lasts for years".
Let's hear what Nancy Mammaro, CEO of Mappi, says about it: "We are happy to be able to collaborate with companies like Impra, market leaders that have a modern vision, and projected towards the future. Our new MTH was born from listening to the specific needs of companies of this type, for which the ATS 4.0 was perfect, but not big enough. The challenge we found ourselves facing was that of growing in size without losing quality, flexibility and energy efficiency. The feedback from Impra, and from all the companies that have installed MTH in recent months, tells us that the challenge has been won".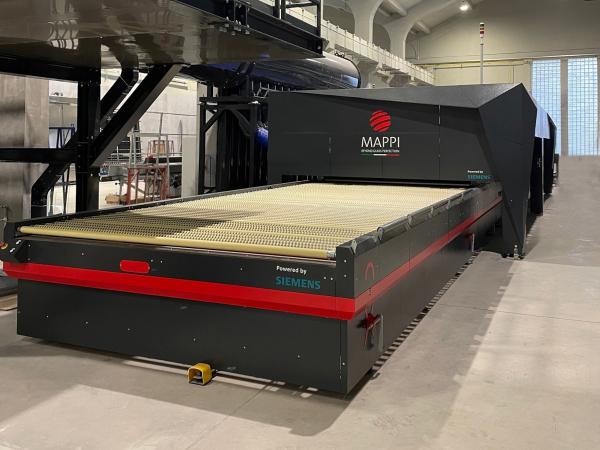 600
450
Mappi International
2023-03-07T08:00:00
Impra Installs Mappi's MTH Series Convection Furnace
glassonweb.com