Earns the 55th overall position in 2023 and the top spot for Communities in the Chemicals sector
Dow announced today that for the fourth year it has been named to the JUST 100 list – placing 55th overall, an 11-point improvement from last year and securing the top spot for Communities in the Chemicals sector.
Since 2015, JUST Capital has surveyed more than 160,000 Americans on what issues they believe U.S. companies should prioritize when it comes to just business behavior. JUST evaluated 951 companies across 5 stakeholders, 20 issues, and 245 raw data points to produce the 2023 rankings which showcase the top 100 companies doing right by all their stakeholders.
This marks the first year Dow has earned the top spot in its industry in the Communities category, highlighting the Company's commitment to create jobs in the U.S., respect human rights across its supply chain, contribute to community development, and give back to local communities.
"Dow has a focused set of actions and successful results behind our ambition to be the most inclusive, customer-centric, innovative and sustainable materials science company in the world," said Jim Fitterling, Dow chairman and CEO. "This recognition by JUST Capital is an indicator of Team Dow's outstanding progress and a reminder that the journey is far from over. We are committed to being a just company for the benefit of all our stakeholders."
Through vigorous, objective analysis, JUST Capital, in partnership with CNBC, evaluates and celebrates U.S. corporations that outperform on the issues that matter most to the American public – such as creating jobs in the U.S.; paying a fair, living wage; acting with integrity at the leadership level;  supporting workforce retention and training; protecting worker health and safety; providing benefits and work-life balance; protecting customer privacy; minimizing pollution; and more.
"There has never been a more important time for businesses to step up, do right by their workers, and restore trust in capitalism and the American Dream," said JUST Capital CEO Martin Whittaker. "This year's JUST 100 leaders demonstrate that just business truly is better business."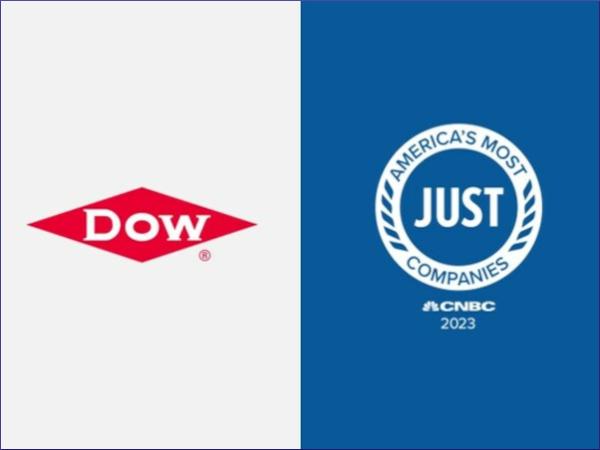 600
450
Dow
2023-01-12T10:07:07
Dow named one of America's most JUST Companies for the fourth year by JUST Capital
glassonweb.com