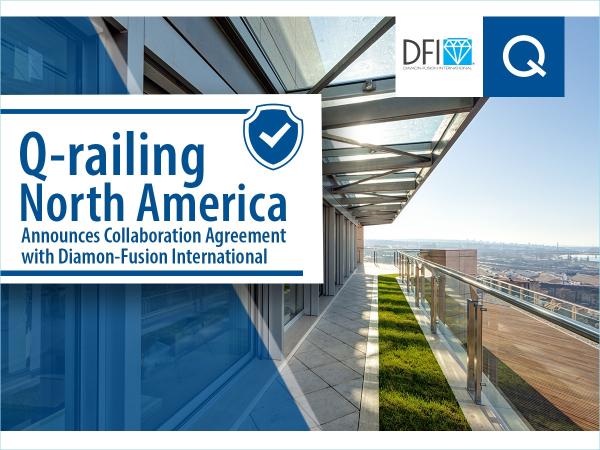 Photo source
dfisolutions.com
Q-railing – North America Offers Superior Glass Protection for Glass Guardrail Systems with Diamon-Fusion® Protective Coating
Today, Diamon-Fusion International (DFI) announced a collaboration agreement with Q-railing – North America to offer Diamon-Fusion® protective coating on Q-railing glass guardrail systems. As a modern evolving brand, Q-railing systems are engineered for residential, light commercial, commercial applications, including production homes, custom residences, retail shops, multi-story residential buildings, restaurants, offices, mid- & high-rise structures, and large public spaces such as shopping malls, museums, stadiums, swimming pools and airports. Offering Diamon-Fusion® with glass gives Q-railing the opportunity to deliver an even more complete railing system, providing customers with easy-to-clean glass thus reducing the overall maintenance costs. 
"We are excited to be working with the team at Q-railing – North America. They are a class-act organization, filled with people who have a great deal of passion and solid vision. Adding Diamon-Fusion® is a fantastic opportunity for Q-railing – North America to differentiate their business by providing customers a much-needed solution to easily maintain their glass railings." – Syndi Sim, VP of Marketing and Business Development, DFI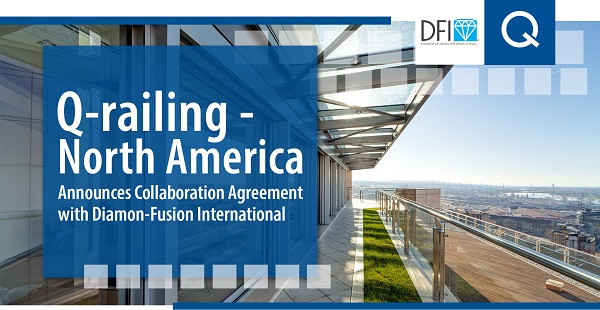 How Diamon-Fusion® Works 
Transparent and ultra-thin, Diamon-Fusion® transforms ordinary glass into high-performance, water-repellent surface. The patented, protective coating works by chemically bonding to the glass, creating an invisible barrier that repels water, helps prevent staining, cuts cleaning time, and eliminates the need for harsh chemical cleaners. The coating is also UV resistant, which guarantees that it will not break down when exposed to sunlight.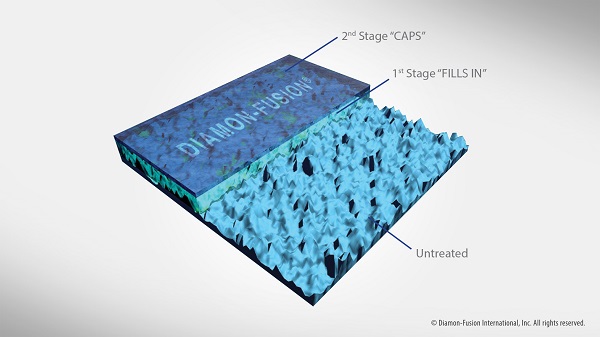 The Premium Brand in Glass Railing Systems 
As the premium brand in railing systems, Q-railing is a trusted source for glass & metal railings, guardrails, handrails, balconies, and more; their products celebrate panoramic views, modern design, safety, and innovation. Q-railing promotes components parts, prefabricated assemblies and project solutions to designers, architects, installers, contractors, builders, and developers. 
"Q-railing – North America continually strives for improvement. The 'Premium' at Q-railing, stands for superior quality products at a competitive market price with customer service you can count on; working with a brand like DFI that offers Diamon-Fusion® protective glass coating on the glass we source embodies this. Diamon-Fusion® protective coating will be a great value-added benefit to all our customers, specifically addressing how to keep glass railings clean, while reducing cleaning time and overall maintenance costs." – Jan Hulin, General Manager, Q-railing 
For more information about Diamon-Fusion International of Q-railing – North America, please visit https://www.dfisolutions.com or https://www.q-railing.com, respectively.
600
450
dfisolutions.com
2022-03-14T08:00:00
DFI Announces Collaboration Agreement with Q-railing North America
glassonweb.com