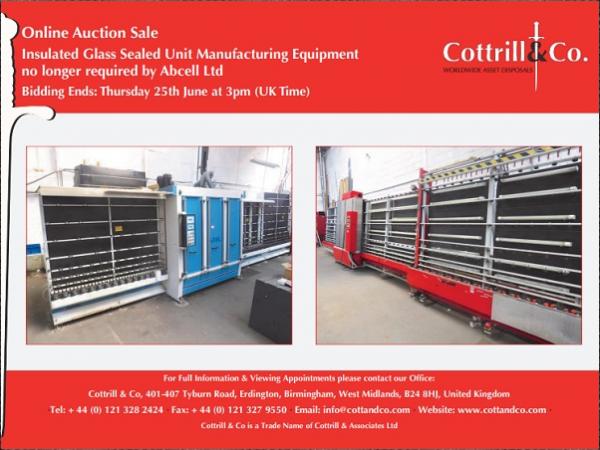 Photo source
www.cottandco.com
Insulated Glass Sealed Unit Manufacturing Equipment - No longer required by Abcell Ltd. | Location: Birmingham, UK | Bidding ends: 25 Jun 2020
Auction description
Please Note: These lots are located in Birmingham. Unfortunately there are no loading facilities available on site. Dismantling and loading will be at the cost of the purchaser.
Auction ends on
Thursday 25 Jun 2020 at 03:00PM (BST)
Buyer's premium
Buyer's Premium will be charged at 18%.
VAT
Value added tax will be charged at 20%.
Viewing times
Viewing will be available by appointment only. Please contact our Office on: +44 (0) 121 328 2424 or email us at: info@cottandco.com to arrange a mutually convenient time.
The purchaser shall at it's own costs be responsible for disconnecting, dismantling and removing items purchased from the auction location. If the purchaser is intending to export items purchased at the auction it shall be responsible at its own cost for ensuring compliance with all UK export conditions and the obtaining of any applicable Export Licences
Notice to purchasers
Final payment date: 29 Jun 2020 at 17:00 (BST)
Final clearance date: 9 Jul 2020 at 17:00 (BST)
Shipping agents: Shipping agent list
Storage contractors: Storage contractors list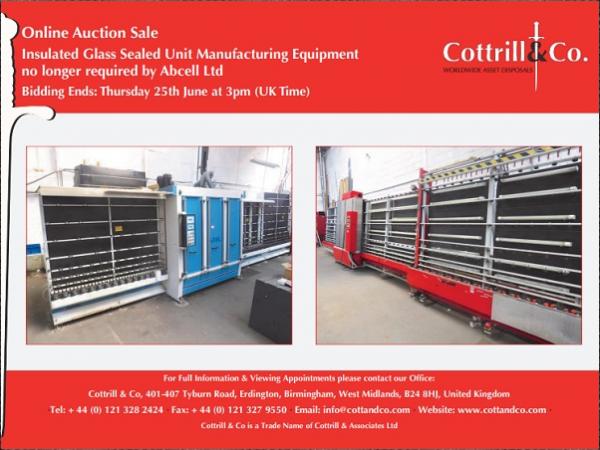 600
450
www.cottandco.com
2020-06-18T08:10:00
25 June 2020 - Online Auction Sale UK - Insulated Glass Sealed Unit
glassonweb.com