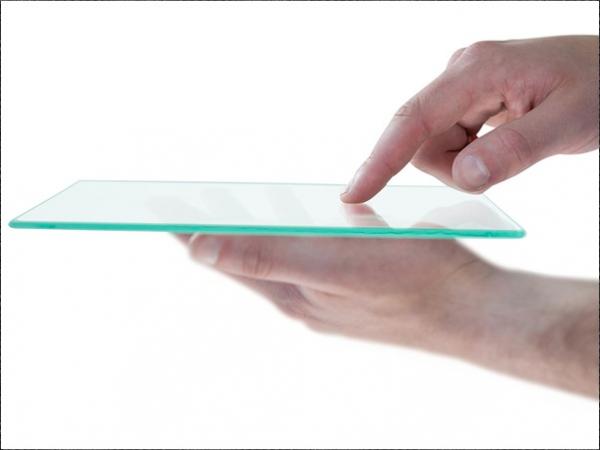 Photo source
metashield.com
Transparent Nanotech Coating Improves Strength of Glass in Independent Lab Impact Testing.
MetaShield LLC, an innovator in the emerging field of advanced materials nanotechnology, today announced its patent-pending MetaShieldGLASS™ coating significantly increased the impact resistance of both tempered and untempered aluminosilicate glass in independent testing. The results were achieved using a coating thickness of approximately 90 micrometers (.09mm).
In a series of dynamic impact tests performed by Intertek, the robust MetaShieldGLASS coating increased the sharp impact break resistance of untempered aluminosilicate by 100%, and chemically tempered aluminosilicate by 150%. The latter is the most commonly used glass in smartphones and tablets worldwide. MetaShield studies determined MetaShieldGLASS is also effective in increasing the break resistance of widely used soda lime glass thicker than 3mm.
The MetaShieldGLASS coating is being sold to and applied by contract and original equipment manufacturers; it is not currently designed as a consumer product.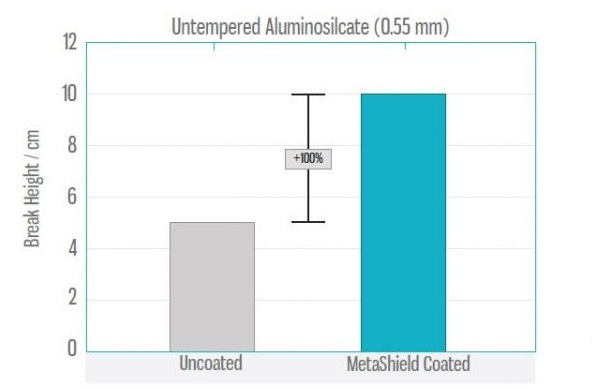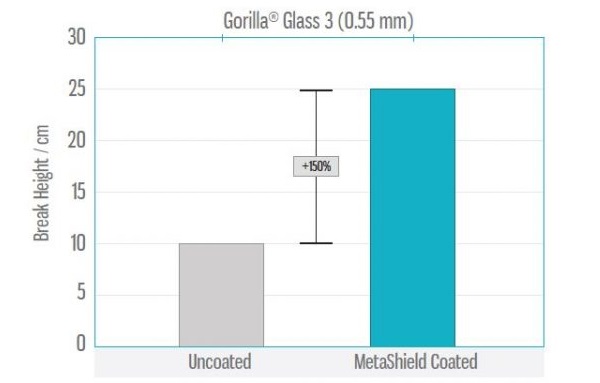 The lab test results have implications for several industries. Aluminosilicate glass is used in automobile windows, mobile devices, with home goods, in windows, within medical equipment, glass containers, skylights, augmented reality and ordinary eye glasses, and even on space shuttles.
"That such a thin coating can have such a dramatic effect really speaks to the miraculous promise of advanced materials," said Martin Ben-Dayan, CEO of MetaShield. "In some cases, MetaShield's technology can also improve sustainability by allowing for glass options that can be thinner and lighter without sacrificing break-strength quality."
Intertek, a multinational, London-based independent third-party testing company, conducted a series of dynamic impact drop-ball tests in their Kentwood, Michigan facility — following standards and methods developed by researchers at Asahi Glass Co in Japan — comparing uncoated glass samples against glass samples that were coated with the transparent MetaShieldGLASS formula. (Drop-ball testing is a common method used to determine the average kinetic energy required to break glass. For more information on test results and methodologies, please visit https://metashield.com/metashieldglass/.)
In a series of "drop-ball" tests, MetaShieldGLASS improved break resistance 83% in blunt impacts and 100% in sharp impacts on 0.55mm untempered glass coated with MetaShieldGLASS. The same tests on 0.55mm Gorilla® Glass 3 (chemically tempered aluminosilicate) samples improved break resistance by 222% during blunt impact and 150% in sharp impact testing. Thirty samples of 0.55mm glass were used for each format and glass type for a total test size of 240 samples.
"By combining enhanced properties, simple application, and a form factor that is near invisible, MetaShieldGLASS provides a fantastic and potentially transformative cost/benefit to glass industry stakeholders," said Ben-Dayan.
"Our unique coating, the result of several years of development using the combined work of theoretical physicists, chemists and engineers, adds only a negligible size and weight," said Jacob Schliesser, PhD, Materials Chemist at MetaShield. "Because it is transparent, thin, and simple to apply, MetaShieldGLASS can be easily integrated into existing manufacturing processes."
Application Process
While many advanced thin films are difficult and expensive to apply, the MetaShieldGLASS formula is applied using conventional spray, dip or flood coating along with a rapid UV cure. The process time is less than five minutes for complete end-to-end application. MetaShieldGLASS is designed and tested for application using commercially available systems and there is no specialized or custom equipment required.
Durability
MetaShieldGLASS, when applied onto glass, currently achieves an average hardness of 550 MPa in nano-indentation testing (ISO 14577-1), and 5H in pencil hardness (JIS K5600-5-4), which is significantly better than common plastics.
Testing for MetaShieldGLASS also demonstrated the overall robustness of the formula.  Thermal cycling (ASTM D6944-15), UV extended exposure (ASTM G155), and humidity extended exposure (ASTM D224-15) resulted in no obvious changes to the coating.
Abrasion testing on coated glass samples, using a Linear Taber Abraser with a total weight of 500 grams and 1000 cycles of 0000 steel wool, resulted in a low ΔHaze of ~0.35%. ΔHaze is defined as the difference between the haze of the coating before and after abrasion testing.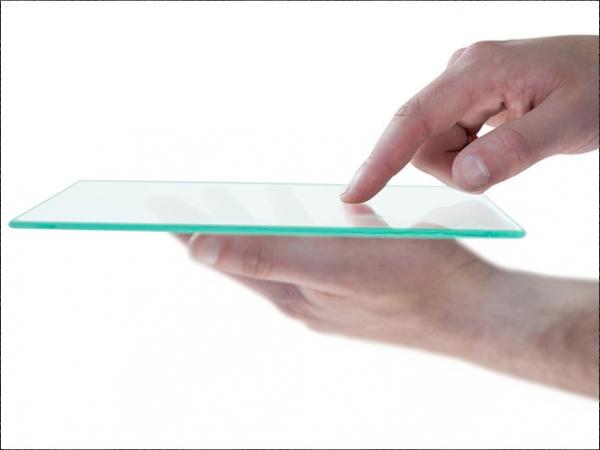 600
450
metashield.com
2018-05-15T11:25:00
MetaShieldGLASS™ Significantly Improves Glass Break Resistance
glassonweb.com