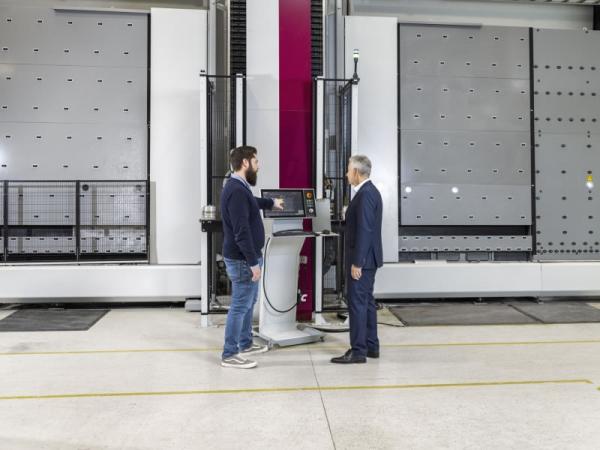 Franke's Linear Guides Power Highly Skilled Machines.
The LiSEC company is the world market leader with its complete solutions for flat glass processing - a hidden champion from Lower Austria. LiSEC uses linear guides from Franke at various points in its machines. During operation, they are exposed to an abrasive mixture of cleaning water and glass dust. Thanks to the specific Franke design with sealed rollers instead of ball chains and the completely corrosion-resistant design, Franke linear guides withstand these tough conditions for a long time.
LiSEC machines and software are primarily used for the production of insulating glass. LiSEC also serves the growing photovoltaic market with complete system solutions. LiSEC has been using linear systems from Franke since 2017. Previously, they were already used in machines from Schraml, which has been part of the LiSEC Group since 2016. Moritz Geyrhofer is Lead Buyer at LiSEC. His biggest challenge at the moment: "Obviously the availability of supplier products." So far, he has only had good experiences with Franke in this regard. A reliability that Geyrhofer appreciates very much. Reliability is a key reason why LiSEC relies on linear guides from Franke.
Franke linear guides carry out important functions
Corrosion-resistant Franke aluminum linear guides of type FDC 35 with stainless steel raceways are used at various points in the LiSEC machines: In edge processing and edge finishing, grinding or milling tools are guided with them. In addition, they are used in numerous types of machines to precisely position the processed glass panes. They thus fulfill "essential functions for our machines", according to Geyrhofer.

Picture: Lead buyer Moritz Geyrhofer (left) shows Franke consultant Gerhard Bell a LiSEC system
At all costs, we have to avoid the production line coming to a standstill, because that would mean enormous downtime in no time. Moritz Geyrhofer, Lead Buyer at LiSEC
Everything from LiSEC: completely automated units with custom software
Edge processing is just one work step among many performed by LiSEC machines. Like no other company on the world market, LiSEC offers efficient overall solutions for all aspects of flat glass processing. Apart from the production of the raw glass, the entire manufacturing process is covered. In insulating glass production, for example, a LiSEC line includes the following work steps: Scratch and break glass, wash, grind and process edges, wash again, bend the aluminum frame, fill with gas, seal and prepare sorted for shipping. All of this works with a LiSEC system in a highly automated and efficiently networked manner. LiSEC programs the software for easy control of such complex production lines in-house with its own software developers.
In order to better understand the users' perspective, LiSEC even operates its own insulating glass production. "That's on a scale where we don't compete with our customers," explains Moritz Geyrhofer. "Because we produce ourselves, we can better understand the needs of our customers. And it enables us to test new developments in a real production environment."
The key promise that LiSEC makes to its customers is productivity. In this context, the quality of the supplier products is also very important. "We have to avoid the production line coming to a standstill at all costs, because that would mean enormous downtime in no time at all," emphasizes Geyrhofer. He therefore appreciates the good quality of the Franke linear guides. "It has always remained stable over the years. It is of no use to us if a supplier tries hard at the beginning and then the quality drops."

Image: Corrosion-resistant, insensitive and maintenance-free: Because of these properties, LiSEC uses linear guides from Franke
"When we turn to Franke for new developments or enhancements, we experience a very fast response and receive expert advice."Moritz Geyrhofer, Lead Buyer at LiSEC
Challenging conditions for the linear guides
The linear guides are exposed to washing water and glass dust. Franke's unique linear guide design protects against corrosion, the FDC 35 model are made of stainless steel or aluminium. The glass debris is removed from the raceways with wipers during each movement so it does not accumulate on the rails or in the guides. The wheels of the guides are enclosed, which prevents dirt, dust or debris from affecting the function of the needle bearings. Clogging is impossible and the wheels are also lubricated for life – making them maintenance-free.
Picture: In addition to the product quality, the delivery reliability and the consulting competence of Franke are also important for LiSEC
600
450
Franke GmbH
2023-07-31T09:00:00
LiSEC's Perfect Solution
glassonweb.com