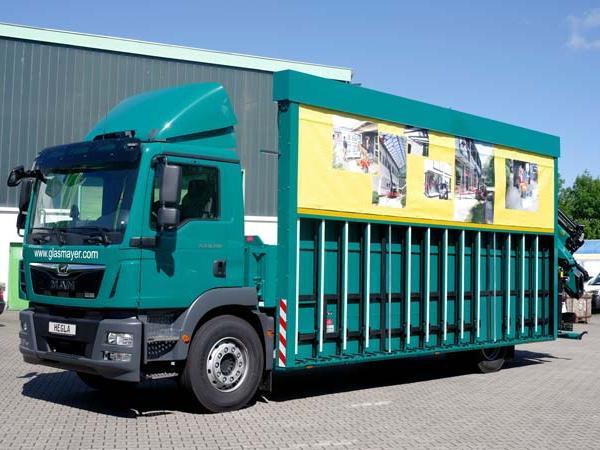 Photo source
HEGLA Fahrzeugbau GmbH & Co. KG
Come rain, snow or splash water, a rack tarpaulin cover is essential for ensuring that your high-quality glass stays dry and clean during shipping – especially in winter.
Glass racks have low sills, which makes it easier for employees to position heavy or large glass panes and elements but also means that these elements are very close to the ground during transport. As a result, loads can be exposed to rain, splash water and damage from stones if they are not covered by a tarpaulin during transport.
Processors who want to give their loads the best possible protection during glass transport should choose a rack with a tarpaulin. Unlike splash-guard tarpaulins, which only keep the worst of the dirt away up to a height of 120 cm from the surface, sliding tarpaulins provide full protection for loads. In fact, they're almost the perfect solution if you don't count the disadvantages of handling dirty tarpaulins for your drivers, buying additional gloves, and the extra time require to open and close the tarpaulin manually.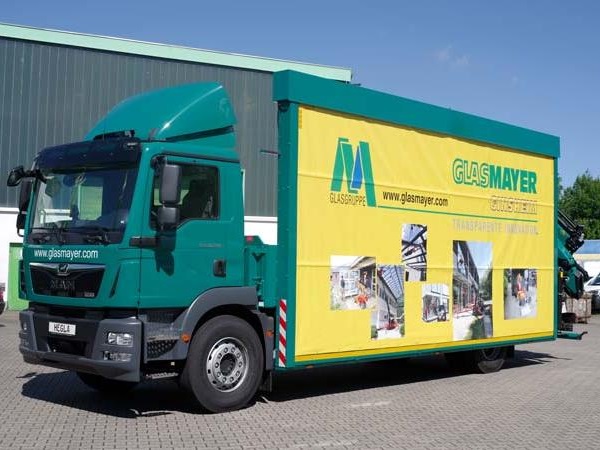 Well covered for faster delivery
HEGLA Fahrzeugbau developed automated roll-up tarpaulins that have proven themselves for years. They make handling easier and significantly reduce the time required for loading and unloading.
The system enables employees to roll the tarpaulins up and down at the push of a button like a roll-up gate, making the rack conveniently accessible. The tarpaulin's drive and drive shaft are installed on the vehicle in a compact, lightweight, aluminium cassette, complete with cabling. The control unit is mounted next to the driver's seat and can be used from either inside or outside.
There is no need to keep an eye on the tarpaulin as it opens and closes automatically. As a result, drivers can use a switch to start rolling up the tarpaulin as soon as they reach the company's premises, so unloading can begin the second the vehicle comes to a stop. This also means that employees can leave as soon as the load has been secured, while the tarpaulin is still automatically closing – which also saves time.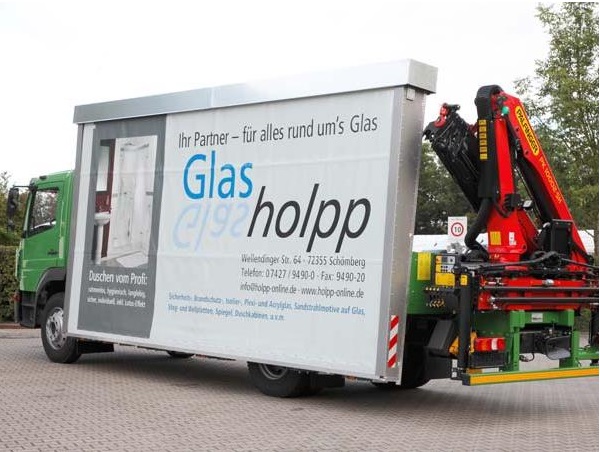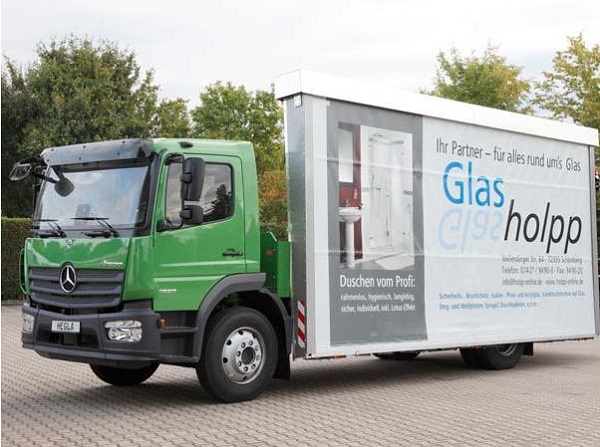 Save time and make day-to-day work easier
'Our customers have to make up to 25 stops for unloading every day. Handling that requires good time management. Our automated roll-up tarpaulin doesn't just save a lot of time – it also solves the problem of how to protect the glass from wetness, splash water and damage from stones without increasing the workload in terms of handling and logistics,' said Hans-Peter Löhner, Managing Director of HEGLA Fahrzeugbau.
All 12- and 18-tonne vehicles can be converted with this equipment and many can accommodate a retrofit. 'Depending on the vehicle and rack used, the roll-up tarpaulin makes loading heights of up to 285 cm and variable lengths of up to 700 cm available to our customers. This provides sufficient loading space for the professional storage of premium products such as high-quality mirrors, custom glass elements, and IG units,' Löhner explained.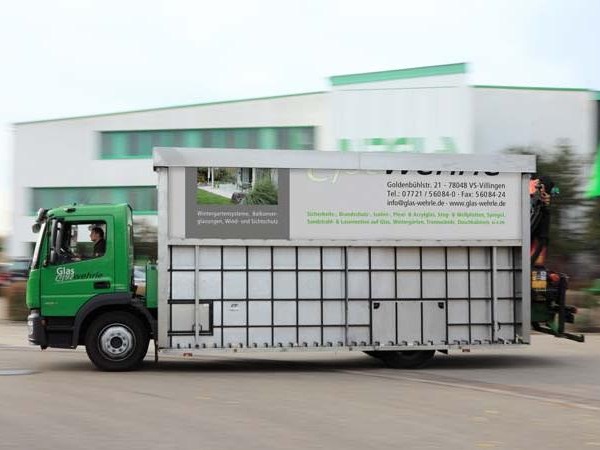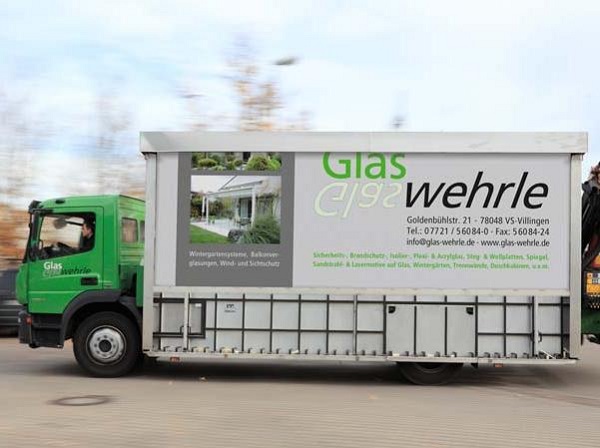 Commercial vehicles with roll-up tarpaulins – The clear favourite of employees and customers alike
Glas Wehrle in Villingen-Schwenningen, a town in Germany's Black Forest region, have been using a lorry fitted with a roll-up tarpaulin to protect their glass from the elements for five years. The vehicle is hugely popular among the Glas Wehrle workforce, as the automated roll-up tarpaulin reduces the risk of getting wet or soiling to a minimum – even more effectively than a sliding tarpaulin. For their part, Glas Wehrle's customers love the time it saves during delivery, which allows them to clear their loading area more quickly for other vehicles.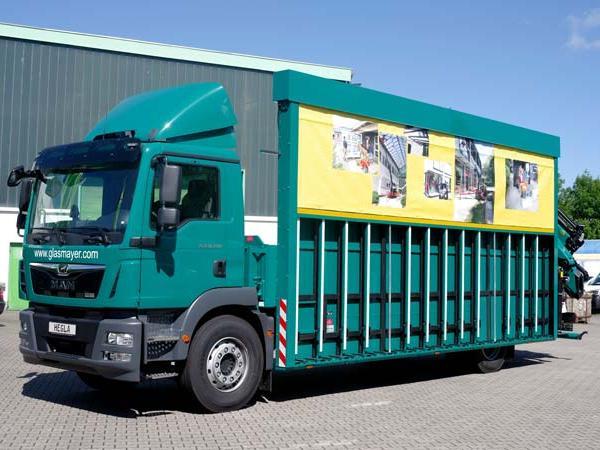 600
450
HEGLA Fahrzeugbau GmbH & Co. KG
2021-06-02T08:00:00
Hegla: Keeping it clean – Glass transport with rack tarpaulin covers
glassonweb.com