Photo source
Diamon-Fusion International, Inc.
Join ICD High Performance Coatings + Chemistries, Casey Anderson, and Diamon-Fusion International's, Syndi Sim, at GlassBuild 2022, Booth #5232
"We look forward to showcasing how our compatible technologies can increase project value, and can't wait to see you at the industry event of the year." - Syndi Sim
Diamon-Fusion International (DFI) is one of the largest hydrophobic protective coating suppliers in the world. The company specializes in the development of easy-to-clean, protective coatings, automated machinery, and restoration products for the glass industry, as well as other silica-based surfaces. Their protective coatings are proven to add value to any glass surface by cutting clean times, protecting against stains and corrosion, keeping surfaces hygenic and looking like-new for years to come.As a full-service protective glass coating supplier, DFI has also developed a line of automated machinery to streamline the application process of Diamon-Fusion® glass treatment in an efficient, cost-effective manner. The Company has representation in over 35 countries serving regions in North America, South America, Europe, the Middle East, Africa, Asia, Australia, as well as Latin and Central America.
FUSECUBE EXPRESS
The FuseCube™ Express is DFI's newest coating machine that applies Diamon-Fusion® protective coating onto both sides of the glass. The coating is applied through a proprietary chemical vapor deposition (CVD) process, transforming ordinary glass into a high-performing, water-repellent surface. Unique to its class, the FuseCube™ Express can treat 1 to 5 lites in under 10 minutes and has a minimal footprint (5 by 6 feet) that can meet the demands of both small and larger-sized fabricators. The machine also includes a touch screen monitor, built-in evacuation system, multi-run cartridge system, real-time monitoring, and backup systems, making it simple, reliable, and easy-to-use.
Applications of Diamon-Fusion® through the FuseCube™ Express include shower doors, glass railings, glass canopies, insulating glass units, tempered glass, laminated glass, curved glass, satin-etched glass and much more.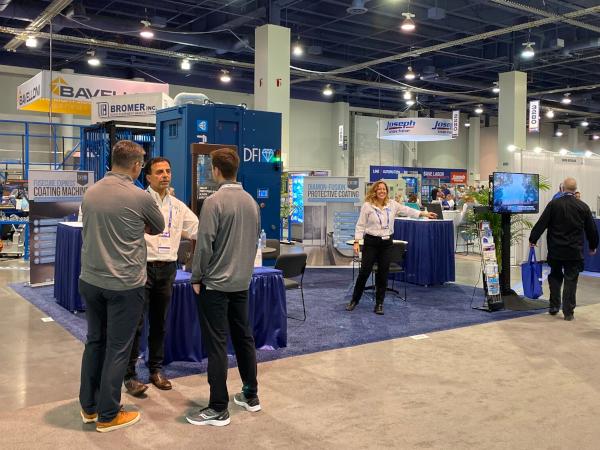 600
450
Diamon-Fusion International, Inc.
2022-08-16T08:07:38
Diamon-Fusion International and ICD at GlassBuild 2022
glassonweb.com