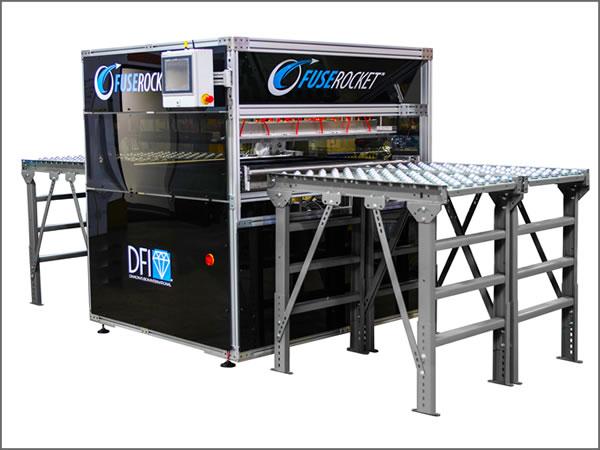 Glass processors can now treat all their glass in an affordable, timely manner. The next evolution of intelligent protective coating machinery has finally arrived.
Today, Diamon-Fusion International (DFI), in partnership with IGE Glass Technologies, are excited to unveil their newest development in automated coating machinery – the FuseRocket.
It is the first-ever, bilateral in-line hydrophobic coating machine that streamlines the application of Diamon-Fusion® protective coating via a chemical vapor deposition (CVD) process.
Optimized to its core, the FuseRocket has been designed and engineered by DFI for glass processors worldwide, providing a huge range of easily recognizable benefits: 
⦁    Horizontal design seamlessly integrates into any tempering line
⦁    Instantly coats both sides of the glass (can easily alternate to single-sided)
⦁    Eliminates material handling altogether – zero labor required
⦁    NO VOC's – ensures zero chemical exposure to operators 
"After two years in the making, the FuseRocket is finally ready for production. When it comes to the machine's features, capabilities and aesthetics, we couldn't have asked for more", commented Adam Zax, President of DFI. "This machine changes everything. Easy-to-clean coatings are no longer restricted to just shower glass applications – the FuseRocket allows glass fabricators to instantly treat all their glass in an affordable, timely manner. This is truly disruptive technology."
DFI's FuseRocket comes in three sizes (4', 6', and 8' in depth), has a footprint as little as 30 sq. ft. and can also be custom built upon request. It has the capability of treating up to 57,600 sq. ft. of glass per hour (1 linear foot per second) and can coat any type of glass (IG units, shower doors, heavy fabricated glass, etc.) – easily adjusting for various glass sizes (IG unit ½" to 1 ½" and float glass ⅛" to 1").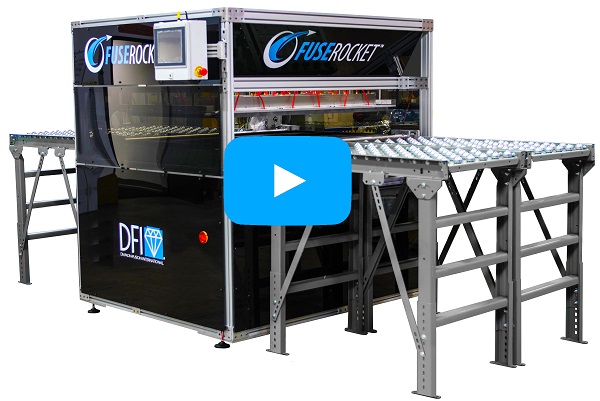 The machine is set to make its debut at Glasstec in Dusseldorf, Germany in Hall 12/12A56. The team at DFI has been hard at work researching market demands, ultimately designing a horizontal protective coating machine that can treat any type of glass (mirrors, showers, IG units, etc.) without slowing down production, and at speeds that can match any tempering line. The FuseRocket champions all those requirements and is finally ready to make the impossible, possible for glass fabricators everywhere. 
For more information on the DFI's new FuseRocket or about IGE Glass Technologies, please visit www.dfisolutions.com/fuserocket or www.igesolutions.com, respectively.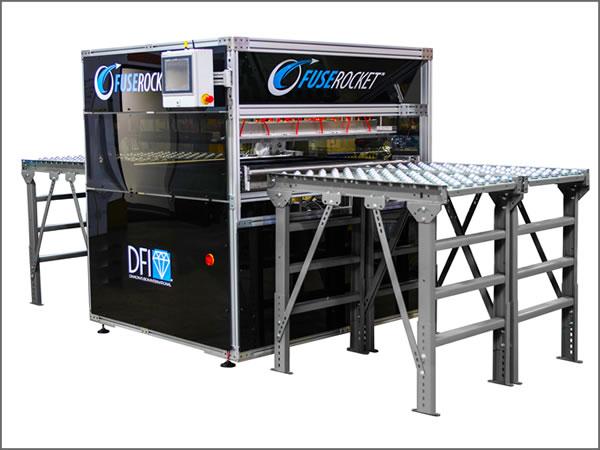 600
450
dfisolutions.com
2018-08-09T11:00:00
DFI Breaks Barriers with Their First Horizontal, In-Line Hydrophobic Coating Machine – the FuseRocket™
glassonweb.com