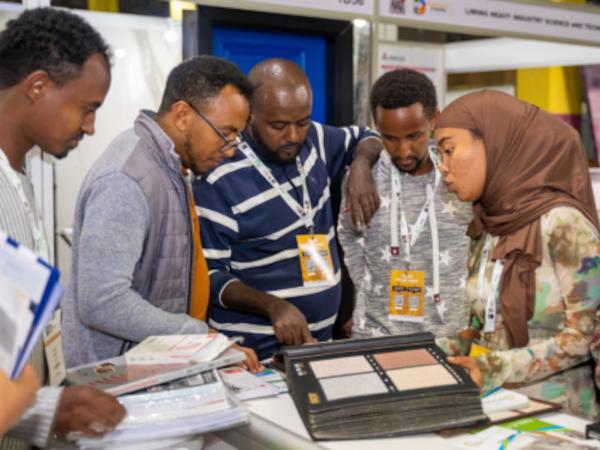 Photo source
www.thebig5constructethiopia.com
26 countries were represented at Big 5 Construct Ethiopia, across 153 exhibition stands
Big 5 Construct Ethiopia 2023 wrapped up in Addis Ababa to conclude the largest construction event in the country. Formerly Addisbuild, now in the global portfolio of construction events as Big 5 Construct Ethiopia, was organized by dmg events with the support of local partner Ethel Events & Communication and ran from 18 to 20 May 2023 at the Millennium Hall in Addis Ababa, Ethiopia.
This year's edition of Big 5 Construct Ethiopia provided a space for industry leaders, experts and practitioners to share their insights, experiences and expertize. "Through exhibitions, seminars, workshops and interactive sessions, participants have the opportunity to stay abreast of the latest advancements in products and services, best practices and new and existing projects within the construction domain," said Ben Greenish, Senior Vice President at dmg events.
The show was endorsed by the Ethiopian Ministry of Urban and Infrastructure and cultivated an environment where industry professionals forged long-lasting partnerships and tapped into a global network of resources. "The participation of international companies added even more of a boost to Big 5 Construct Ethiopia, propelling the construction sector forward, sharing knowledge and laying the groundwork for the future project managers and engineers in the industry," Greenish added.
A key highlight of the three-day event was the Big 5 Ministerial Forum, organized under the patronage of said H.E. Chaltu Sani, Minister of Urban and Infrastructure, where ministers from several offices joined forces to uncover the top challenges and opportunities for Ethiopia's construction industry.
H.E. Sandokan Denene, State Minister, Ministry of Planning discussed the economic development led by the private sector and aligned with the 10-year development plan of Ethiopia. Meanwhile, H.E. Habtamu Tegegn, Minister of Mines spoke about utilizing the natural resources that Ethiopia owns, with the goal of making the country a regional supplier of raw and finished products.
The readiness of Ethiopia for industrial development was another key discussion point, including incentive packages offered by the ministry to improve industrial development.
"We are working to rebalance the role of the state in terms of investment and encourage more private sector engagement in the economy. Construction incentives from the government include free importing of materials and addressing some micro economic challenges like inflation and Forex, to enable more investment opportunities," said H.E. Ahimed Shidie, Minister of Finance, reiterating the financial investment potential within the construction industry from local plans to international opportunities in the country.
"The construction sector has a key role to play in Ethiopia's development as a country. The emergence of public-private partnerships (PPP) reveals the need for the private sector to work more closely with the public sector to see further development. Big 5 Construct Ethiopia aligns with this mission and serves as a central hub to facilitate collaboration between domestic and international companies within construction," said H.E. Wondimu Seta, State Minister of Urban and Infrastructure in Ethiopia. "We need to maximize the built environment and discover the new materials available to take the industry forward.
Also in attendance at the high-profile forum were H.E. Amb. Nasise Challi, Minister, Ministry of Tourism; H.E. Hassen Muhammed, State Minister of Industry; and Dr. Habtamu Simachew, Legal & Policy Advisor, Ethiopian Investment Commission.
Exhibitors showcase confidence
Bringing together the biggest names in Ethiopia's construction market, Big 5 Construct Ethiopia featured 153 local and international exhibitors from 26 countries, who collectively showcased the latest products & services and technological innovation that cater to the entire construction value chain from inception to completion. Several deals were signed during the event, with $161 million potential business expected over the next 12 months.
"It's great to see international companies attending the event. Ethiopia's construction market is really promising," said exhibitor Osama Hafez, General Manager, Gentium Concrete Industries from Ethiopia.
Another one of the exhibitors, UAE-based Vehequip presented a live demo of a SCHWING Stetter self-loading mixer, particularly suited for use in urban areas and inside buildings. Meanwhile, Brighto Paints exhibited a wide range of revolutionary paint solutions, including an impressive selection of colours and state-of-the-art technology in the coatings industry.
Italy's Idrotherm shared the latest innovations in the field of polyethylene and polypropylene pipes, while Germany's Wilo showcased their pumps and pump systems for building services, water management and the industrial sector. "We are delighted to participate this year – the first time for Wilo," said Tariku Amare, Country Manager, Wilo.
This year also included three country pavilions – Italy, Turkey and China offering the latest products and services that apply to the local built environment.
Italian Trade Commissioner, Riccardo Zucconi emphasized the increasing activity in Ethiopia's construction and infrastructure sectors and expressed Italy's keenness to continue its historic presence and trade partnership with the country.
"We have been able to involve many Italian companies in the Ethiopian market and it's important for us to be here as there are lots of opportunities, such as the middle-class housing projects that are being planned for developing areas. With Italian technology and products, we can deliver high quality services," Zucconi said.
Big 5 Construct Ethiopia impresses visitors
The event successfully captivated visitors, leading to an impressive attendance of 8,344 individuals.
"An exhibition like this is very important to a country like Ethiopia that has an active construction industry. It helps to have more technical knowledge about the sector and develop new creative ideas," said local attendee Maregu Abebaw, Site Engineer, Beha Construction.
"The event demonstrates the interests and willingness of high-level professionals and companies to share expertise, benefiting aspiring engineers and project managers for the construction industry's future success," noted local visitor Maereg Abegaz, Project Manager, AZAD DESIGN BUILD PLC.
Other event highlights included the 20 free-to-attend CPD-certified talks to promote bright ideas and boost optimism within the industry. "These were well received and attracted a young audience from engineers to architects, project managers to designers, urban planners and green building enthusiasts," Greenish added.
One of the sessions featuring Brook Tefera, Managing Partner, BIGAR Builders & Developers; Bruk Berhanu, Engineering Head, Universal Construction; and Robel Tsegaye, CEO, EEIG Construction, encouraged local contractors to lead the way forward in Ethiopia. In a different session, Dawit Benti, Chair of Architecture and Design at EiABC, addressed the protection of heritage sites and buildings in the country and why it should be a priority.
Sustainability was high on the agenda as the President of Ethiopian Consulting Engineers and Architects Association, Habtamu Getachew emphasized the need for sustainable infrastructure. Dr. Wubishet Jekale, Assistant Professor, Addis Ababa University, spoke about the global affordability of green building construction across different countries. If we use most of the criteria for developed countries applied in Ethiopia, he said that costs will immediately increase. In Ethiopia it's important to "consider sustainable energy efficiency, resource efficiency and environmental efficiency," he said, to keep sustainable construction affordable.
The event showcased the success and opportunities in Ethiopia's construction sector. "Big 5 Construct Ethiopia offered a dynamic platform that goes beyond mere business transactions, enabling valuable networking opportunities and the exchange of expertise and valuable skills. We look forward to next year's edition, and hope to see even more progress on plans and ideas discussed this year," Greenish concluded.
Big 5 Construct Ethiopia will return to Addis Ababa next year from 16 to 18 May. For more information, visit: https://www.thebig5constructethiopia.com/
600
450
www.thebig5constructethiopia.com
2023-07-10T09:00:00
Big 5 Construct Ethiopia wraps up in Addis Ababa
glassonweb.com