Consolidated Glass Holdings- CGH
Company address
PO Box 739
East Butler 16029 PA
United States

COMPANY DESCRIPTION
Consolidated Glass Holdings, Inc. is a fabricator and distributor of impact resistant glass, architectural glass, architectural metals, and specialty products for the commercial and residential building maintenance, renovation, and construction markets.  Locations in NJ, MA, CT, VA, PA, AL, & TX.
Consolidate Glass Holdings family of companies include, J.E. Berkowitz, Solar Seal, Columbia Commercial Buildings Products, Global Security Glazing, Dlubak Specialty Glass Corporation, and NASG Holdings Inc.
Dlubak is one of the country's principal suppliers of curved glass to the architectural glazing industry. Our production capacity and ever expanding processing capabilities allow us to offer you curved glass in a wide variety of sizes in many composites including laminate and energy efficient dual sealed insulating units. Dlubak's curved glass is the product of choice for all architectural applications such as exterior vision and spandrel areas, skylights, solariums, covered walkways, interior walls and hand rails. Our specialty product division offers a variety of glass enhancement services including the application of graphics, abrasive etching and fabric encapsulation.
The Ultimate Application for School Protection
In the school market, glass safety and security are important topics for parents, school boards, law enforcement, and all professionals involved in the design/build industry. Global Security Glazing can educate you on the capabilities of specialized glazing solutions.
CHILDGARD® security glazing is constructed using a unique arrangement of proprietary transparent materials. CHILDGARD security glass is attack resistant glass designed to withstand extensive physical attack in a forced entry scenario, ultimately resisting entry until law enforcement or additional help arrive. CHILDGARD security glass and our CHILDGARD glazing products have been fully tested to ASTM F1233-08 security glazing standards and comply with standard safety glazing codes for all interior and exterior applications.​
Security Glazing , Bullet Resistant, Detention, Forced Entry & Containment Laminates, Laminated Polycarbonate
Recognized around the globe for quality and highly engineered products, LEXGARD® Laminates has the product and solution for your security glazing challenges.  LEXGARD® products combine polycarbonate with polyurethane interlayers to achieve various levels of resistance to ballistic and physical attack.  Exposed polycarbonate surfaces have an abrasion resistant surface.
All of our products are certified and fully tested to meet specific standards and threat levels for ballistic, attack, and blast resistance.  Bullet Resistant products are UL listed and tested to a wide range of "no-spall" protection levels.  Forced Entry products have been tested by the most recognized specifications in the Detention industry.  The chart below provides a quick reference for product choices.  Find out more about our LEXGARD® products and see why we are the industry leader in security glazing.
Global Security Glazing provides Armor-Gard™ bullet resistant products for protection against a wide range of ballistic threat levels.  All Glass products combine multiple layers of glass and polyvinyl butyral (pvb) with "no spall" protection and UL Listings for various levels of protection.  Secur-Tem + Poly® products combine the durability and abrasion resistance of glass on the "attack" side and the impact resistance of polycarbonate to the "witness" side, providing thinner and lighter products with "no spall" protection. 
High-Performance, Warm-Edge Insulating Glass Spacer with High-Modulus Structural Silicone
Designed to meet the toughest commercial glazing demands, the JEB 3Seal HM+ spacer features triple seal technology, including an improved secondary seal made out of high-modulus silicone, as well as a hot-applied captive polyisobutylene (PIB) primary seal and a pre-applied acrylic adhesive for spacer to glass bonding.
 
The improved JEB 3Seal HM+ spacer offers significant aesthetic and energy-efficient advantages over traditional IGU spacers.
The high-modulus silicone secondary seal minimizes PIB migration, providing clear, straight sightlines. It also offers 35 percent higher design strength, allowing for a narrower air cavity in an IGU, and 10.4 percent more argon gas retention than standard sealants, based on ASTM 2190 testing. An IGU incorporating the JEB 3Seal HM+ spacer will retain its argon gas longer over other insulating glass systems, maximizing energy savings and extending the units service life.
 
Traditional metal spacers are highly conductive, the JEB 3Seal HM+ spacer is made from thermoset structural silicone with integral 3A desiccant, which allows for minimal thermal conductivity, higher edge-of-glass temperatures, and an improved condensation resistance factor. With its T-shaped design, the JEB 3Seal HM+ spacer also offers shock-absorbing properties that counteract glazing stresses caused by wind, snow, driving rain, fluctuating temperatures, and barometric pressure.
Products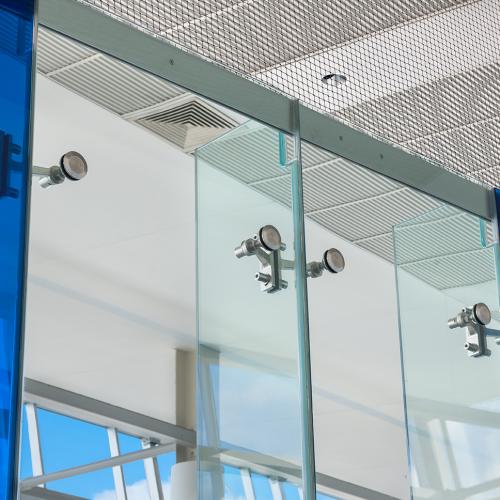 Invisiwall Glass Systems
SEND INQUIRY
J.E. Berkowitz, Solar Seal and Columbia Commercial Building Products, part of Consolidated Glass Holdings, Inc. family of companies, can offer you support with our wide-range of product offerings.
More details ...
Our product line of Invisiwall Glass Systems offers the beauty and visibility of glass in an attractive All-Glass Door and Entrance, Interior Office Space, Glass Canopy, Point-Supported Glass application, Shower Enclosure, Glass Balcony, and Handrail.
Visit product landing page:
VISIT