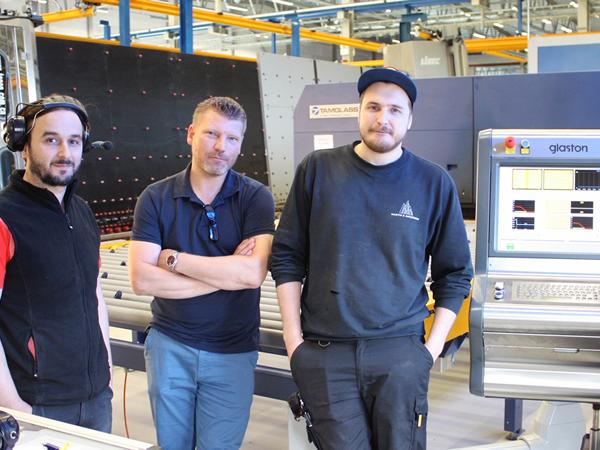 Photo source
www.glaston.net
Walking the extra mile for customers since 1899
Founded in 1899, Sweden-based Martin G Anderson has a long history in the glass business. Always ready to walk the extra mile to fulfill the needs of customers, the company completed an upgrade project to turn its 2008 Glaston tempering furnace into one ready for 2017. The upgrade has allowed the company to increase output, improve quality and use less power.
A family-owned glass processing company, Martin G Anderson began business back in 1899 in Stockholm, Sweden, when it just sold glass furniture and mirrors.
Today, the 118-year-old Martin G is a part of Glasgruppen, which is a group of three companies, employing over 100 people and strategically spread throughout central Sweden.
Martin G in Örebro is also supplying processed glass products to its sister companies in Stockholm and Gothenburg. This location enables the company to reach a radius of 300 km that covers perhaps even 90% of the Swedish population.
LONG CUSTOMER RELATIONSHIPS
Joacim Dahlkvist, Quality and Production Development Manager at Martin G Anderson, says: "The secret to our longevity is customer value and long customer relationships. Even with changes in management, we have continued to serve our customers in the same way."
"We're working with two main customer groups: one is the façade market and the other is glaziers," he adds. "We aim to keep what we promise – and try to even exceed this when it comes to quality."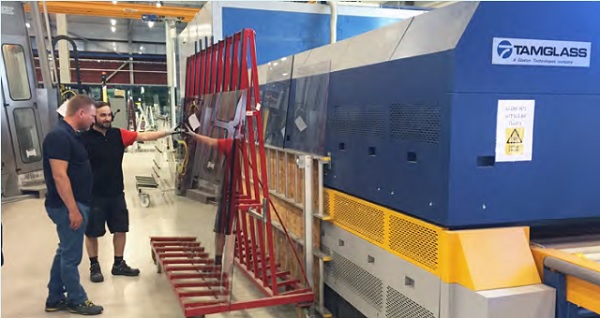 INCREASING DEMAND CALLS FOR NEW SOLUTION
In 2008, Martin G acquired the ProE tempering furnace from Glaston. "Everything was good. But in recent years, we started to realize that the line's output was not enough to cover the growing demand. In fact, we worked overtime a lot to be able to deliver on time to our customers," Joacim explains.
So, the company started to look into ways to increase the output while making the quality of its products even better.
FROM 2008 TO 2017 WITH ONE UPGRADE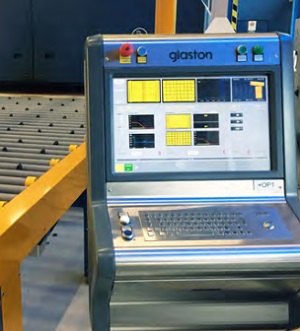 "Since we already have the tempering furnace from Glaston, the choice of supplier was easy," Joacim says. "Just increasing our output by turning our existing machine into a two-chamber furnace wasn't possible because of the layout and the extra power needed. There were not many alternatives to consider when looking to improve output with better quality. Then we heard of the opportunity to modernize the furnace bottom and the control system by selecting the automatic roller heat control (RHC) upgrade." "It's a very nice package," he emphasizes.
"A way to transform our 2008 furnace into a 2017 model that is up to modern standards. And no need for a bigger machine. It's got the same layout without requiring any extra power. In fact, the furnace uses less power now."
"Just recently, we got our production fully back on track, reducing the backlog accumulated over time. This was possible thanks to the increased output due to the improved loading efficiency and reduced waste that came with the upgrade. Our sales people have noticed the difference in quality and delivery time, and everyone is much happier now," Joacim states.
REDUCED ROLLER WAVE AND BETTER QUALITY
Joacim continues sharing his observations: "As a bonus, the quality has really improved too, especially when it comes to the roller wave effect. With the 4 mm glass that we were running before, you could sometimes still see the effect at certain angles. Now, you can hardly see that the glass was tempered, which is good proof of quality improvement."
"The heat scanner in the RHC is much more accurate now," he explains. "It's still the same scanner, but it's calibrated together with the new software. So when running the line, we have a bigger window for getting better quality. The old machine was more sensitive to the heat settings. Now, it's much easier to run the furnace with better quality than before."
GLASTON GIVES US THE EXTRA MILE
According to Joacim, the installation, commissioning and training were all excellent. "Over the past decade, we've chosen to work with the same Glaston expert, who is very competent and experienced and gets the job done. He is
very good at explaining how something works. And we know him, so it's easy to ask questions. It was essential to have him train our people on this upgrade because he always goes the extra mile for us."
The furnace is easy to run, but it has many new features and more heat zones that Joacim and his team need to learn to adjust and use more efficiently.
The upgrade comes with Glaston's latest iControL automation system. "Glaston iControL provides us with a very good overview of the entire machine. The system features a very nice graphical interface – it's easy to understand. I'm not a tempering guy, but I think that even I would be able to temper glass with this kind of support," he laughs.
HELPING CUSTOMERS WIN IN ALL WAYS
The downtime during the upgrade took only 13 days. "In fact, the upgrade gave us a lot of extra output – more than we calculated before making this investment, so Glaston even exceeded our expectations," claims Joacim.
"Glaston has always been a solid company when it comes to customers – trying to help us in all possible ways," notes Joacim. "Just take GlastOnline Parts Arena, the company's online platform for spare parts. It's very easy to use. And delivery is very fast!"
Sharing the company's plans for the future, Joacim is brief: "We would like to continue to benefit our customers, our owners and employees – all parts of our community need to be satisfied with our company for us to exist well together."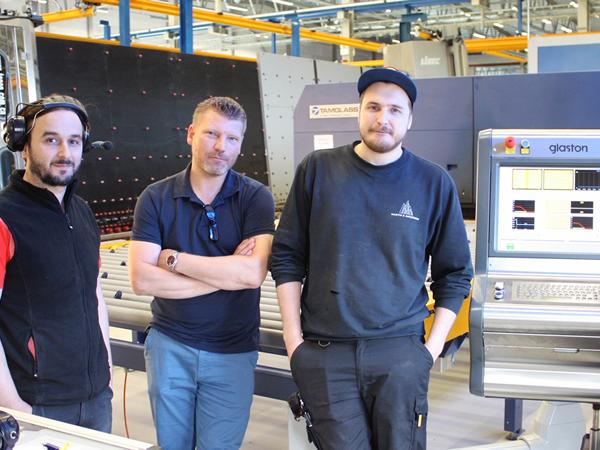 600
450
www.glaston.net
2017-09-07T08:45:00
Swedish Martin G chooses to simply upgrade furnace into 2017 model
glassonweb.com