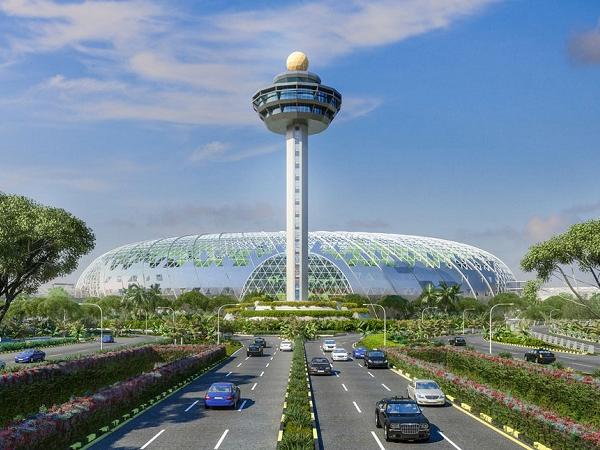 Photo source
www.jewelchangiairport.com
Advanced low-e glass glazings fulfill demand for clarity, solar control performance
Vitro Architectural Glass (formerly PPG Glass) announced that Solarban® 70XL and Solarban 72 solar control, low-emissivity (low-e) glasses and Starphire Ultra-Clear® glass have been selected for the Jewel Changi Airport (Jewel) complex in the heart of Singapore Changi International Airport.
 
Jewel is envisaged to be a world-class lifestyle destination that will be a game-changer for Changi Airport, amidst intensifying competition on the global airport landscape.
Designed by world-renowned architect Moshe Safdie, the structure will feature a distinctive dome-shaped façade made of steel and glass. The complex merges a vibrant marketplace and urban park side-by-side.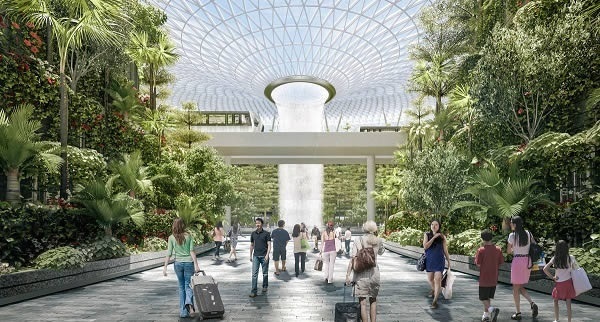 Set to open in 2019, Jewel also will feature aviation facilities, a hotel, 300 retail and dining offerings, and play attractions that include the world's highest indoor waterfall, canopy mazes, sky nets and discovery slides surrounded by verdant landscaping.
 
Solarban 70XL glass was selected to glaze the stunning dome-shaped facade while Solarban 72 glass was specified for the pedestrian bridges that will connect Terminals 2 and 3 to Jewel.
 
Two Vitro Certified® Global Fabricators are working on the project. GnT Glass Company, Ltd. is the glass fabricator for the dome. Wujiang Golden Glass Technologies is performing the same role for the linking bridges. Da Di Glass will supply Starphire Ultra-Clear glass by Vitro Glass for interior applications.
 
Ashith Alva, head of projects, Jewel Changi Airport Development, said Solarban 70XL and Solarban 72 glasses were recommended by consultants for their clarity and energy-saving solar control.
GnT is fabricating Solarban 70XL glass into hundreds of precise triangular-shaped laminated insulating glass units (IGUs) for the dome; then marking them and delivering them in sequence to the construction site, a process that will demand extraordinary levels of organization and quality control.
 
Solarban 70XL and Solarban 72 glasses are formulated using Vitro Glass's proprietary triple-silver solar control, low-e coating technology. Solarban 70XL glass has visible light transmittance (VLT) of 64 percent and a solar heat gain coefficient (SHGC) of 0.27 in a standard 1-inch clear IGU. 
Solarban 72 glass, which is coated on Starphire Ultra-Clear glass, has VLT of 71 percent and an SHGC of 0.30 in the same configuration, meaning it blocks up to 70 percent of the ambient solar energy despite its exceptional transparency.
Solarban 70XL and Solarban 72 glasses meet requirements of the Cradle to Cradle Certified™ program at the Bronze level. Vitro Glass has more architectural glass products certified by the program than does any other float glass manufacturer.
 
To learn more about Solarban 70XL and Solarban 72 glasses, or Vitro Glass's entire family of advanced low-e glasses, visit www.vitroglazings.com.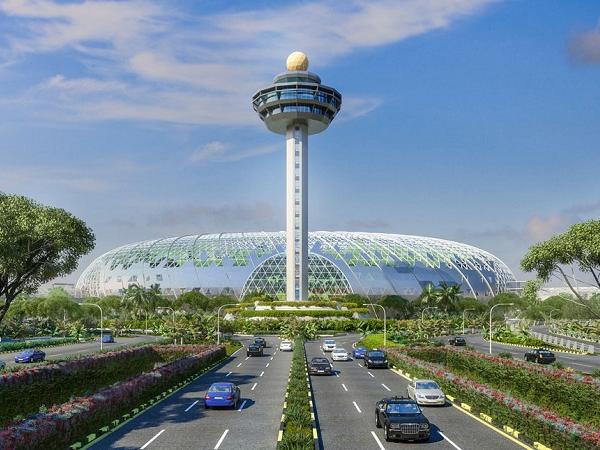 600
450
www.vitroglazings.com
2017-12-12T11:44:00
SOLARBAN glass specified for Jewel Changi Airport in Singapore
glassonweb.com