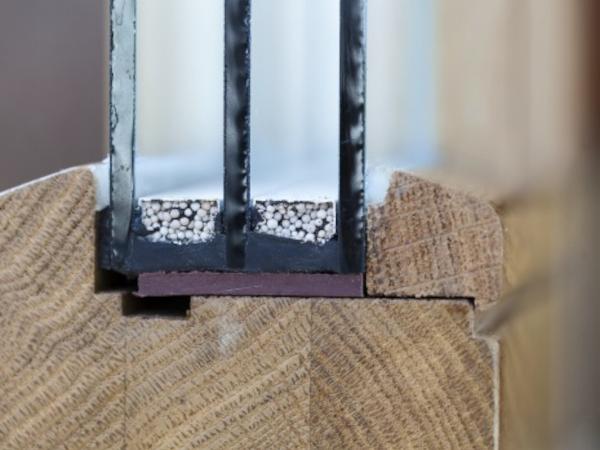 Photo source
Polyisobutylene (PIB) primary sealant in an insulating glass unit | Photo: NGA
Newest edition reflects advances in glass and glazing
The National Glass Association (NGA) and the Fenestration & Glazing Industry Alliance (FGIA) are proud to announce the joint publication of a new technical resource, Compatibility Testing of Insulating Glass PIB Primary Sealant with Respect to Glazing Materials.
This four-page document discusses methods of compatibility testing of glazing components with respect to Polyisobutylene (PIB) primary sealant in an insulating glass unit. It recommends the use of the ift Rosenheim test method, outlines the effects of incompatible glazing materials and addresses other factors that may affect compatibility.
"It is easy for people to assume that, because a process is considered industry standard, that a standard actually exists for testing a product; that isn't always the case," explains Robert Carlson, Tristar Glass Products and NGA's task group co-chair. "The research and collaboration behind this technical resource has been ongoing over the past eight years. We're excited to be publishing a document long-needed within the industry to formalize our approach to compatibility testing."
The resource further expands on the validation of ift Rosenheim and provides additional guidelines addressing test methods for direct and indirect material contact, as well as the effects of migrating components.
"It has long been a question of where to get unbiased test results when certain incompatibility conditions occur with insulating glass primary sealant and surrounding glazing components," said David Cooper, Fenestration Consultant, Inc. and FGIA's task group co-chair. "This new guideline provides information that offers a testing solution using an independent lab to provide results on glazing material compatibility. Member sealant manufacturers contributed time and testing resources in order to validate the chosen test method for compatibility of IG primary sealant with adjacent glazing materials."
NGA and FGIA thank the task group members who developed this resource for the industry.
Joint Task Group Members
David Cooper, Vacuum Glass LLC – Co-Chair
Robert Carlson, Tristar Glass – Co-Chair
Steve Altum, Dow
Matt Bergers, Viracon
Michael Dimitriou, Exponent
Kevin Dunn, Momentive
Robert Grommesh, Cardinal
Jeff Haberer, Trulite Glass & Aluminum Solutions
Bill Lingnell, Lingnell Consulting
Phil Magill, RASCP
John Mayfield, Tremco
Ray Mohun, Allana Buick & Bers
Helen Sanders, Technoform
Gordon Smith, Gordon H. Smith Corp.
Francesco Spagna, Simpson, Gumpertz & Heger
Michael Speicher, H.B. Fuller
Vince Warne, Quanex Building Products
Brian White, H.B. Fuller
Rick Wright, Oldcastle BuildingEnvelope
Hanin Issa, Fenzi North America
Compatibility Testing of Insulating Glass PIB Primary Sealant with Respect to Glazing Materials is available to download at no charge from the NGA Store.
600
450
www.glass.org
2023-06-13T08:30:00
NGA & FGIA: New Glass Technical Resource Jointly Published
glassonweb.com