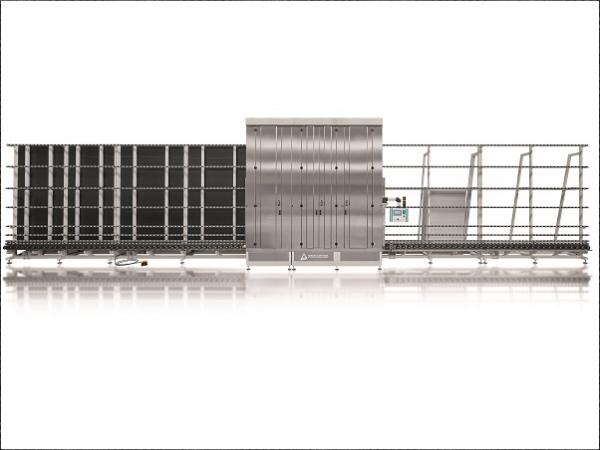 Photo source
www.lattuada-na.com
Lattuada is not only grinding solutions.
In the picture: vertical washing machine, made on a specific request of one of our top-leading customers, able to process glasses up to 3.300 mm high, with thicknesses up to 80 mm and possibility to load weights up to 2.000 kg tot. - 600 Kg/mt.
For more than 15 years we have been studying and providing solutions for glass washing. We offer a full range of high-tech, both open and closed on the top vertical washing machines that are easy to use and maintain.
Why you should choose Lattuada washing machines?
FLEXIBLE
customized configurations
All Lattuada washing machine models are highly customizable and can be integrated with different machines, such as vertical grinding, drilling and milling lines as well as computer numerical control machines.
TOP PERFORMANCE
high washing and drying capacity
Lattuada design criteria increasingly focused on each and every need as well as construction and structural robustness offer high washing and drying quality washing machines, even at high speeds and on any type of glass.
PRODUCTIVE
smart technology
Suitable for high production loads, our washing machines can run 24/7 non-stop.
RELIABLE
little maintenance required
All points requiring maintenance are easily accessible and the maintenance operations to be carried out are simple and quick to perform.
SMART
simplicity of use
Easily accessible sophisticated technology; this is our approach when it comes to building machines.
EXCELLENT
top performance
Thanks to our know-how developed and perfected in 40 years, we - at Lattuada - design and manufacture machines that offer utmost washing and drying final quality.
Attention to details generates supreme quality products. Highly reliable cutting-edge machines, in terms of precision, are our company's strong points.
600
450
www.lattuada-na.com
2019-01-29T15:00:00
Lattuada Washing Solutions
glassonweb.com