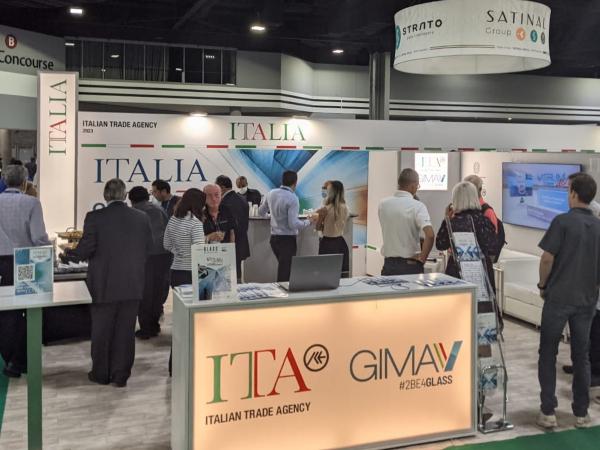 Photo source
Italian Trade Agency
A Pavilion to celebrate the "Made in Italy" glassworking equipment machinery
Italy participates at GlassBuild America 2022 with a dedicated Pavilion set in the Las Vegas Convention Center (Booth #6180): an almost 5,000 square feet space whose objective is to communicate the values and excellence of the Italian Machinery Industry.
Italy is one of the top three suppliers of glass machinery for the US with a total export of more than 110 million USD in the 2022. Alone, Italy holds the 15,1% US import market share of the glassworking machinery sector. USA is, to Italy, a major market destination for its own export.
Organized with a major Italian Industrial Association - GIMAV (the Association of Italian manufacturers and suppliers of machinery, equipment and special products for glass processing) - the Italian Pavilion at GlassBuild America 2022 hosts 20 leading companies that represent the best of the Italian equipment technology and "Made in Italy" industrial solutions.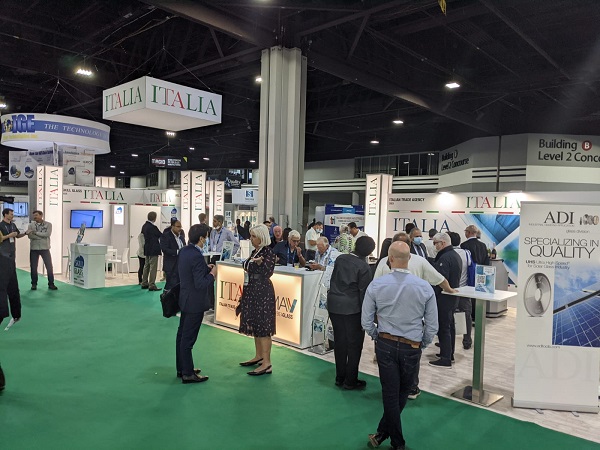 ADI – a proud producer of high-quality polishing wheels for glass processing, along with diamond tools, particularly dedicated to the automotive industry
Bottero – the only company worldwide engineering, manufacturing, installing, and servicing equipments for both Flat and Hollow Glass
DeltaMax – born in 1989 as spin-off of a research center, with the aim of developing solutions, based on inspection technology, to ensure a better-quality control on production processes.
Diamant – since 1975, has been a manufacturer of diamond tools, specializing in the sectors of glass, stoneware and ceramic.
Faraone – after 50+ years of activity, the company renews itself and continues to innovate the world of Transparent Architectures becoming more and more a point of reference for glass projects.
Glass Company – a leading company in the sector since 2000, markets high technology glass processing machines, such as safety glass production systems (tempering and lamination) machinery and related equipment, such as painting systems, digital printing, nanocoating, etc.
Horizon –innovative start-up whose main objective is the production of high-tech furnishing accessories, such as double-glazed blinds and LCD, which allow the regulation of natural light, a source of wellness and energy, as well as privacy, preserved with products with an elegant and modern design, wherever it is considered useful: offices, apartments and public buildings.
ItalCarrelli – leading Italian company in the design and manufacturing of specialty machines and solutions for the storage and handling of flat glass. Product range: Platform transporters, Inloader transporters, Multidirectional side-loaders, Special equipment for glass handling, Trucks for glass handling inside closed top containers, AGVs & LGVs.
La Tecnica Nel Vetro – operating in the flat glass transformation sector since 1999, with a constantly expanding and innovating – now with over 100 employees.
Macotec – designer, builder and installer of automatic machines and plants for flat glass cutting since 1997.
Mappi – Mappi Fox, ATS 4.0 and the brand new MTH, share the same features and innovations. All new Mappi furnaces are Powered by Siemens qualified, ready to be integrated with a potentially infinite number of software applications and to communicate in real time with other machines.
Mazzaroppi – A true creative atelier; their tempering furnaces are imagined, developed, designed, and then built, the result of an artisan care of the past but inserted in a context of ultramodern industrialization.
Mole Moreschi – touting the know-how and direct experience in the production of diamond wheels and tools for glass processing, that are the result of 101 years of production.
Nordwall – since 1972, have produced and designed demountable partition systems and equipped walls that define and create workspaces in office environments.
Optima – For almost 30 years, has been developing vertical solutions specifically designed for the management of glassworks with complete process optimization and optimal integration of flat glass processing machines.
Schiatti Angelo –historic family-run company specializing in the construction of glass processing machines. The current production includes a complete range of straight and double edging machines also in line, loaders / unloaders, horizontal and vertical drilling machines
Schiavo a leading Italian company in the production of technological machineries for flat glass processing. For over 40 years on the market today SCHIAVO is present with over 5000 machines in 50 countries around the world.
Skill Glass – specialized in the manufacture and design of high technology numerical control machines for the processing of flat sheet glass, which, combined with special software with dedicated functions and modern and functional design, are simple and quick to use.
Triulzi – a true example of the excellence of "Made in Italy". This year the family company is reaching an important timeline of 70 years on the world market, with solutions including: the washing and treatment of glass in all declinations for automotive, solar, lighting, household appliances, display, building and interior.
UCS – started the U.S, introduction of Window and Skylight Automation for Natural Ventilation and Smoke Ventilation more than 20 years ago, providing window chain operators for many prestigious projects.
Check our official page: https://itahouston.com/glassbuild22 to plan you visit or to download the Official 2022 Italian Pavillion exhibiting catalog.
The Italian Trade Agency is looking forward to welcoming attendees at the Italian Pavilion: a great opportunity to create valuable business connection and to enjoy the Italian hospitality.
To organize a B2B with Italian exhibitor or to know more, email houston@ice.it.
On OCTOBER 19th at 3.30 PM we will celebrate the Italian Glass Machinery Industry with a open networking event. Surrounded by the signature green-white-and-red architecture and accompanied by an Italian glass of wine, our guests will meet the key players of the Italian glass equipment market and build new business relationships.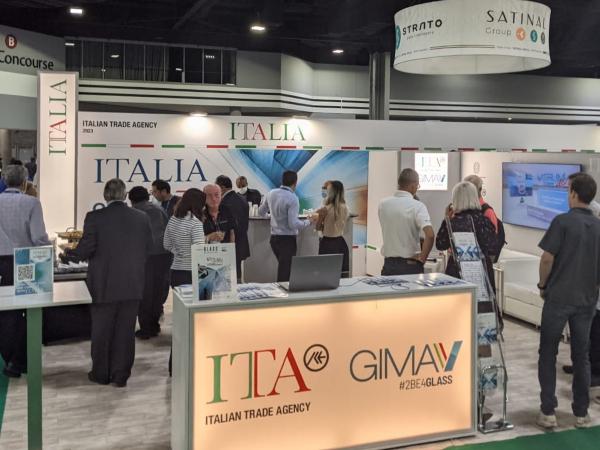 600
450
Italian Trade Agency
2022-10-12T07:30:00
Italy at GlassBuild America 2022
glassonweb.com