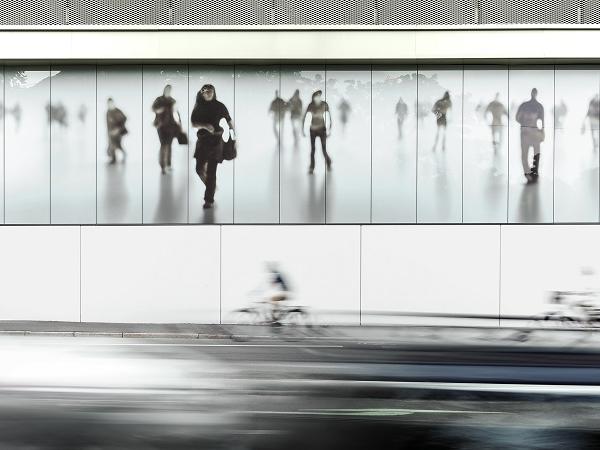 Photo source
©JoergMaxzin
Based on a design by architectural office Nattler, iconic skin, manufacturer of innovative construction elements for glass façades, has produced an imposing glass sandwich façade for a new Media Markt in Dortmund/Hörde.
The basement of the electronic market is covered with a glass envelope on a total area of 770qm. The glass façade is digitally-printed with strolling people and creates an interesting contrast to the curved expanded metal façade on the upper floor and the reduced design of the concrete base.
"Looking at the growing online business, the retail sector may come under pressure to offer good prices and to provide a real shopping experience at the same time. The new Media Markt is a real eye-catcher showing the possibilities of construction elements. Elements like GSP® give designable buildings a special character", says Hans-Joachim Frey, sales manager at iconic skin.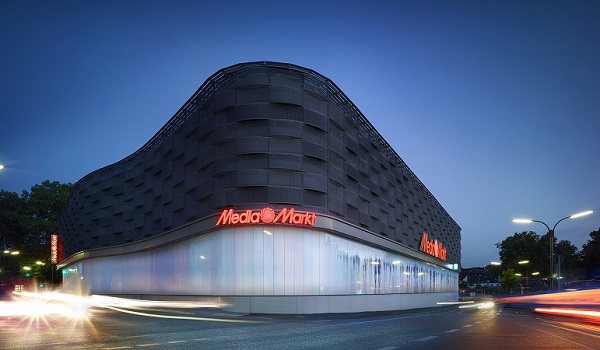 Customized construction elements
The Glass Sandwich Panel GSP® combines wall, insulation and glass surface in one construction element. The sandwich panel contains the inner wall and the insulation, on which a 6mm TVG pane is bonded. The glass pane functions as designable surface and elements can be applied according to the design specifications.
In Dortmund an extraordinary design had been chosen. For the promotionally effective exposed surface of the Media Markt, one third of the 200 elements has been printed with an art motive. "Crossing" is the name of the artwork from artist Joerg Maxzin, based in Augsburg.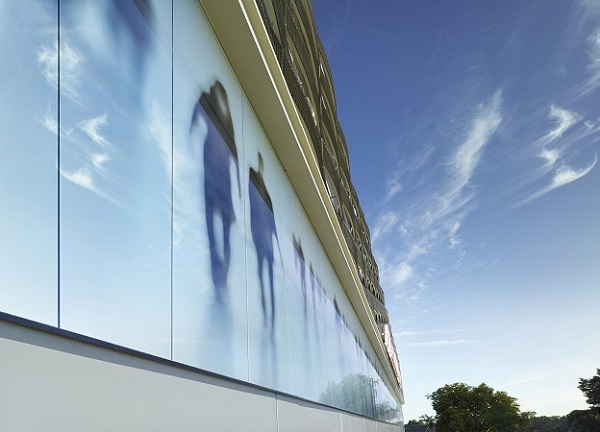 It shows passers-by, who give the building an additional dynamic and underline the inviting effect of the Media Markt. About 60 GSP® elements has been printed digitally to create a weather-resistant, scratchproof, non-fading surface. Another 150 GSP® plain-colored elements have been roller-coated printed (light grey, RAL colour 7035).
GSP® offers nearly unlimited possibilities of design, which were also used for the design of this new construction. Additionally to the color and print compositions, some  panels were arranged to  were  create  2D and 3D motions. Corner elements were assembled polygonally to reproduce the swinging body of the building. Reveals, such as recessed doors, create exciting interruptions within the façade.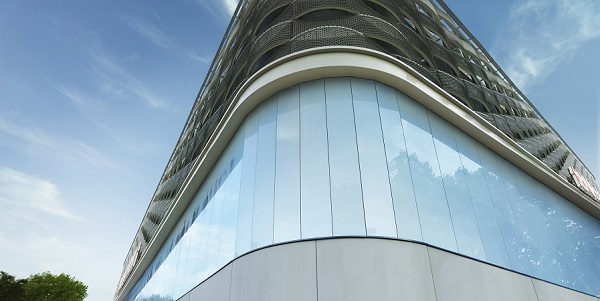 Quick errection progress 
All GSP® elements were produced in Gersthofen and transported in special transport frames to Dortmund. Construction documentation as well as the assembly of the panels has been managed by metal construction company Bernd Zienert.
The GSP® elements (Type GSP-PUR100-V) were installed on a solid wall with a substructure. The sandwich panel offers additional insulation (u-value of 0,25 W/(m²K).
The high level of prefabrication of the panels enabled a rapid construction progress and a quick closing of the façade. Within four weeks the whole GSP® façade was erected. The official opening of the Media Markt was celebrated in March 2017. 
About GSP® Glass Sandwich Panel 
With GSP®, glass sandwich façades are created by combining opaque and transparent façade elements. GSP® is suitable for different support structures – as an opaque façade component, it can use all advantages for skeletal construction.
But it can also be used as an insulating element with a glass surface for solid construction as a warm façade. GSP® can be applied to structural glazing façades, punched or ribbon window façades or mullion-and-transom façades.
GSP® by iconic skin thus allows for a highly efficient and cost-effective façade solution for various building types, e.g. in office, retail and hotel constructions or for educational facilities.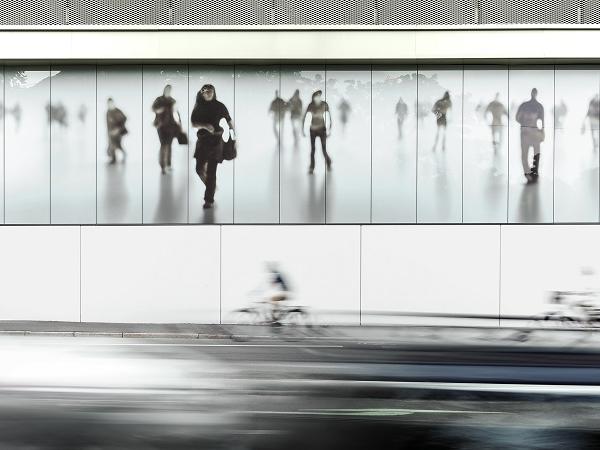 600
450
www.iconic-skin.com
2018-01-18T09:00:00
iconic skin delivered digitally-printed GSP® elements for new Media Markt in Dortmund
glassonweb.com