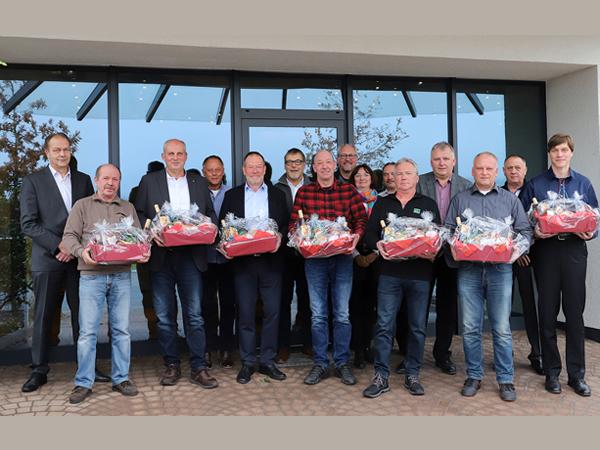 Photo source
www.hegla.com
The yearly event held to honour longstanding employees and say farewell to staff entering their well-earned retirement is always a highlight of the HEGLA calendar.
"People who stay at one company for so long are becoming such a rarity," HEGLA's Managing Director, Bernhard Hötger, was keen to point out during the celebrations. "All of you have been contributing to the success of HEGLA for decades now, enriching our team with your personalities. For that I want to thank you – on behalf of the management, the Board, and all of our colleagues."
Looking back on shared time and achievements
The mood was ebullient as colleagues reminisced about the time they had spent together throughout their careers, with the help of photos of production halls, trade fairs, co-workers, and products from days gone by.
Ralf Brähmer started working at HEGLA on February 1, 1979 and has since amassed more than 40 years of practical experience at the company, first in vehicle construction, then later in the welding shop. Josef Reitemeyer joined HEGLA's vehicle construction division just a few months later on July 1, 1979. He has played an active role within the company for decades, and knows the challenges and technical solutions involved like the back of his hand.
Herbert Spieker has been working in sales at HEGLA since July 23, 1979. He is a valued point of contact among German clients who are looking to convert delivery vehicles and trucks to glass-industry vehicles. Stefan Wiemers was also among those celebrating 40 years of service (October 15, 1979). With his work in material cutting and processing for machinery construction operations at HEGLA's mechanical engineering division, he too has played a part in the success and high quality of this once small division.
Jakob Maier (June 13, 1994) and Stefan Bornemann (August 15, 1994) were honoured for 25 years of service. In their respective roles of welder and mechanical engineer, they are both important members of HEGLA's production team, and their work lays the foundations for the high quality that clients value in HEGLA systems. Jörg Zimmermann has been part of the sales team at HEGLA's mechanical engineering division since February 1, 1994; both clients and colleagues alike value his technical knowledge and expert advice.
Becoming technological and market leaders – together
"This company has changed a lot since we first started out. Together, we have transformed HEGLA from a local provider of relatively simple products into a technological and market leader for the flat glass processing industry," said Bernhard Hötger. "None of this would have been possible without your hard work and dedication. Your experience has played such a key role in the company's success."
Bidding farewell to retirees
A note of sadness tinged the air as the time came to say goodbye to six colleagues entering their well-earned retirement. Welders Rudolf Altmann and Viktor Schmidt are leaving the company after eight and twenty years respectively. Also retiring are Jochen Mund, the welding shop foreman of more than 20 years, and mechanical engineer Gerd Spieker who has spent 22 years at the company. Designer Karl-Heinz Büchsenschütz looks back on more than 16 years at HEGLA. Jürgen Sobireg looks forward to a new chapter after over two years as a warehouse clerk at HEGLA.
"I would like to thank you for the many years of loyalty and dedication you have given us. Your expertise and experience will be a great loss to us – but more than that, we will miss you as people and as the valued and appreciated colleagues with whom we have shared so much over the years. I wish you good health and all the best for your futures, and every success in the next phases of your lives," Managing Director Bernhard Hötger added.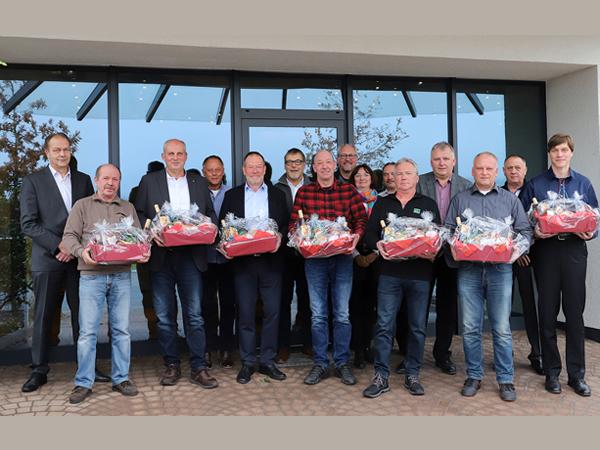 600
450
www.hegla.com
2020-02-04T09:00:00
HEGLA bids farewell to retirees and honours longstanding employees
glassonweb.com