50 years of experience in the industry and the desire to achieve the highest reliability ever in the vertical CNC category for glass processing.
This is what lies behind the creation of ypsos, the vertical machining center developed by CMS to process flat and laminate glass sheets.
A vast range of operations available: seaming, polished and industrial grinding, routing, and co-axial drilling.
This machining center combines absolute precision and quality with the advantages of productivity and versatility typical of vertical processing.
CMS ypsos can be used as a stand-alone machine, in line with a drilling-milling machine, or on a double-glazing line.
There are 5 aspects that make CMS ypsos unique on the market.
1. The achievement of maximum productivity with polished grinding
This machine can be fitted with a second spindle, capable of performing seaming and rough planer or polished grinding. The second head allows for automatic tool change in the presence of at least one rotating tool magazine.
2. Using a CNC has never been easier
The new software has been designed to maximize the efficiency of a numerical control and user interface. The result? Fewer worries for designers and workers! If fitted, ypsos will search for the right tool. Otherwise, the machine informs the operators if the tool has not been loaded or has an insufficient lifespan.
3. CMS ypsos is an intelligent machine
The dressing option constantly monitors the meters processed and the holes made in order to automatically control the best time to start the dressing cycle
4. Automatically reads the 3 sizes of glass and the off-size measurement
The system automatically detects errors in the straightness of the sides on rectangular and square sheets (up to a maximum of ± 5 mm), modifying the processing as a result. It is a completely renewed design process, equipped with an exact spiral cog gearbox positioned so that it is protected against the processing water.
5. Drilling on any part of the plate is no longer a problem
The rear drill, a CMS patented system, allows you to drill in front of the suction cup carriage. The drill allows for the use of drill bits up to 50 mm in diameter and also has a cooling system directly integrated into the sheet contrasting presser.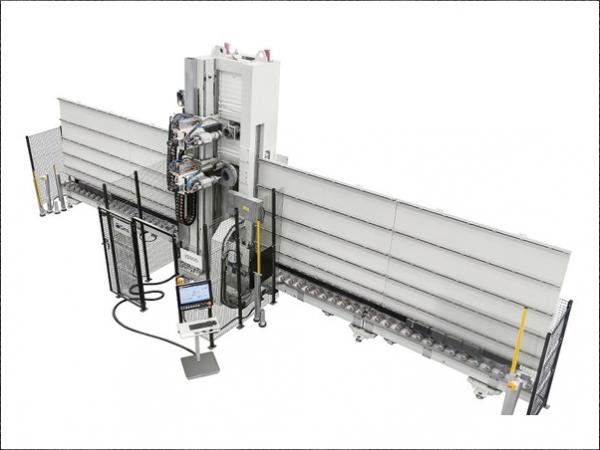 600
450
www.cms.it
2021-10-12T11:00:00
5 reasons why CMS ypsos is a unique machine on the market!
glassonweb.com