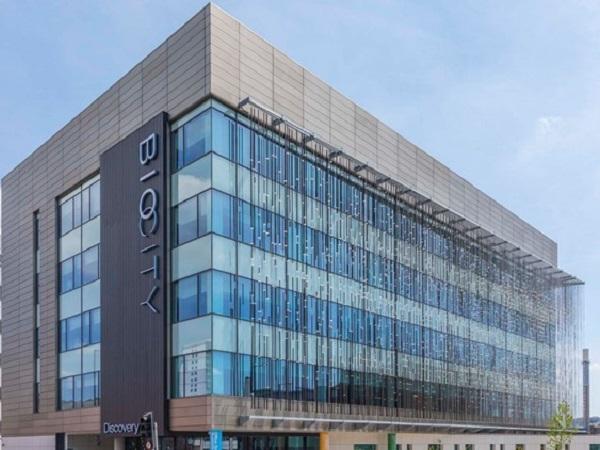 Photo source
www.sapabuildingsystems.co.uk
The main area of glazed façade is 45 metres long and 15 metres tall, being made up of Sapa NRGY62 fixed lights.
An acclaimed new research building in Nottingham has seen the official switch on of a unique artwork whose aluminium tubes are embedded with fibre optic lights that respond to NASA measurements of solar flares; with the backdrop to the sculpture being a high performance glazing system from the range of Sapa Building System, part of Hydro.
Located in the city's Eastside district, the Discovery Building is part of the University of Nottingham's BioCity development and has been part funded by the East Midlands Development Agency, working with Nottingham City Council and the D2N2 Local Enterprise Fund, which contributed £6.5 million.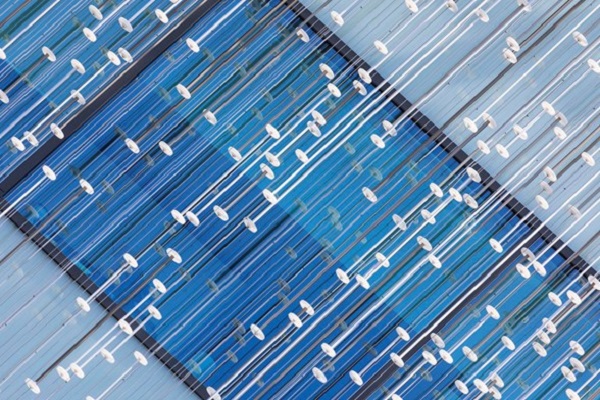 Set to open in May this year, the Discovery Building will house Sygnature Discovery - the UK's largest independent provider of integrated drug discovery programmes – across four floors, and features high-tech biology and chemistry laboratories.
Other facilities will include meeting rooms, reception services, shared breakout space and a coffee shop. The project is predicted to protect 250 bioscience jobs in Nottingham, and bring some 700 more over the next 30 years.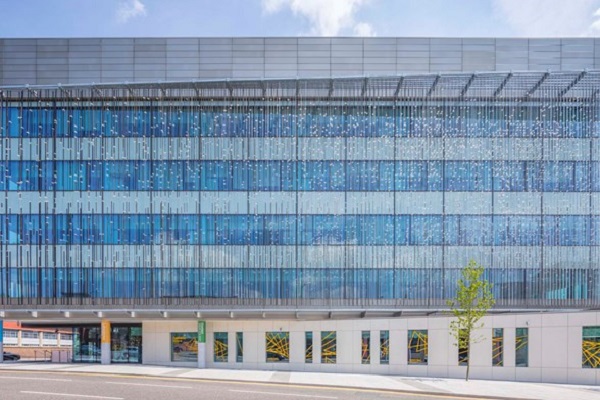 Willmott Dixon was the main contractor for the construction of the building, designed by local architectural practice, CPMG, and the specialist fabricator employing the very versatile Sapa NRGY62 system was Bonam and Berry, also based in the city.
The main area of glazed façade is 45 metres long and 15 metres tall, being made up of Sapa NRGY62 fixed lights measuring up to 4000mm wide by 1500mm high; the 34 mm thick St Gobain solar control glazing offering a centre pane value of 1.0 W/m2K, which was procured from System 3 Ltd.
The NRGY62 system is not only designed to achieve U-values down to PassivHaus standards, but is also able to sustain very heavy loads, due to its unique mullion / transom PIN system allowing for glazed surface areas of up to 12m², weighing up to 680Kg.
Sapa's solution was essential in delivering the large spans envisaged coupled with the weight of the glass needed to meet the high acoustic requirements of the Discovery Building.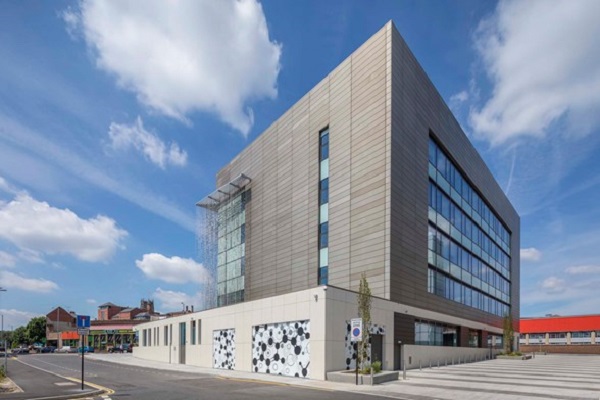 The Project Architect for CPMG, Matt Greenhalgh, commented: "The Sapa system proved very adaptable while Bonam and Berry were proactive in coming up with ideas to realise our aspirations for the glazing. At the corner of the building for instance, they volunteered the idea of putting a glass fin behind rather than a mullion – which was a great design led solution.
"In addition because of the wide, large format units and the heavy glass, it needed the system to provide extra structural support or diagonal bracing; while for the glass-to-glass junctions at high level, Bonam and Berry used a special rod to tie the transoms together, which provides a very attractive, bespoke finish."
Matt Greenhalgh concluded: "This is a flagship building in a really important part of Nottingham, which we hope will be a catalyst to kick-start the regeneration of the city's Eastside zone. Furthermore it helps secure high quality, high value jobs in a very important sector for Nottingham: it is fundamentally a key building and as a practice we are very proud to have been involved."

As a very active member of Sapa's UK wide installer network, Bonam and Berry not only carries out contracts for commercial clients across the Midlands, but also supplies and installs blast resistant doors for the MOD, airports and other high specification locations nationally: all using Sapa systems.
One of the company's directors, Andrew Spencer added: "There were some very challenging aspects to this project and Sapa's façade specialist came and spent several days working with us: coming up with a solution to how we could transfer the very high loads from the centre of the transom back to the mullions. This involved having bespoke 45 degree brackets manufactured, which were bolted back to the system members, all concealed within the spandrel area."
Councillor Jon Collins, Leader for Nottingham City Council and Portfolio Holder for Strategic Regeneration, said: "This building, made possible by the City Council and local enterprise partnership, D2N2, recognises the importance of bioscience to our local economy; and it will provide the chance for fledgling companies and the next generation of entrepreneurs to expand by making use of a range of high-tech chemistry and biology laboratories. The building will cement Nottingham's position as the UK's fastest growing life sciences community."
Operations Director at BioCity, Toby Reid said: "This is a real statement of intent for Nottingham as a leader in the life sciences sector…. we've been able to create further space to accommodate our own growth and that of the next generation of innovative entrepreneurs."
NRGY 62 is an innovative façade system that combines smart aluminium profile shapes with the demands of contemporary building design, allowing large glass sizes to maximize light penetration.
The system can encompass a wide selection of aluminium curtain wall solutions and facilitates easy integration of various infills, concealed vents, photovoltaics and ventilation solutions - including a decentralised ventilation system for the healthy, modular and energy efficient supply of fresh air.
All components are rigorously selected for their environmental impact and contribution to energy efficiency. Recycled aluminium accounts of 50% of Sapa's global production.
Sapa Building System is part of the Hydro Group, a world leader in aluminium solutions that also encompasses sister brands Technal and Wicona. Through its globally renowned Technology Hubs, Hydro is shaping a sustainable future, with innovative products that satisfy and surpass customer expectations, in line with demands of CSR and increasing environmental regulations.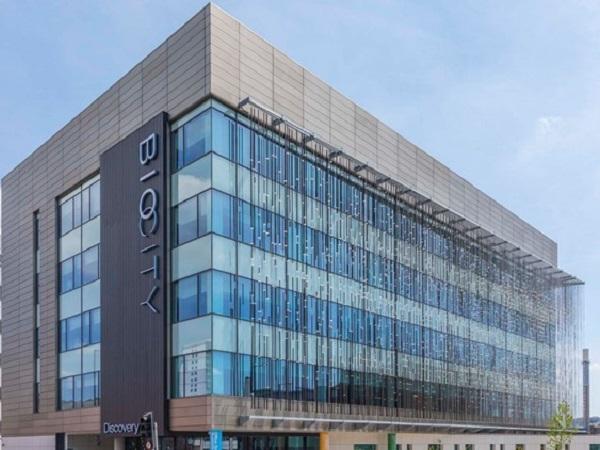 600
450
www.sapabuildingsystems.co.uk
2018-03-09T09:30:00
Sapa shows design flare on Nottingham Life Science project
glassonweb.com