Photo source
www.pilkington.com
Pilkington OptiShower™ is a glass developed to enhance the aesthetics of shower cubicles improving their appearance and making easy work of cleaning.
One of the biggest drawbacks of a standard shower cubicle or enclosure is its need for constant maintenance. It is not easy to keep it perfectly clear, free from traces of limescale, soap and other detergents. Regular cleaning is required to maintain its pristine state.
Over time, deterioration of the glass starts to show signs of 'cloudiness' making the cleaning process particularly hard work.
Last year NSG Group launched Pilkington OptiShower™ to the market, a new type of glass specifically designed to solve such problems.
Thanks to its special surface, the glass helps to keep the shower enclosure transparent and clean over time. The highly-resistant coating has anti-corrosion properties that protect the glass surface ensuring the shower cubicle is easy to clean and always looks spotless.
Pilkington OptiShower™ will also prove very useful for public showers (swimming pools and sports facilities) and is ideal for hotels, where the reduction of maintenance time will lead to considerable cost savings.
There are many other application opportunities for Pilkington OptiShower™, which can include wall coverings in bathrooms or other wet rooms.
Thanks to the anti-corrosion coating, it is ideal for use in the marine environment.
Glass processors are finding the pyrolytic coating of Pilkington OptiShower™ easy to work with using standard techniques. The product can be toughened, bent and laminated as well as silk-screened - even on the coating side.
Pilkington OptiShower™ is available on 6 and 8 mm clear glass and on 8 mm Pilkington Optiwhite™ extra clear glass; it can also be offered as acid-etched Pilkington OptiShower™ Opal with an elegant design for applications where comfort and privacy in the shower are required.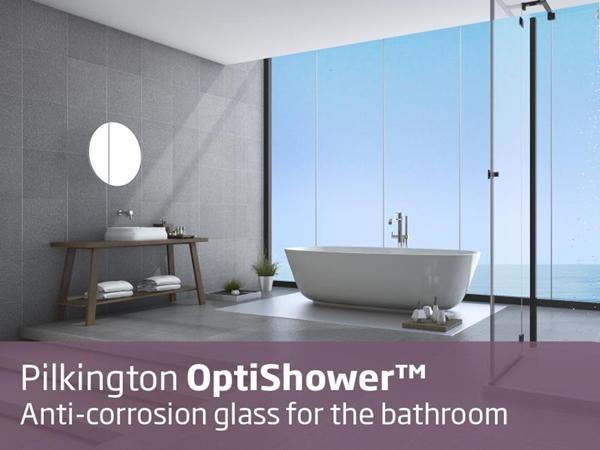 600
450
www.pilkington.com
2019-05-15T08:00:00
Pilkington: From now on, glass shower screens will always stay clean and transparent
glassonweb.com