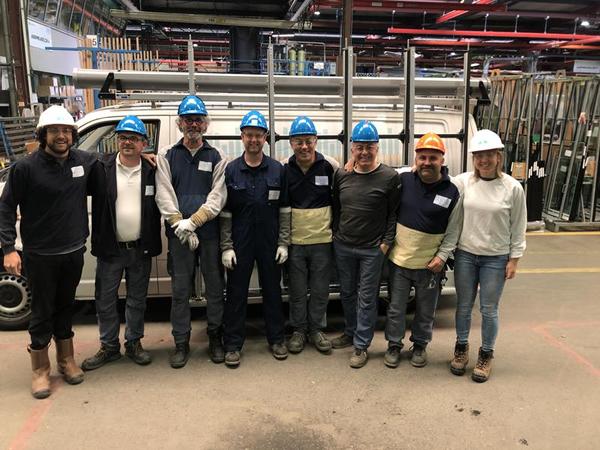 Scale-up PHYSEE acquires industry standard guarantee from large scale glass manufacturer Pilkington Nederland, setting a new benchmark for sustainable facades.
 PHYSEE's power-and data generating windows (PowerWindows) have passed extensive climate durability tests at Pilkington Nederland.
 A 10-year, industry standard, guarantee from Pilkington Nederland is provided on PHYSEE's PowerWindows, proving that increased energy performance of glass doesn't compromise on its basic functionalities.
 The tests provide proof of matched quality and functionality with European standardized industry windows. This marks a milestone in extending the impact and normality of PowerWindows, paving the way for sustainable, smart and transparent facades.
PowerWindows and the Climate Tests
PowerWindows are power-and data generating windows from the Delft-based tech company: PHYSEE Group. Each PowerWindow frame is uniquely equipped with fitted solar cell strips and sensors, producing clean electricity and gathering climate data, without compromising on glass transparency or functionality.
Multiple PowerWindows and SmartWindows are connected to an EESY- (Energy Efficient SYstem) which reduces energy losses and enables direct usage of produced power. All technologies combined form PHYSEE's SmartSkin, the end solution turning facades into smart, sustainable and healthy building envelopes.
In order to standardize the product and reduce its' risk, PHYSEE teamed up with Pilkington Nederland (a global leading glass producer and window manufacturer) to complete the manufacturing of these windows and to carry out climate-resilience tests.
PowerWindows endured weeks of climate testing in Germany at Pilkington Gelsenkirchen, where they were placed into test chambers that simulated up to 20 years of extreme climate conditions. The PowerWindows, engineered as individual elements and produced by PHYSEE, were taken to Pilkington Enschede and assembled into electricity generating Insulated Glass Units (IGUs) ready to be tested at Pilkington Gelsenkirchen.
PHYSEE and Pilkington collaboration
The success of this climate test is part of a larger triumph: combined sustainable real estate innovation between established industry experts (Pilkington) and young tech pioneers (PHYSEE).
The world-wide knowledge, expertise and resources brought to the table by Pilkington Nederland has catalyzed the growth and scalability of PowerWindows, while PHYSEE has provided Pilkington with sustainable and disruptive window components.
Together the achievement results in a growing value-added window industry and a new opportunity for energy neutral buildings with dynamic, integrated facades.
"It takes a lot of courage for a few people in a big multinational to experiment with startups exploring unknown territories. Pilkington's faith, gave us the credibility and confidence to innovate and excel and prove this positive outcome, showing the value of agile collaborations." – Sam Anders, Head of Production at PHYSEE Group.
The catalyst for new facade innovations
"The collaboration with PHYSEE has been a very productive one from the beginning. Pilkington and PHYSEE showed that the wide industry knowledge and testing capabilities of Pilkington in combination with the agility and a real disruptive new technology from PHYSEE can lead to something special to support both our valueadded as well as our sustainability goals. We are very much looking forward to the further developments and cooperation with PHYSEE in the near future." – Martijn Rietveld, commercial manager Pilkington Netherlands.
This certification recognizes that PHYSEE PowerWindows have matched functionalities of current, standard IGU's. This has added to the continuous innovation at Pilkington and sets the basis for new product development between the two companies and mass production of emerging technologies. This inspires the rest of the façade industry, large or small companies, to experiment ways of decreasing the carbon footprint of our built environment and to change the perspective.
600
450
physee.eu
2019-06-26T09:55:46
Pilkington Nederland has provided PHYSEE Technologies with a 10-year guarantee on PowerWindows
glassonweb.com