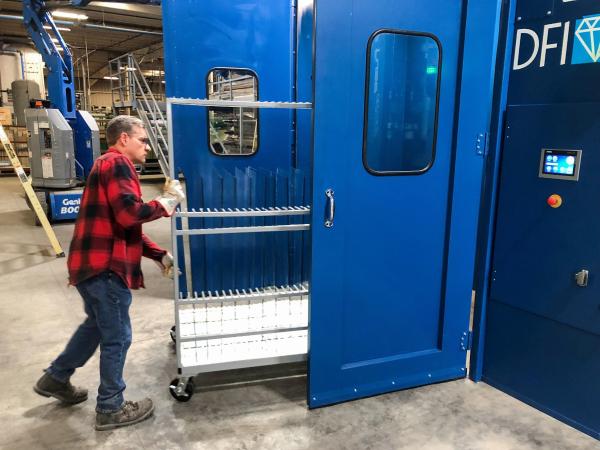 Photo source
Diamon-Fusion International, Inc.
Manko Window Systems, Inc. announced the addition of its 4th FuseCube™ at its headquarters in Manhattan, Kansas.
Manko Window Systems, Inc., a leading manufacturer of architectural aluminum windows, entrances, storefronts, curtain walls, and glass fabricator, announced today the addition of its 4th FuseCube™ at its headquarters in Manhattan, Kansas. The machine streamlines the application of Diamon-Fusion® low-maintenance coating, which transforms ordinary glass into a high-performing, water-repellent, surface. The Diamon-Fusion® coating is also 100% optically clear as well as scratch and impact resistant, providing a wide array of value-added benefits to any glass surface.
Manko also announced that this new (and larger machine) will add more production capacity for Diamon-Fusion® glass treatment to its fabricated glass products. The Company is already operating the FuseCube™ Express machine at each of its manufacturing facilities (Aurora, CO, Des Moines, IA, and Manhattan, KS). And the addition of this new FuseCube™ Flex 50 XL model will expand the Company's coating capabilities for larger projects, such as the recently completed Colby Event Center (in Colby, KS), where all the glass was specified and treated with Diamon-Fusion® protective coating.
DFI's FuseCube™ glass coating machine applies the Diamon-Fusion® coating through a proprietary chemical vapor deposition process, ensuring double-sided coverage, uniform application, and a higher-quality coating.
"We are thrilled to be able to add more Diamon-Fusion®Diamon-Fusion® production capacity, not only for our current demand, but for the opportunity to pursue larger glass projects in scope and size. We've been successfully applying DFI's high-quality protection on multiple glass products, including shower doors, handrails, and insulated glass, adding more value to the consumer's finished product." – Brett Jones, Manko HQ
"We see Manko's new addition to its existing FuseCube™ capabilities as the natural progression of a visionary and class-act company that clearly understands quality and keeps adding more value and excellence in service above all." – Guillermo Seta, VP of Business Development, Diamon-Fusion International
Built to last, Diamon-Fusion® is UV-resistant, requires no aftercare products, and comes with a lifetime warranty on residential surfaces and a 15-year warranty on commercial surfaces. Like a non-stick cooking pan, surfaces treated with Diamon-Fusion® become easier to clean and require less care to maintain. The invisible barrier created in the Diamon-Fusion® process also eliminates the need for harsh chemical cleaners, promotes a more hygienic environment by reducing mold/bacteria buildup, and keeps glass looking cleaner for longer.
ABOUT MANKO WINDOW SYSTEMS
Manko has manufacturing locations in three states – Kansas, Colorado, and Iowa – providing products to 28 states in the U.S with a vast distribution network of over 2,000 partners, and each manufacturing facility is equipped with cutting edge glass fabrication equipment including state-of-the-art tempering and insulating glass equipment, CNC machinery for both glass and aluminum products, and a powder coat paint line (in Kansas) to provide a high quality aluminum finish.
Manko's current marketed product line includes 24 aluminum window systems, seven (7) aluminum storefront systems, seven (7) curtain wall systems, 13 entrance systems, two (2) solar control devices, insulated glass, fabricated glass, laminated glass, and digital in-glass printing.
ABOUT DIAMON-FUSION INTERNATIONAL
Diamon-Fusion International (DFI) is one of the largest hydrophobic coating suppliers in the world. The company specializes in the development of easy-to-clean, protective coatings, automated machinery, and restoration products for the glass industry, as well as other silica-based surfaces. Their protective coatings are proven to add value to any glass (or silica-based surface) by cutting clean times, protecting against stains and corrosion, and keeping the surface clean and clear for years to come. The Company has representation in over 35 countries serving regions in North America, South America, Europe, the Middle East, Africa, Asia, Australia, as well as Latin and Central America.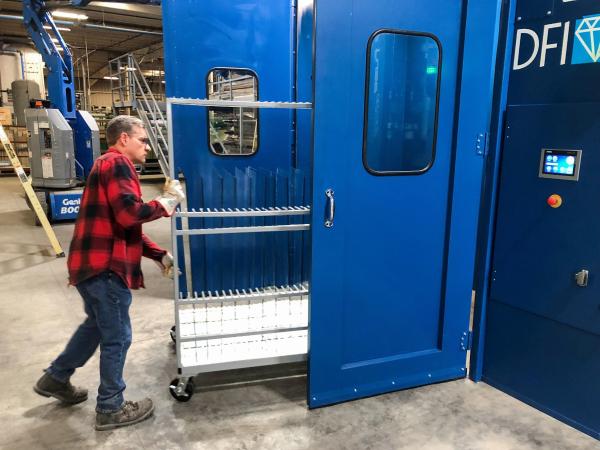 600
450
Diamon-Fusion International, Inc.
2023-05-16T08:00:00
Manko Adds 4th DFI FuseCube™ Machine
glassonweb.com