Photo source
www.intersolarglobal.com
Higher performance and greater efficiency combined with a longer service life – those are the trends for solar modules in 2019.
High-performing, robust and efficient – the solutions presented by the finalists of the Intersolar AWARD 2019 make them worthy contenders for the prestigious prize, which honors pioneering technologies and services for the solar industry.
The submissions for the award span a wide range of technologies, from solar modules to inverters to substructures. The prizes will be awarded on May 15, 2019 at The smarter E Forum in hall B3, booth B3.570 as part of The smarter E Europe, Europe's largest platform for the energy industry.
The winners of the Intersolar AWARD and their products reflect the developments in the modern energy supply and motivate the industry to play an active part in shaping the energy future with groundbreaking innovations. The sector benefits from this – along with the winners – as the award attracts international attention from clients, partners and the trade press.
HIGH-PERFORMING, ROBUST AND SUSTAINABLE – THIS YEAR'S TRENDS
Higher performance and greater efficiency combined with a longer service life – those are the trends for solar modules in 2019. Product and performance warranties are extending for as long as 35 years, while modules are more resistant to linear degradation.
Cell technology is dominated by half-cut cell modules. Laminating bypass diodes into each cell minimizes shading loss and prevents hotspots when temperatures climb. High-performance monocrystalline n-type half-cut cells optimize bifacial glass-glass modules for use in power plants. Thin-film modules in CdTe technologies for power plants provide an output of 420 watts.
For inverters, the focus is on long service lives and improved maintenance strategies. Additional functions being implemented include characteristic curve analysis, multi MPP tracking, combination with performance optimizers, or connection to a battery. Interconnected technologies are increasingly enabling app-based services such as monitoring and system operation as well as smart home and smart grid applications
Planners developing substructures on industrial and commercial rooftops and verifying technical specifications can draw on professional CAD-based programs. Set-up is becoming simpler thanks to novel high-tech, age-resistant mounting systems using plastic material and a click-fit mechanism.
Installations are being tailored to individual buildings with solar roof tiles, trapezoid and triangular modules, and patterned transparent module front glass. And this green technology is becoming greener – special substructure systems are making it possible to generate solar energy on rooftops planted with vegetation.
THE FINALISTS FROM A TO Z
ABB (Italy): ABB is introducing a new generation of central inverters with its PVS980-58. This model has a power rating of around 5.5 MW and a unique cooling system, setting a new benchmark for the power plant sector. The maintenance strategy and the focus on a long service life promise lower operating costs.
AE Alternative Energy GmbH (Germany): AE Alternative Energy's module design provides up to 30 percent more output in the shade. Bypass diodes increase shade tolerance and prevent hotspots from developing due to localized shading or module defects. This means the modules can be used at high temperatures up to 85° Celsius.
Beijing Hanergy PV Investment Ltd. (China): The solar roof tile HanTile is a pioneering example of how solar cells can be elegantly integrated into roofs. CIGS solar cells in curved glass elements form plug-in PV modules rated 30 W. The solar roof cells are laid just like shingles to completely replace the conventional roof covering. They meet high standards in terms of construction, fire safety, waterproofing and mechanical strength.
Contec Deutschland GmbH (Germany): Contec's product Contec.greenlight combines a PV mounting system for rooftop installations with a green roof solution. The base plate is light and easy to lay, and is filled with a granulate where plants can grow. The integrated water reservoir stores rainwater for the plants and supports the drainage system during heavy rain.
Huawei Technologies Co., Ltd. (China): The series Smart PV String Inverter SUN2000-20KTL-M0 enables flexible set-up of commercial systems. Although the design does not incorporate a fan, the system is lightweight and compact. It is combined with performance optimizers if necessary due to shading or differing module orientations. The integrated error diagnostics and energy management system ensure trouble-free operation with or without a battery storage system.
Raycatch Ltd. (Israel): DeepSolar is a diagnostic software program for cost-optimized maintenance of PV power plants. The AI-based algorithm uses data generated by existing monitoring systems to enable optimization of operation and maintenance – replacing interval-based maintenance with a cost-efficient responsive approach.
Staudinger GmbH (Germany): Staudinger's remote-controlled cleaning robot moves across the PV installation on suction pads arranged to form caterpillar tracks. A magnetic field measuring instrument allows the robot to detect faulty string diodes or cell connectors and display them in high-resolution images.
SunPower Corp. (USA): The new Maxeon 3 series solar module with back contact cells has an outstanding efficiency rating of up to 22.6 percent. Just 1.69 meters long, the modules offer output of 370–400 W with a 92 percent performance and product warranty over 25 years.
Tessolar Inc. (USA): The newly founded company Tessolar has developed a whole new mounting system concept for PV installations. The Tesserack system replaces metal substructures with lightweight elements made from a plastic material that is also used in space technology. The PV modules can be rapidly clicked into place with no need for tools.
Zhejiang Jinko Solar Co., Ltd. (China): Jinko has used the transparent back sheet Swan from DuPont for the first time in its Cheetah Bifacial HC module, making it more lightweight than glass-glass modules. The bifacial half-cut cell module, with an output of up to 400 W, is ideal for PV power plants and is optimized to ensure a low levelized cost of electricity (LCoE). It also offers a linear performance warranty lasting 30 years.
Further information on the awards can be found here:
Image source: © Solar Promotion GmbH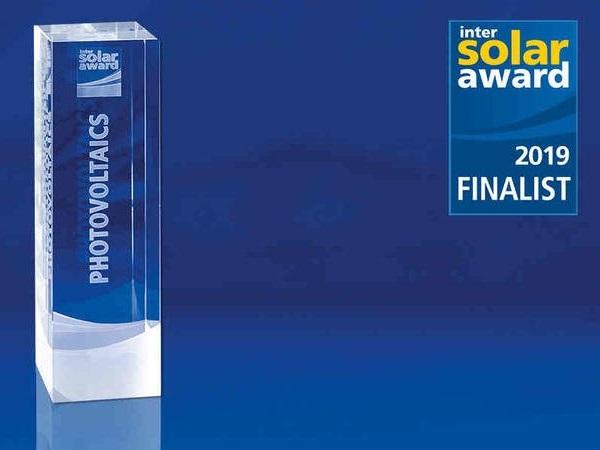 600
450
www.intersolarglobal.com
2019-04-11T09:00:00
Intersolar AWARD 2019: Finalists announced
glassonweb.com