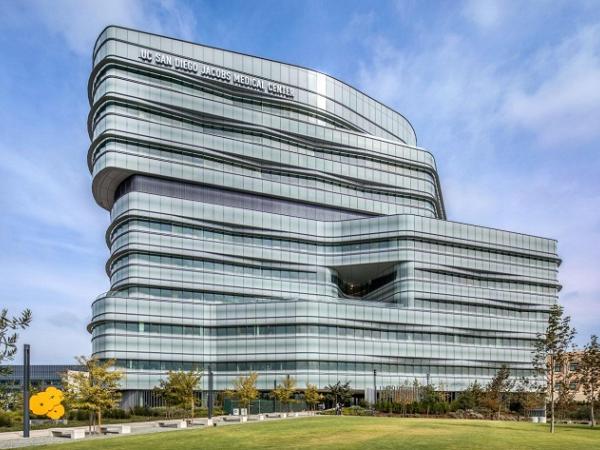 Photo source
By Tom Kessler
UCSD Jacobs Medical Center cited by AIA and ENR for innovative, patient-first design.
Solarban® 70XL solar control, low-emissivity (low-e) glass on Starphire Ultra-Clear® glass by Vitro Architectural Glass (formerly PPG Glass) is a key component on the University of California San Diego (UCSD) Health Jacobs Medical Center, which received two prestigious architectural awards in 2017.
Designed by CannonDesign, the 509,500-square-foot, 245-bed medical and surgical specialty hospital functions as three discrete medical centers housing inpatient services for high-risk obstetrics and neonatal care, cancer care and advanced surgical care.
The facility, which is part of the UCSD Health System, received a Healthcare Design Award from the American Institute of Architects (AIA)/Academy of Architecture for Health (AAH). The organizations said that the building "demonstrates a consistent design vocabulary, inside and out" and that "the innovative use of form for the patient units carries all the way through."
In addition, ENR (Engineering News-Record) California recognized the facility with a healthcare award of merit in the publication's "Best Projects" competition, citing its "innovative project delivery method" and the use of a "foam mock-up facility to eliminate costly intermediate room remodeling."
To achieve the hospital's vision of patient-first care, all patient rooms are designed as private suites with floor-to-ceiling windows fabricated with ultra-clear Solarban 70XL glass and a "smart" bed that is oriented for panoramic views of La Jolla.
Many of the facility's 10 stories feature the vision glass splitting from the spandrel glass, curving wavelike beyond and behind the concrete slabs. Because these "folds" concave two feet into the building's interior, the freeform curved structure minimizes traditional 90-degree building corners. This unique curvilinear form was driven by the design of the patient units, as well as by advanced modeling to capitalize on views, maximize daylight and minimize solar gain and glare.
Glazing contractor ENCLOS provided more than 205,000 square-feet of curtain wall and a 9,637-square-foot point-supported structural glass wall. Northwestern Industries (NWI) of Seattle, a member of the Vitro Certified™ Network, was the glass fabricator.
The primary cladding consists of a front-glazed, unitized curtain wall system featuring triple-silver Solarban 70XL glass coated on Starphire Ultra-Clear low-iron glass and spandrel shadow-box glazing.
The curvilinear glass and frame system includes more than 40 radiused dimensions, including both concave and convex surfaces. The point-fixed structural glass façade wall incorporates glass fins, nearly 3,900 square-feet of glazed guardrails and more than 5,300 square-feet of column covers and panels.
Construction of Jacobs Medical Center, which opened in November 2016, was part of the expansion of the UCSD Health System's campus; it was Southern California's largest ongoing health care project and the second-largest in state history.
With center-of-glass visible light transmittance (VLT) of 64 percent and a solar heat gain coefficient (SHGC) of 0.27 in a standard 1-inch insulating glass unit (IGU), Solarban 70XL glass is one of the industry's highest performing solar control low-e glasses.
Introduced in 1990, Starphire Ultra-Clear glass remains the clearest, most transparent commercial float glass available today, with VLT of 91 percent in a standard ¼-inch (6 millimeter) thickness. To learn more about Solarban 70XL or Starphire Ultra-Clear glass, visitwww.vitroglazings.com.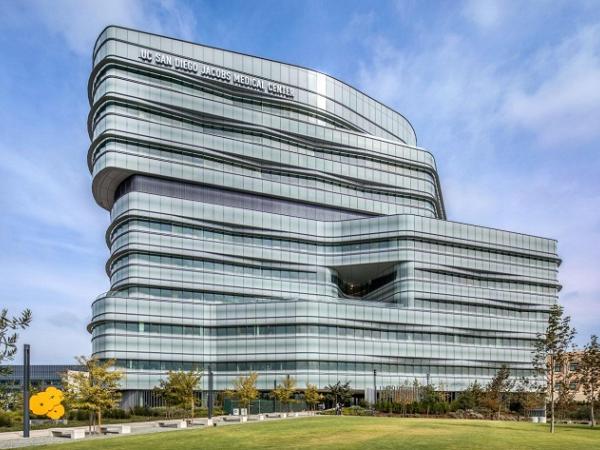 600
450
www.vitroglazings.com
2018-03-30T11:45:00
Health care facility featuring Solarban 70XL Starphire Ultra-Clear glass by Vitro Glass wins two awards
glassonweb.com