POLFLAM® F glass applicable for ceilings and stairs.
Large-size glazed partitions, facades made of glass, numerous skylights… Modern technology sets architects free to apply their visions of buildings filled with light, even if a structural element has to be resistant to fire.
Glazed elements to bear load in an incident of fire have long been a challenge. Therefore, POLFLAM® F glass has been designed for such demanding applications.
Load-bearing glazed systems are certificate-tested for resistance to fire when bearing load. The tests are designed to specify the element's load bearing capacity (R) in fire incidents which is required in this case, apart from the typical parameters for fireresistant glass, i.e., fire-resistance index (E) or fire insulation (I).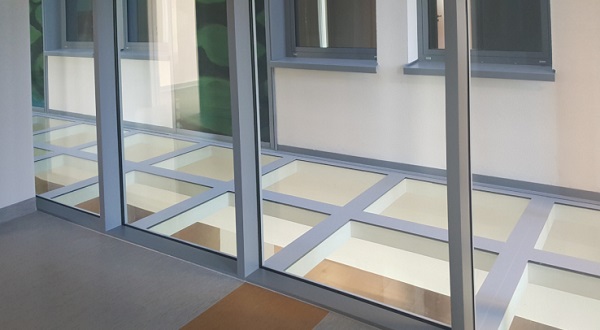 POLFLAM® F glass applicable for ceilings bearing load of as much as 5 kN/m2 is available in three fire resistance classes: REI 30, 45 and 60.
Maximum dimension of POLFLAM® F glass panel is 2200 x 1650 mm. The ceiling panels are available in any required shape within the afore mentioned rectangular. The thickness of the glass varies from 46 to 62 mm, depending on its size.
In an incident of fire, POLFLAM® F ensures absolute safety of evacuation over the required time span, while allowing for extensive flexibility in designing the interiors. The solution is even more user-friendly through the antiskid screen print applied on the surface. The desired visual effect can be achieved using digital print or the LCD film.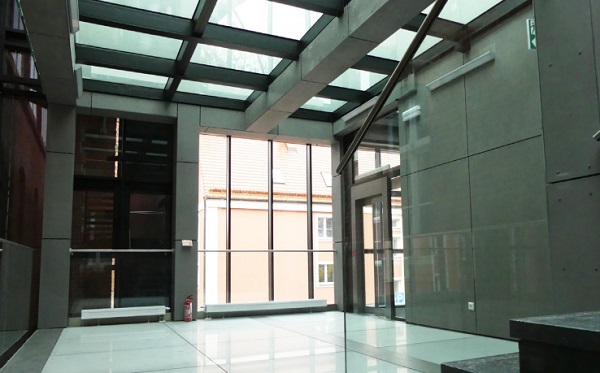 Fire-resistant glazed ceilings or stairs are a valuable solution wherever solid, opaque elements limit the access of daylight. Such spaces include staircases, internal courtyards or rooms below ground level.
The glazed elements provide extraordinary visual effect while bringing the buildings close to the literary ideal of glass homes; the appropriate safety requirements fulfilled. 
600
450
polflam.pl
2018-03-26T13:59:14
Glass houses come closer than ever
glassonweb.com