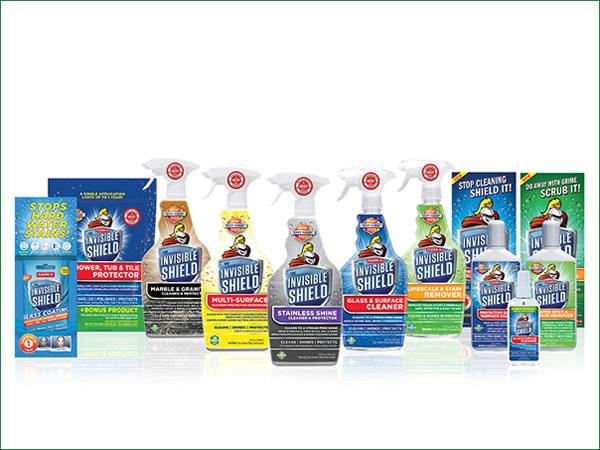 THE INVISIBLE SHIELD® Solution for Glass and Hard Surface Household Cleaning and Protection Now Available on Home Depot.com

THE INVISIBLE SHIELD® technologies make cleaning easier with solutions to clean and protect glass and hard surfaces by removing even the most stubborn hard water stains and mineral deposits, enhancing appearance and then protecting surfaces against re-soiling.
THE INVISIBLE SHIELD® Water Spot & Stain Remover deep cleans and restores glass, porcelain, ceramics, granite and natural marble with a "like new" luster and shine. Even the toughest water spots and mineral deposits disappear without harsh chemicals or abrasives which can dull these surfaces. 
THE INVISIBLE SHIELD® Protective Glass & Surface Coating creates a long-lasting bond with a protective coating that "shields" glass, porcelain, ceramics, granite and natural marble against grime, hard water minerals, rust and soap scum for easier cleaning and maintenance. Imagine all of your glass shower enclosures, tubs, toilets, tile, counters, windows and patio doors stay looking like new just the day you bought them. The Invisible Shield Glass & Surface Coating eliminates the need for repairs or replacements. Now, you can protect your investment for the life of the surface!
THE INVISIBLE SHIELD® Glass & Surface Cleaner not only cleans glass and other polished surfaces, but it also adds a patented layer of protection that resists re-soiling enhancing appearance and making cleaning easier.
Clean-X offers a new, liquid descaler that is very convenient, called THE INVISIBLE SHIELD® Limescale & Stain Remover. It is 3 X more effective at removing stains and mineral deposits from glass, porcelain, ceramic, fiberglass, aluminum, stainless steel, brass, chrome and synthetic or cultured marble surfaces as opposed to single abrasive action. 
THE INVISIBLE SHIELD® products are free of harsh chemicals, user safe and environmentally compliant. In addition to Home Depot.com, THE INVISIBLE SHIELD® and other items within the Clean-X® Family of Products are also available at major retailers worldwide including Ace Hardware, Lowe's, Menards and many others. 
For more information about THE INVISIBLE SHIELD® and their extensive line of top quality cleaning products, visit http://www.homedepot.com/ or http://www.cleanxproducts.com/
About Unelko Corporation:
For over 40 years, Unelko Corporation has been a leader in the development and manufacture of advanced surface cleaners, coatings and treatments for the preservation and enhancement of a wide range of surfaces. Unelko's advanced surface care technologies have application within a variety of industries such as: Automotive/RV, Commercial Glass, Household, Marine, Janitorial, Aircraft, Solar, and Shower Glass. For more information, please visit http://www.unelko.com/ 
Media Contact:
Heather Ohlhausen
Unelko Corporation
14641 N. 74th St.
Scottsdale, AZ 85260
480-991-7272
CONTACT INFORMATION 
Heather Ohlhausen 
Invisible Shield by Clean-X 
Contact Us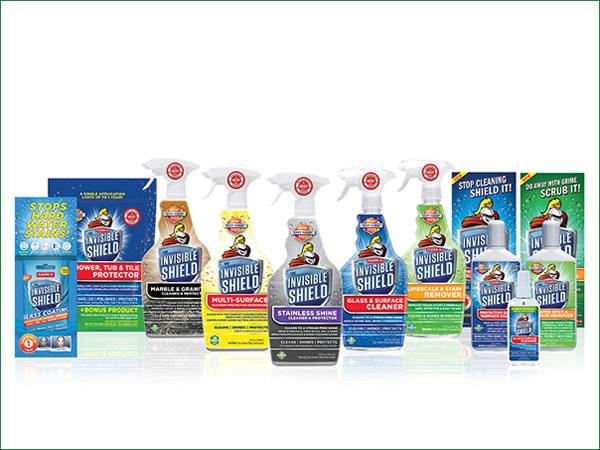 600
450
Unelko Corporation
2017-05-10T10:57:35
Clean Easier, Faster & Less Frequently than Ever Before!
glassonweb.com