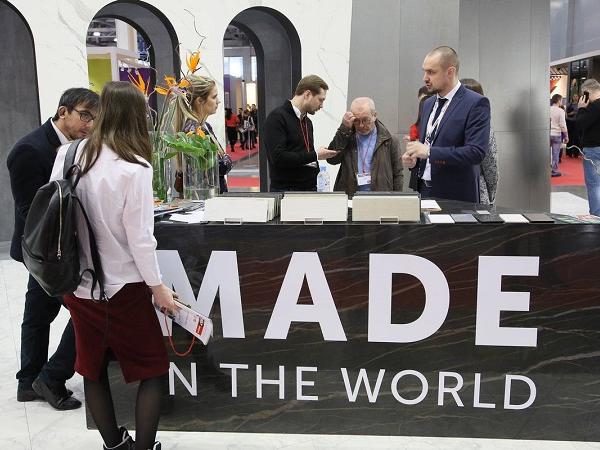 Photo source
batimat-rus.com
The 8th International Construction and Interior Exhibition BATIMAT RUSSIA will be held on March 12–15 at the Crocus Expo IEC.
This is the main event in the field of building technologies and design solutions, which opens the new season in 2019. Companies from Austria, Belarus, Germany, Spain, Italy, the Netherlands, Poland, Russia, Turkey, Ukraine and other countries will take part in the exhibition.
Exhibitors will present facades, decoration materials, ceramic tiles, technical ceramics, stone, sanitary ware, flooring, windows, doors, fittings, furniture, and decor items.
WELCOME TO DESIGN! – this is the motto of BATIMAT RUSSIA this year. The exhibition will be held in a conceptually new format allowing to expand the scope of events and give participants and visitors maximum access to all activities of the eventful business program.
A number of master classes, trainings and lectures with the participation of famous Russian and foreign architects, interior designers and product designers will highlight current topics and major changes taking place in the world of design and architecture. More than 100 speakers will present their professional experience and inspire visitors with new ideas.
For many years, exhibiting companies have gained popularity, demonstrating innovative solutions and the widest range of materials required in construction and design of residential and public interiors. The increased number of participants of the Integrated Solutions exposition demonstrates the interest of manufacturers and suppliers in collaboration with designers and architects in joint implementation of interior projects.
Visitors of the exhibition will be able not only to familiarize themselves with new industry opportunities and developments, premiere collections of the season 2019 and innovative solutions from the leading market players – KERAMA MARAZZI, URAL GRANITE, CERAMICS OF THE FUTURE, INTERKERAMA, KERAMIN, KIROVIT, AZORI, EURO CERAMICA, LASSELSBERGER, VOLGOGRAD CERAMIC PLANT, BEREZASTROYMATERIALY, MAPEI, KERALUX, EXAGRES, LINMET GLAS-KERAMIK, VOG CERAMIC, MIA ITALIA, STAROPETROVSKOE, GROHE, AM GROUP, CISAL, ARTCERAM, ARDO STUDIO, EBONY AND CO, TARKETT, ORTGRAPH, ALIX GROUP, AUSTRIAWOOD, OSMO, DECORICI, FERRARA DESIGN, IDG, MANDERS, KAISER, MALACHITE, VITHOUSE, NORKPALM, LEICHT, EDRA S.p.a., L'ANTICA DERUTA, CONTESSA MURANO, FLORITELLI CUCINE, SMEG, BONE CRUSHER, LIGRON, LEGRAND, SCHNEIDER ELECTRIC, JUNG, BURG&GLASS, CA-PROJECT, BEZHKO, PALANTIR, AMBASSADOR, ATTRIBUT, INTERIOR SALON number 1 MBTM, MARIA COMPANY, and others, but also to have the best expert opinions.
The Integrated Solutions exposition is expected to be one of the brightest and the most intriguing sections of the exhibition, where Russian and foreign architects, designers and professional schools will present their interior concepts on a given topic in partnership with leading manufacturers of finishing materials, furniture and decor items.
This is a unique project of BATIMAT RUSSIA, which will be held for the third time and will occupy an area of more than 2,000 sqm. Among the exhibitors are Alexey Vyazminov, Maria Romanova, Anna Erman, Elena Teplitskaya, Victoria Kiorsak, Marina Zherenko, Natasha Shevchenko, Igor Kurkin, Dima Loginoff, Kirill Ovchinnikov, Alexander Radoske (Germany), Vincenzo Stridacchio (Italy), Karina Avetisyan, Kirill Lopatinsky, Svetlana Shervarli, Victoria Gordeeva, Yulia Golavskaya, Elena Zufarova, Anton and Marina Fruktov, Anastasia Litvinova, Nadezhda Lashku, Tatyana Krygina, Alena Sanaeva, Yana Svetlova, Olga Podolskaya, Irina Chun, Natasha Barbier, and others. In total – over 35 stands.
This year two themes were offered to participants: THE MOOD and KITCHEN OF A DESIGNER. The extensive professional experience of the project participants will turn any ideas into reality, as well as create highly emotional and creative spaces.
For the first time, a collective exposition of PRODUCT DESIGN will be presented at BATIMAT RUSSIA, where the best Russian product designers and the Industrial Designers Club will take part.
The artist Marco Fontana (Italy) will be the special guest of the exhibition: he will make a real art show at the stand – he will add the missing elements to wallpapers, made according to his sketches by Tecnografica Italian Wallcoverings. You will view an exciting performance and visit a master class of the maestro on the topic 'Art and Brands: How to Establish Effective Creative Partnership'.
The key speaker of the exhibition will be Cino Zucchi (Italy), architect, Professor in the Department of Architectural and Urban Design at the Milan Polytechnic University, head of the CZA architectural bureau. At the invitation of Surface Lab and Kerama Marazzi and with the information support of speech: magazine he will give a lecture on the topic 'The Depth of Architectural Surfaces'.
Another guest of the exhibition – Alexander Radoske (Germany), architect, founder of Hollin + Radoske architectural bureau, participant of the Integrated Solutions exposition at BATIMAT RUSSIA 2019, will teach a master class 'Black Color in Public Interiors'.
A briefing by Dima Loginoff (Russia) will also take place at the exhibition. It will be a real-life communication with the product designer, who has created more than 30 collections for Western and Russian brands, and many of them have become international bestsellers.
The young architect Yusuke Takahashi (Japan) will talk about the principles of Japanese architecture, combining tradition, cultural identity and new technologies, which become a trend without using modern trends.
As part of the special program at BATIMAT RUSSIA 2019, the DETAILS Interior Design School will teach an express course on interior design: FROM IDEAS TO IMPLEMENTATION. Members of ADDI (Association of Interior Designers and Decorators) will also offer an eventful program for professionals. The events will be held under the patronage of the President of the Association Natasha Barbier and will be divided into two sections: DESIGN AWAKENING and DESIGN PRACTICE.
The Council of Experts in Interior Design and Architectural Environment / CEID will hold an expert session 'Archipractic' by the architects Ilya Shulgin and Kirill Kochetov – founders of the Lofting Architectural Bureau, and the leading architects Sergey Estrin, Nikolay Milovanov, Natalya and Alexander Sokhatsky, Fedor Raschevsky will share their unique experience in project implementation.
The Union of Designers and Architects will organize a business session for practicing designers and architects – 'Client and Designer. The Love Formula'.
The exhibition will include a series of master classes, lectures, specialized seminars, conferences and round tables on development of the building materials industry, BIM technologies, architecture of public spaces and new standards in construction; presentations of innovative building materials by residents of the Skolkovo Foundation; Batimat Construction Summit; VI All-Russian competition for interior design BATIMAT INSIDE; WorldSkills Russia national team training sessions and WorldSkills standards competition in 5 skills (Industrial Design, Plumbing and Heating, Bricklaying, Painting and Decorating, Tiling). The purpose is to enhance the prestige of working professions for young professionals.
BATIMAT RUSSIA exhibition and business program will be held with the support of ministries, departments, unions and public organizations: the State Duma of the Russian Federation, the Ministry of Industry and Trade of Russia, the Ministry of Construction of Russia, the Chamber of Commerce and Industry of the Russian Federation, the Department of Urban Development Policy of Moscow, the Russian Union of Builders, the Union of Architects, Business Russia, OPORA Russia, Moscow Confederation of Industrialists and Entrepreneurs, the National Research University Moscow State University of Civil Engineering (MGSU), the National Agency for Architecture and Urban Planning, the National Association of Manufacturers of Building Materials, Products and Structures, Facade Union, Ceramic Materials Manufacturers Association, StekloSouz, Roofing Union, Russian Guild of Managers and Developers, and other associations.
'We are proud that this event is a success, exhibitors and visitors show high level of professionalism, which once again proves that BATIMAT RUSSIA is one of the main landmarks in construction and interior sectors. This is a unique event, where business, design and teamwork create a perfect setting for achieving a single goal,' Alexey Striganov, General Director of Media Globe–Crocus, says.
BATIMAT RUSSIA is a unique business space gathering top managers of construction and interior sectors and representatives of design industry at one site, helping to strengthen the existing connections and acquire new ones. Let's meet from March 12 to March 15 at the Crocus Expo IEC!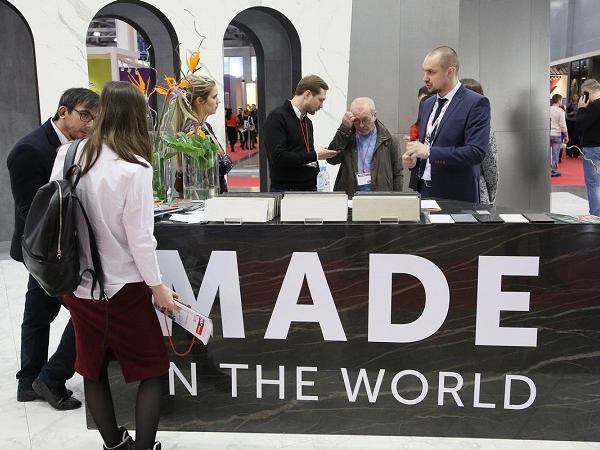 600
450
batimat-rus.com
2019-02-20T07:00:00
BATIMAT RUSSIA 2019 | Ideas and Innovations. Start of the New Season
glassonweb.com