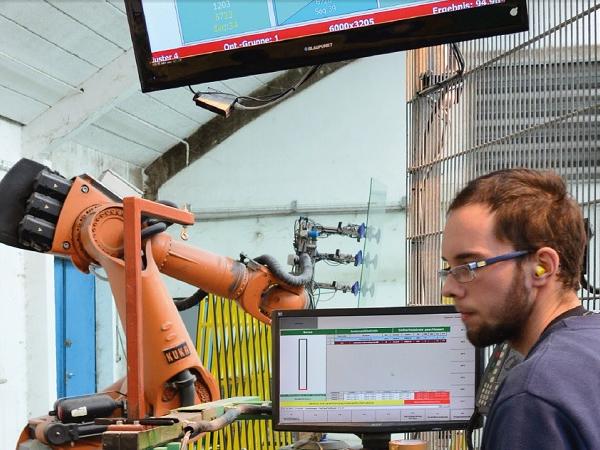 Recently, Glasprofi improved its efficiency and flexibility still more by replacing an older PPS system with A+W Production, the latest production software from A+W.
The TG specialist Glasprofi is Germany's largest supplier of premium shower and glass sanitary fittings. The lion's share of all individual glass sanitary fittings in Germany comes from this company in Luhe-Wildenau, a member of the Flachglas Group.
Outstanding product quality, varied design, and enormous delivery capability were achieved with a flexible automation concept, one whose degree of implementation is unique among glass processors in Europe.
Recently, Glasprofi improved its efficiency and flexibility still more by replacing an older PPS* system with A+W Production, the latest production software from A+W. In the commercial sector, the company has worked with A+W Enterprise ERP* software for decades; this ensures quick order processing and secure administrative processes.
PPS: Production Planning System – software for the planning and usually also control of production processes
ERP: Enterprise Ressource Planning – software for commercial processes and administration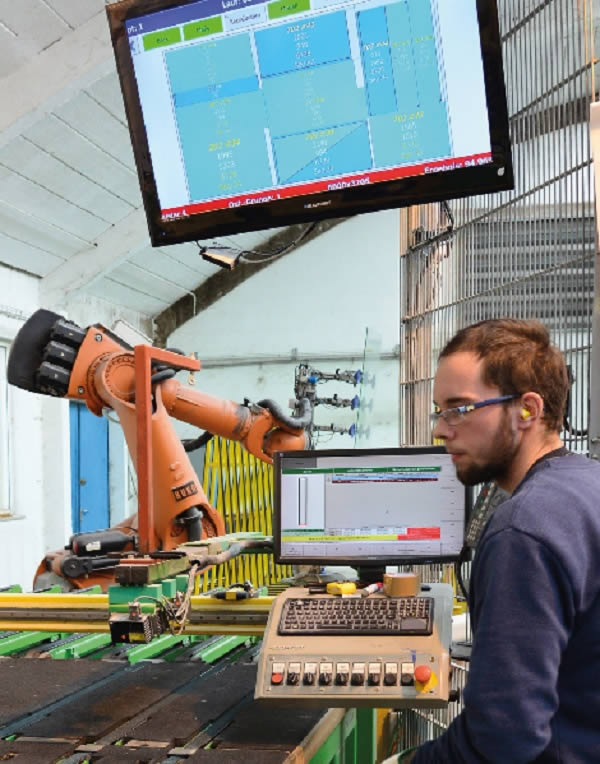 Among the company's state-of-the-art cutting and finishing systems are more than a few that were produced individually according to Glasprofi's ideas.
Robots in cutting and grinding ensure improved throughput and replace manual processes. Together with a leading machine manufacturer, a processing center was developed, one that can process shaped sheets at a pass.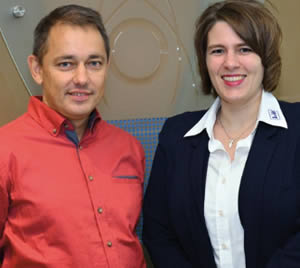 In cutting, for maximum exploitation of the A+W Realtime optimization, the labels are printed shortly before cutting starts on thermo-transfer printers, which are attached to the cutting bridges on the cutting tables.
This way, changes to the cutting sequence and the optimization process can be made until just before production start, and there is no need for manual application of the labels.
The label has replaced 90 % of the production papers at Glasprofi and includes all information required for production.
With a simple bar code scan, this information can be called up and displayed on the A+W production monitor. The machine operator receives a true-to-scale view of the workpiece and all production information.
Specialist in individual production
The robots and production machines must be incorporated into production logistics with maximum benefit.
At Glasprofi, this has been implemented in exemplary fashion: intelligent DXF and CAM-DXF interfaces developed by the software provider A+W transmit the data without detours from technical order entry to the CNC machines, where automatic production can begin immediately without any further planning work on-site.
This real-time transfer of production data is crucial for Glasprofi's business model, for this TG specialist in the Upper Palatinate produces almost exclusively small batches.
Under reigning market conditions, nobody can do this any longer with manual machine programming and production organization.
Managing a complex product mix with ease
Due to the variety of finishing techniques used, Glasprofi's production depth is enormous: modern sand blasting technology, screen printing, etching, and fluted bevels are used to satisfy the most demanding customer requirements. Unusual sizes and side ratios are also no problem for Glasprofi.
Using A+W Production control software, the sheets are pre-sorted in cutting and fed into the respective finishing stations.
For this, orders are pulled apart, the sheets are steered individually through production, and reassembled again in shipping. Here, the continuous sheet tracing via production data collection ensures the greatest process reliability.
EDP Manager Markus Heil, "With the A+W Production system, we manage our complex product mix very flexibly. No more sheets are lost. And there are almost no complaints. We produce much greater quantities in the same amount of time. In addition, cutting has generally become more flexible and yield has increased significantly. The real-time optimization and automatic breakage pool also make a contribution here – poor sheets are remade immediately and can frequently still be delivered with the main order."
Since the labels are scanned at each production station, the location and production status of each sheet is known to the system at all times and this information can be provided to the customer on request.
All goods are also scanned during loading. On the day before delivery, the customer receives a file with information about which racks will be delivered with which products in which sequence.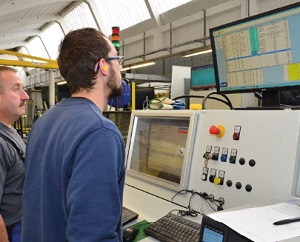 Thus, Glasprofi's most demanding customers can plan better and save valuable time, which given the increasing competitive pressure in the "finished glass" sector represents a significant competitive advantage.
In particular, after the last update of the A+W Production software, Glasprofi fulfills many requirements posed of an Industry 4.0 operation/smart factory without having the management team make a big fuss about this.
Managing Director Achim Haag, "We and our customers know our strengths – it's not our style to talk about them all the time."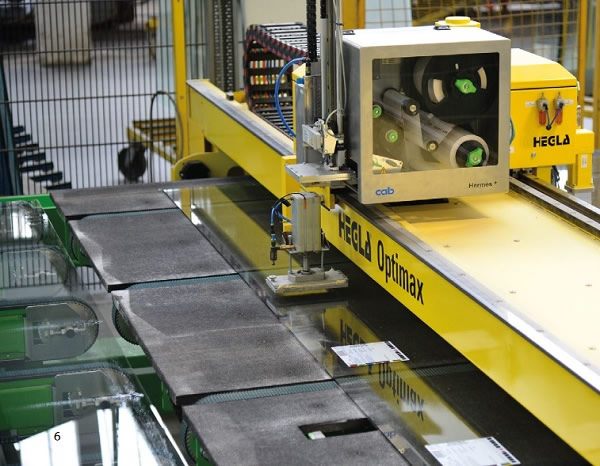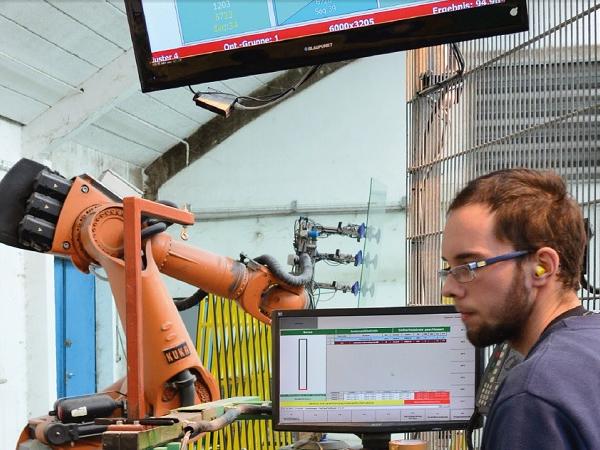 600
450
www.a-w.de
2017-07-04T06:00:00
A+W & Glasprofi: Flexible automation concepts
glassonweb.com