Company address
Ronda Shimizu, 16 - Pol. Ind. Can Torrella
Vacarisses (Barcelona) 08233 Barcelona
Spain

COMPANY DESCRIPTION
SEVASA specialises in the production of high quality technical acid- etched and engraved flat glass sheets, for a sustainable use in architecture, interior design, furniture, framing and electronics. We are a family-owned company with international reach.
Etched glass, frosted, matted, satined, translucent, opaque, obscure, privacy glass… it gets as many names as possible applications: from architectural curtain walls, floors, partitions, doors, dividers, screens and endless possibilities in furniture such as tables, cabinets, or even electronic displays and screens.
World's widest range, and a wide range of colors, thicknesses and measures that provide solutions to any project: And a quality that shows during the glass processing, which is especially appreciated by professional glassworks and industry.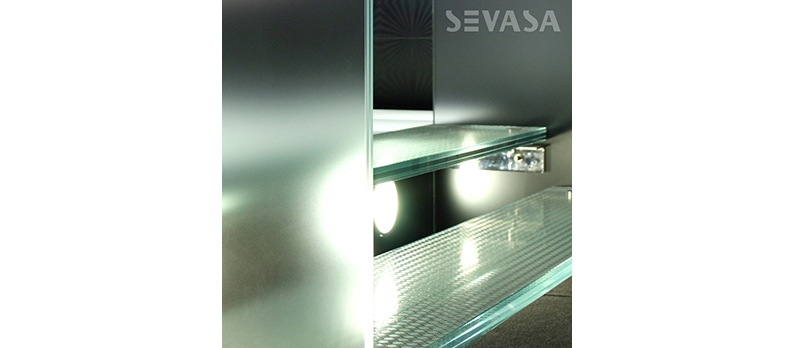 The Company
Founded in 1983 by Pascuale Meli after a long artistical etched glass tradition (his engravings and leaded glass are still visible in Italian churches and in Malta Island) during the 60's in Italy. Creator of a new procedure for serial decorative glass, he set up an important company, SEVASA, with headquarters & production plant in Barcelona & Teruel (Spain).
Today SEVASA and SEVASA TECHNOLOGICS are the two companies family run by its third generation.
Headquarters
SEVASA's plant of 12,000 sq m is located just few km from Barcelona, with more than 6000 sqm of facilities equipped with customized machinery, a treatment station and with its production organized by shifts.
SEVASA TECHNOLOGICS' new plant is located in Calanda, Aragon region, with the newest production machinery specific for its technical and oversize XXL glass products.
International Calling
Won international recognition for quality and commitment, SEVASA exports 80% of its production and has offices and representatives in Europe and America.