The High-Rise Northern Exposure seminar in Helsinki on June 13, 2023, offered an excellent opportunity to learn about the latest high-rise glass design and construction innovations. I had the pleasure of interviewing Christoph Timm, Principal at SOM New York, after he'd given his keynote titled How SOM is decarbonizing the built environment – A holistic approach to decarbonization.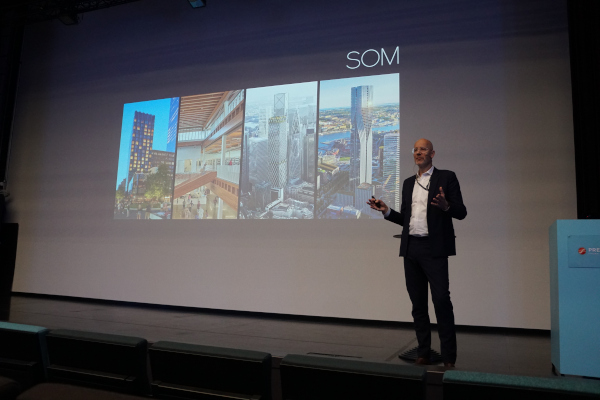 Thank you very much for giving an excellent presentation today. You mentioned that many things have changed over the last 10 years from what you showed us today. What are the main changes you've seen? 
I think the main change is really the focus on embodied carbon.  In the past we've been focusing a lot on the operational carbon that the construction industry is emitting into the atmosphere. Now the awareness for embodied carbon is the big change in the last 10 years, I would think. Ten years ago, we were aware of it, we called it embodied energy. But the extent of awareness has changed tremendously. 
Your company is a multi-disciplinary company, and you have many in-house experts. But do you think that we in design have enough information to be meeting these challenges that we are having now in construction? And where do we learn these new things from? 
That is a very good question. I think we all must learn from each other. But there is plenty of information, plenty of databases about embodied carbon out there. Manufacturers are more and more willing to help you with getting information that is needed to do these evaluations.  
And you do not necessarily need to trust the generic databases - you can get specific product information. As an example, for glass makeup, you don't have to use generic data. Instead, you can get a specific glass makeup that you're planning to use, for example, in the building, and get the embodied carbon footprint from the fabricator, from the glass processor. So that's the service that is out there for all of us to just tap into. But not everyone knows about this and uses these services of the glass industry. 
There are also organizations that focus on providing information or sharing data. And so, a lot of materials are out there. But frankly, it's just a lot of work and it takes time to educate yourself about embodied carbon and get a feeling for it. A small architectural firm often may not have the resources to really learn about it. 
So, I'm in a fortunate position that we have some experts in the house that all they do is focus on learning and then teaching us about carbon. 
I imagine that's not always the case because there are so many small companies, small design firms, and studios in this industry. Will there be a gap between these smaller and larger design firms, the knowledge gap? 
I am sure there is for some time, but I think the industry will be smart enough to produce material that is easily digestible so that this gap will be shrinking over time. 
You mentioned collaboration with contractors, I guess, and manufacturers as well. Oftentimes, contractors are really conservative. How do you make them perhaps renew their processes and their attitudes? 
Well, first, I have the greatest respect for contractors because they build. I personally do not build, I just plan. They take responsibility often for their work on a much different level than I do. That is something I really wanted to say first. Then we must educate them; usually about our mostly academic thinking, maybe some testing, maybe some experience from a previous project where we did something successfully, and then explain to them what we are thinking for the task at hand.  
 It's the architect's role or the facade consultant's role to make sure that the contractor does not have fears, does fully understand what your plan was when you designed a certain system. And I think then the risk fear will go down, and you get a much better price as well from the contractor. 
We know that the construction industry's productivity hasn't evolved in a positive way, at least over the last decade. One of the solutions might be more industrialized construction, more prefabrication. Have you seen an increase in your project in prefabrication and this production? 
We are trying to bring more products or more fabricated products to site so that there is less site work, site labor. That will give you a better value. It also gives you usually a higher precision. It gives you a quicker schedule on site. So, we're absolutely trying. Not every project is as conducive to this approach, but it is on our radar. It is one of the concepts that we always investigate.  
We also for sure try to make our buildings more cost-efficient, with a higher quality, and have less wastage on site. I spoke about this during my talk about the Billie Jean King Main Library, that most of the wood was prefabricated in the shop. There were no field penetrations for the joist plug-ins, this was all shop prepped.  
So, absolutely, we look at this approach on every project, the prefabrication approach. And sometimes, frankly, we also must do it because we're beginning to use certain types of concrete, low carbon concrete that just take longer to cure. And so, then you can't have it cure on site. It has to be cured in the shop and then you bring it to site as modules. 
We are also talking a lot about timber construction and cross-laminated timber, and so on. How do you see the use of timber in high-rise construction in the future? Somebody said that the structures become so huge that it's impractical. But what do you think about the future of timber in high-rise? 
Well, definitely, timber will have its part in the high-rise construction. I think the question is what is the extent of it? Is it going into the columns or is it only on the slab? Is it going to be a fully timber construction or maybe only a hybrid solution? So that's the real question.  
I think timber will find its place. It will not be the solution for everything in terms of carbon, but it's definitely one approach that also has, to me as an architect, a huge appeal because who doesn't like looking at some wood framing or wood ceiling? It's just a very beautiful material. 
Unfortunately, we cover it with some fire protection. 
Well, that definitely defeats the purpose for me. I would love to have it exposed for sure.  
I imagine you use many digital technologies in your work and project. Now we are seeing the rise of AI and machine learning. What do you think about that as a designer? Is it a threat, or is it an opportunity for you?
It's an absolute opportunity. We have groups at work who specifically are looking into AI, and using it as a tool for all kinds of tasks, sometimes as simple as generating agendas for meetings. But so far this is all very experimental. 
Is there something in the current process of designing and building high-rise buildings that you would like to change?
I would love, as a general comment, I would love to cover up less. Because if you look at the current state of most of the buildings we're doing, there is a layered and additive approach. For example, we have a steel super structure and then we clad it, we put something in front of it, like dry wall or column cladding. These are all components that we do not need really, but they all have a carbon footprint, and they go to the landfill usually after a short life span, which is much shorter than the overall structure.  
So if we could stop covering up, that would be, I think, a fundamental win for all of us.  
Finally, what's next for you in the future? What are you doing next? 
I'm dreaming of finally getting to use a vacuum-insulated glass on a bigger scale project.  To me, that is a technology that I want to learn about because I see there's a potential for not just the operational carbon but also the embodied carbon and longevity benefits. So it seems like a slam dunk but we haven't used it on a bigger project.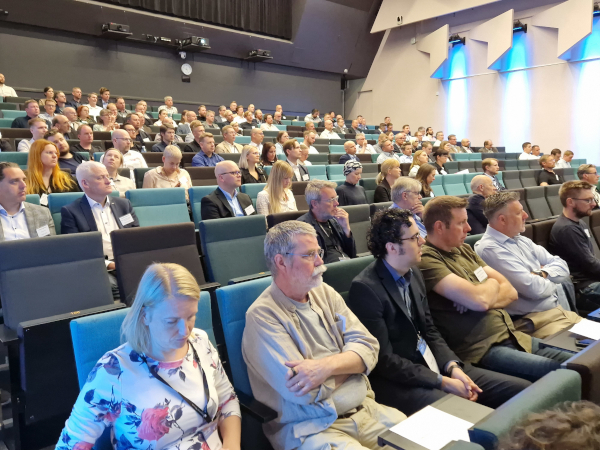 About Christoph Timm 
Christoph Timm has an education Degree in Architecture from Universität Karlsruhe, Germany, and Cand. Architecture Degree from RWTH Aachen University, Germany. He has more than 25 years of experience in the creative field. During his career, Christoph has designed various projects encompassing products, furniture, streetlights, and architectural spaces.  
At SOM, he currently serves as Senior Leader of the Enclosure Group, whose practice is embedded among the various architectural design and engineering studios in the New York office. Christoph's expertise is in building enclosures, both in their aesthetically crafted appearance in varying light conditions and in performance. 
With the developing climate crisis, Christoph focuses on all building components through the lens of expended energy to fabricate vs. the benefits during their service life. This holistic approach to buildings with the parallel investigation for reduced, reused, or recycled components is needed today.  
Within SOM, Christoph has started a construction site visit program that regularly takes young architects to different construction sites in the city to create a better understanding of construction complexities and how these conditions influence design.  
Christoph participates or acts as a design critic on most of SOM's New York projects. Outside of SOM, Christoph shares his expertise actively at conferences and industry events. He has lectured on design and building performance-related topics in North and South America, Europe, the Middle East, and Asia.  
***
Article written by Aarni Heiskanen, Finnish construction innovation agent, AEC Business, 
info@aec-business.com 
High Rise Helsinki 2023 organised by Jorma Vitkala/Vitkala Association Oy, jorma.vitkala@gmail.com