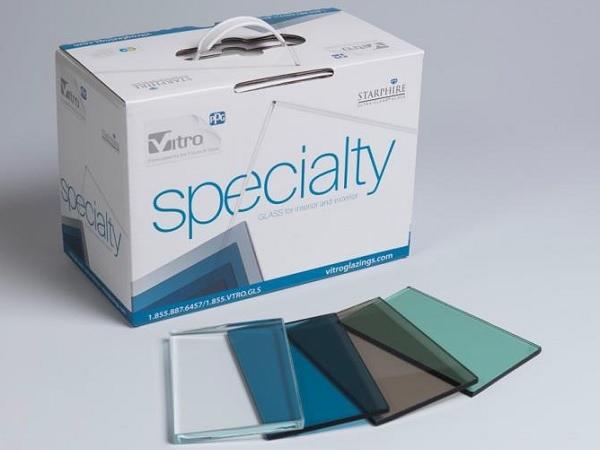 Photo source
www.vitroglazings.com
Clear, ultra-clear and tinted glasses with special effects, textures and colors highlight design versatility.
Vitro Architectural Glass (formerly PPG Glass) has unveiled its Specialty Glass Design Kit for interior and exterior applications, featuring Starphire Ultra-Clear® glass, Clarvista® shower glass, and earth- and ocean-inspired performance tinted glasses, together with an exclusive array of acid-etched and painted glass products from Walker Textures® glass and ICD High Performance Coatings, respectively.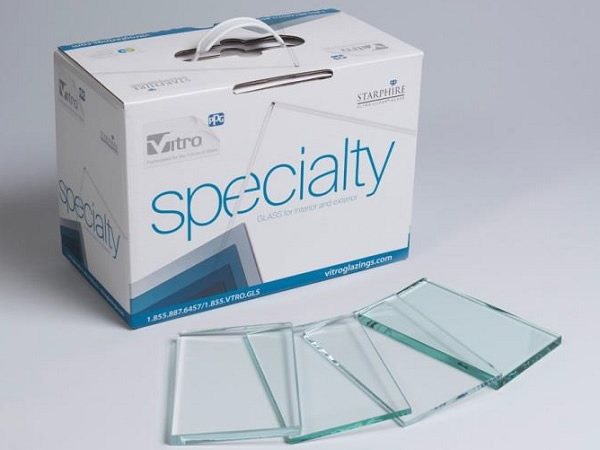 Patrick Kelly, specialty glass segment manager, Vitro Architectural Glass, said the kit highlights the beauty and versatility of glass. "We have the privilege of working with two extraordinary alliance partners that have the ability to do magical things with our glass products," he explained.
"Combined with the broad color selection available from Vitro Glass, products from Walker Glass and ICD High Performance Coatings offer architects and designers an almost unlimited array of opportunities to create signature curtain walls and storefronts, or one-of-a-kind spas, offices, retail stores, restaurants, lobbies, concourses and other interior spaces."
The Vitro Specialty Glass Design Kit contains 20 4-by-6-inch tiles featuring six tints in the Vitro Glass palette, including Atlantica®, Graylite® II, Pacifica®, Solarblue®, Solargray® and Solarbronze® glasses, as well as several of the same products acid-etched with Opaque, Velour, Mirror and Satin finishes by Walker Textures glass.
Architects and designers commonly use these products to add color, translucence and visual flair to exterior building surfaces, as well as partitions, doors, balustrades, bath and shower enclosures, backsplashes, and other interior components.
The kit also houses metallic-coated and vividly colored spandrel glass samples from ICD High Performance Coatings. Craftsman Copper, Warm Gray, O'Hara (red), Utah Sky (blue) and Primary White colors are back-painted on Starphire Ultra-Clear glass, highlighting its exceptional color fidelity and unique blue-edge appearance.
There also is one sample of Primary White on conventional clear glass, which designers can use to showcase the clarity and transparency of back-painted Starphire® glass. 
Two extra-heavy panels of Clarvista shower glass on conventional clear and Starphire Ultra-Clear glass round out the kit.
Formulated with a protective coating fused to the glass surface, Clarvista glass prevents the dullness and haze that typically distress shower glass after continuous exposure to heat, humidity, soap and cleaning chemicals. With proper care, Clarvista glass can make bath and shower enclosures look newer longer than other glass products.
To order or view samples of the Vitro Specialty Glass Design Kit, visit www.vitroglazings.com or call 1-855-VTRO-GLS (887-6427).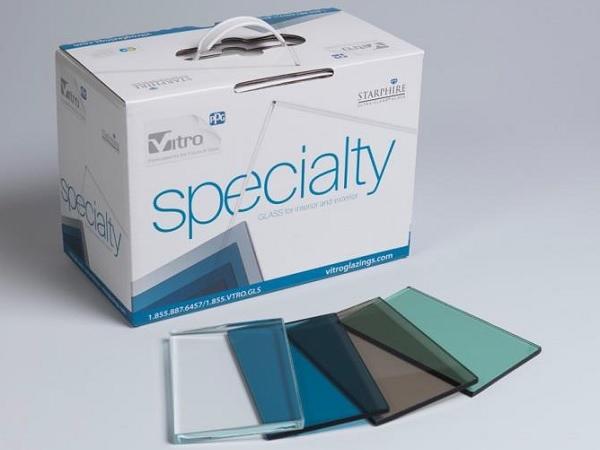 600
450
www.vitroglazings.com
2017-09-06T11:40:00
Vitro Architectural Glass debuts specialty glass design kit for architects, designers
glassonweb.com