Photo source
suntuitiveglass.com
Suntuitive® is the world's leading innovator in thermochromic self-tinting smart glass.
Suntuitive glass transitions using heat from direct sunlight, adapting throughout the year, constantly balancing the heat and glare while allowing in optimal daylight, even when the window is fully tinted.  It is a sustainable, passive technology, which means, it doesn't require any external power source or input other than direct sunlight.
The sample kit features an easy to use process to show the way that Suntuitive dynamic glass transitions from a clear state to a tinted one. See the glass tint within seconds! While the glass within the sample kit is not an insulating glass unit, the project make-up for Suntuitive will be made in a form of an IGU and can feature a variety of tints and Low E's. 
Suntuitive Dynamic Glass can be used in retrofit, replacement, and new construction in both commercial and residential applications. This dynamic glass can be vertical, sloped, curved, or shaped and can be installed as a typical vertical construction window, a skylight, and can also be used in operable doors and windows.
Suntuitive Dynamic Glass is easy to install, and doesn't require any additional trades in either the planning or installation phase of building. Because Suntuitive doesn't come with complicated wires or controls, it will also allow you to maintain the integrity of your window frame. Suntuitive doesn't require any drilling into the window frame to accommodate wires, so your choice of glass won't void your frame warranty.
Suntuitive is a sustainable product and can help your project earn credits for WELL, LEED, or BREEAM certification fitting nicely within the Green Building space.
To request a sample kit or get more detailed information about Suntuitive dynamic glass technology please complete the form at https://suntuitiveglass.com/contact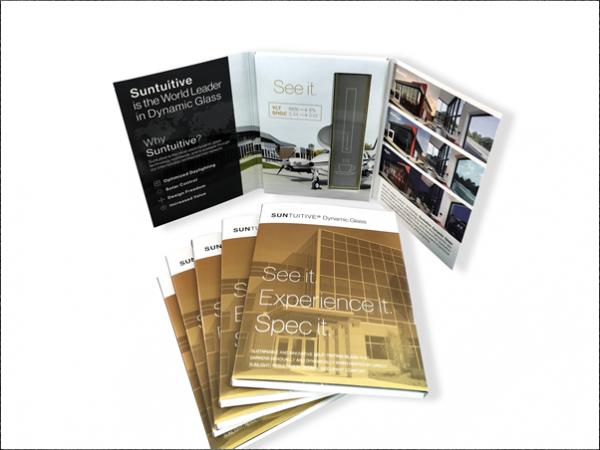 600
450
Pleotint/Suntuitive
2018-11-27T11:00:00
Suntuitive® Dynamic Glass is pleased to announce the availability of its brand new Sample Kit
glassonweb.com