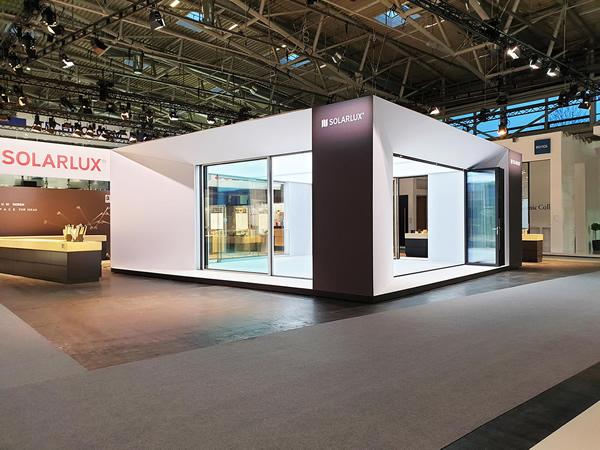 Photo source
www.solarlux.com
Solarlux impressed visitors to BAU 2019 with a wide variety products and an original stand design.
The bare, black floor of the exhibition hall, combined with aluminium and wood elements, exuded industrial charm and created a well-coordinated overall image. True to the trade fair slogan "Making space for ideas", information displays, reference boards and the traditional "Faltbar" cafeteria were scaled back this year, placing the visual focus on the highlight of the stand: the illuminated product island.
Brilliant highlight
Like a diamond, the square cube illuminated the path to each of the product highlights for trade fair visitors. Four large openings, designed with bi-folding glass doors in wood and aluminium, the cero, and the new all-glass SL 23 sliding system, provided maximum transparency and created a unique effect.
A white carpet to contrast the black trade fair floor made the product island stand out even more. The slightly slanted presentation of the exhibits ensured that products were visible from the aisle of the exhibition hall.
While the bare exhibition hall floor made it possible to access the stand without climbing any steps. This way, Solarlux created a connection between the trade fair concept and the products on display. All exhibits were presented with an accessible floor track, including two designs from the varied bi-folding glass door family.
Solarlux presented the aluminium variant of the Highline in the RC2 design. Lighting of the frame and floor track made for a particularly striking exhibit. The Woodline bi-folding glass door also struck a chord with its high-quality wood surface in furniture-like quality. Its special feature was the flexible opening with glass elements that can be fully opened to the left or right.
Unrestricted view
The cero sliding window, with a slight profile view of only 34 mm, provided maximum transparency. Its diverse system components and glass thickness offer architects and designers complete freedom of design. The SL 23 sliding system, which was presented for the first time this year, created an equally transparent look.
The balcony and facade glazing provides effective weather protection and sound insulation, and enables an effortless load transfer of panel weights up to 150 kg and panel heights up to 3.5 m. The all-glass elements create the impressive appearance of a uniform glass front. Depending on requirements, the elements can be made of single-glazed or laminated safety glass up to 17 mm thick.
In addition to innovative products and an original stand concept, Solarlux also boasts exceptional consulting expertise, from the development stage to construction. This is also the reason for the growing reputation of the company. In comparison to BAU 2017, the number of architect contacts has increased by 30%. Dealers and building owners too are opting for the comprehensive support of Solarlux as much as ever.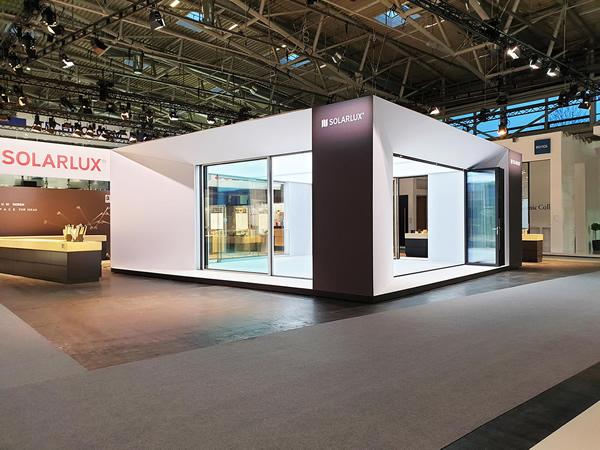 600
450
www.solarlux.com
2019-02-12T09:00:00
Solarlux inspires with a wide variety of ideas at BAU 2019
glassonweb.com