Photo source
Schiatti Angelo Srl
Schiatti Angelo Srl is gearing up for Vitrum 2023, scheduled to take place from 5th to 8th September at Fiera Milano Rho.
The event promises to be a convergence of minds to explore innovations, technology, and sustainability in the sector.
The company firmly believes that sustainability and innovation are inseparable aspects of modern technology. Schiatti Angelo Srl's machines are designed with a strong focus on sustainability, automation, and energy efficiency. By incorporating brilliant and high-performance solutions, their machines address the pressing need for eco-friendly practices in the market.
The concept of "smart" machines is central to Schiatti Angelo's vision. These intelligent machines are not only capable of optimizing workflow speed but also minimizing errors and reducing overall working time. The machines are equipped to connect to a network, process data, and exchange information with other production plants, enabling efficient life cycle management. By simplifying processes and reducing human intervention, these machines enhance ease of use and minimize downtime, thus maximizing productivity.
At booth H24/K27 in Hall 7, Schiatti Angelo Srl will showcase some of its flagship products. Among them is the straight edger mod. FPS50R, featuring 10 grinding wheels that allow the processing of glass sheets with a thickness range of 3 to 55mm, minimum size of 100x100mm, and a maximum weight of 1,800kg. This machine is capable of performing various operations, including grinding and polishing of the flat edge, arrisses, 45° chamfers, and cerium oxide polishing. Visitors will have the opportunity to explore optional features like the thickness control device, which ensures precision and accuracy during the grinding process.
Adding to their impressive lineup, Schiatti Angelo Srl will also present the automatic double edger mod. BFP20 and the glass loader mod. CVB35. The BFP20 is designed to grind and polish the flat edge with arrisses automatically, while the glass loader mod. CVB35 is tailored to place glass sheets vertically onto a horizontal rolling table. These advanced machines feature a motor variator that effectively controls the roller conveyor and synchronizes it with the double edger, streamlining the entire glass processing operation.
The company's participation in VITRUM 2023 coincides with another exciting event, the "Milan Glass Week," scheduled from 4th to 10th September. This week-long celebration showcases a diverse range of events and initiatives that highlight the excellence of the Made in Italy glass industry. From artistic and craft glass to industrial and technological achievements, the Milan Glass Week offers an enriching experience for all.
In conclusion, Schiatti Angelo Srl looks forward to welcoming visitors at VITRUM 2023 to witness firsthand the cutting-edge technology, innovative solutions, and sustainable practices that have defined the company for over 50 years. With a commitment to customization, optimization, and the Made in Italy legacy, Schiatti Angelo Srl continues to be a prominent representative of the glass industry on the global stage.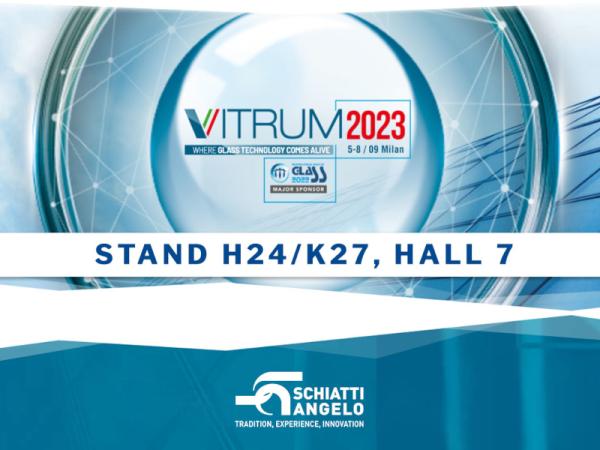 600
450
Schiatti Angelo Srl
2023-08-28T08:10:00
Schiatti Angelo Srl Set to Showcase Innovations and Sustainability at Vitrum
glassonweb.com