Photo source
www.naccprogram.com
The latest company to complete the North American Contractor Certification (NACC) process is Pacific Glazing Contractors.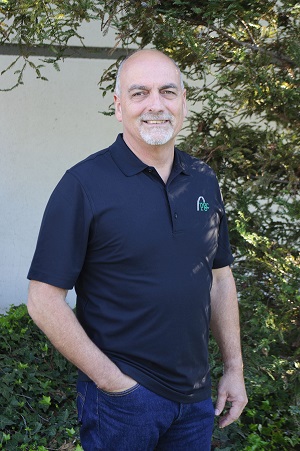 Headquartered in Morgan Hill, California, Pacific Glazing Contractors is led by glass industry veteran Michael Wells.
Wells has more than 40 years of experience and has built a solid team around him that makes up this extremely talented and professional organization.
Pacific Glazing Contractors has a sterling reputation and they are known for their "Whatever it takes attitude," overall performance, customer care and loyalty.  
Once their NACC process was complete, we caught up with Wells and he shared with us views about his operation and insight into the certification process. 
NACC: Your company has a very wide range of capabilities- looks like you do big to small, private and public and just a diverse range of products through it all.  How did your organization grow and evolve into its current place in the market?
Michael Wells:  Pacific Glazing Contractors' vision is "Building a Transparent Reputation of Excellence in the Glazing Industry."  We began by bidding mostly public works projects and have continued to grow into larger projects in that sector.  Through the development of strong relationships with clients, our work has diversified with the addition of private projects including new construction and larger tenant improvements.
NACC: Tell us about your organization and your commitment to safety.  It's not every day you see a specific page on a website dedicated to this subject.
Wells: Pacific Glazing Contractors is committed to a safe and healthy work environment for our employees, other contractors, and the public. A safe and healthy work environment is achieved through the cooperation and compliance of every employee and includes safe procedures and work instructions. Compliance solely with OSHA safety regulations is considered minimum standards. We go beyond those standards in many areas. Simply put, our desire is that our entire team goes home to their family every night.  
NACC: What is your all-time favorite installation and why?
Wells: We have completed many innovative projects.  Our all-time favorite project was located at 55 Market Street in San Jose. (See picture) It had a structural glass wall spanning three floors, supported by vertical glass fins behind the wall of glass. The glass system deadloads to steel embeds below the concrete floor supporting the massive weight of the glass. The method of installation required us to "fly" oversized lites into place which was both challenging and intriguing.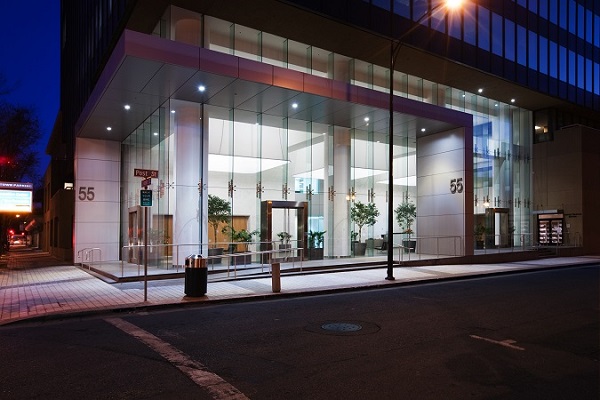 NACC: What's the biggest business challenge you face today?  
Wells: Within the current boom in construction, it is increasingly difficult to attract and keep great talent. While the labor market in Silicon Valley is very tight, we strive to hire the best and provide them with innovative and interesting projects that they are proud to be a part of.
NACC: What the most positive change you have seen in the glass and glazing industry from when you started until now?
Wells: The glazing industry has become considerably more detail oriented and much more technical. Both of these advances have made what we do much more visually appealing. This is evidenced by new building facades that incorporate panel system integration, sunshades, and custom aluminum profiles. Technological advancements in the pre-construction phase such as 3D modeling, BIM, and simulations, in addition to lasers and scanning technology in the field, allow for the pre-fabrication of more components and reduce installation durations. This enables the client to occupy the building earlier.
On NACC…  
NACC: Why did you decide to pursue certification?
Wells: We started as a small company with very experienced glaziers. As we expanded with new talent, we wanted to perform with the same level of quality the client expects. As we look at our own industry, we see a definite need to distinguish between the glazing companies that strive for excellence, and truly care about the quality of work they perform, and those companies that just want to get by. 
NACC: How did the preparation for certification change or improve your company processes?  
Wells: The preparation for this certification helped to identify processes that were lacking and helped refine other areas that needed improvement.  An example is the Quality Assurance/Quality Control processes.  In the past, we focused on quality control at the end of the process to make sure the client's specifications were met.  We spent significant resources fixing problems that could have been avoided.  Now we put more emphasis on quality assurance throughout the process to prevent problems from occurring in the first place.
NACC: Was there anything in the process that surprised you?  If so what?
Wells: I was impressed with how thorough the process is, and it helped us map our projects from bid award through project execution. This resulted in a much more consistent performance across our various teams.
NACC: How will the certification help you with future bids or proposals?
Wells: This certification refines how we bid and how we turn projects over to project management for execution. We improved the bid production tools, allowing us to capture the data necessary for the bid much quicker and more accurately. This refined data becomes the basis for the project budget, setting up project management for success.
NACC: Now that you are done with the certification process are you pleased to have gone through it and would you recommend to others?
Wells: Yes, it helped accelerate the improvements we were already focused on and brought to light many new improvements that were needed. We definitely recommend this certification for any company that is not satisfied with mediocre craftmanship. We also hope our potential clients recognize the value that NACC certification brings in ensuring that Pacific Glazing Contractors' projects meet or exceed client's expectations of quality, timing, and budget.  
To learn more about Pacific Glazing Contractors please visit: www.pacificglazing.com 
To learn more about the NACC Process please visit: www.NACCProgram.com
600
450
www.naccprogram.com
2018-08-18T09:58:46
Pacific Glazing Contractors Achieves NACC Certification
glassonweb.com