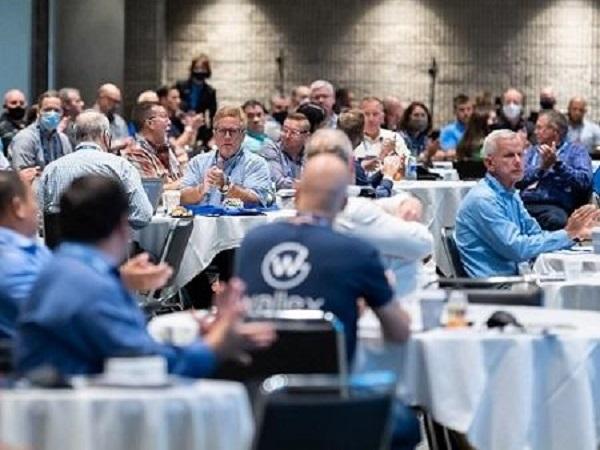 Photo source
www.glass.org
NGA is pleased to announce its 2022 year-long event sponsors: Dow, Eastman Chemical, Guardian Glass, Kuraray, Mappi, Pilkington, Tristar, and Vitro Architectural Glass.
Year-long event sponsors support NGA and its events throughout the year, enhancing the association's offerings and elevating the company's promotional reach.
"The support of our year-long sponsors helps NGA events be more successful," said Nicole Harris, NGA president & CEO. "Our events are about championing the benefits of glazing and glass building products and bringing the industry together; we greatly appreciate our sponsors' support of NGA and the industry."
ABOUT OUR YEAR-LONG SPONSORS
Eastman
Since 1937, glass fabricators have counted on Saflex® for high quality products, reliable service, and expert advice to help deliver world class technology for laminated glass. Eastman's architectural glazing products include Saflex® PVB interlayers for glass lamination as well as Vanceva® Colors PVB interlayers. Our advanced high quality PVB interlayers enhance glass in terms of safety, security, strength, solar/UV control, style, and sound control.
Guardian Glass
A major business unit of Guardian Industries, Guardian Glass is one of the world's largest manufacturers of float, coated and fabricated glass products. At its 26 float lines around the globe, Guardian Glass produces high performance glass for use in exterior (both commercial and residential) and interior architectural applications, as well as transportation and technical products.
Kuraray
Kuraray's Advanced Interlayer Solutions division is a leading global specialist in the development, manufacture, and supply of PVB and ionoplast interlayers for laminated safety glass in architectural and automotive applications. Kuraray's innovative glass-laminating solutions portfolio includes SentryGlas® ionoplast and Trosifol® PVB interlayers for a wide range of applications including; structural, safety, security, impact resistance, sound insulation, decorative, and UV protection.
MAPPI
Since 1993 Mappi has been synonymous of quality, innovation and energy savings, thanks to the partnership with Siemens and the use of various innovations that allow the furnace to be up to 25% more efficient in terms of production compared to a traditional furnace. To achieve these results, Mappi firmly believes in teamwork, creating the right mix of consolidated experience and youthful innovation.
Pilkington
The NSG Group is one of the world's largest manufacturers of glass and glazing products for the architectural and automotive sectors in addition to the Creative Technology division, which supports NSG Group's future growth and innovation. Architectural manufactures and supplies architectural glass as well as glass for the solar energy and other sectors.
Tristar Glass
Founded in 2005, Tristar Glass, Inc. is a fully integrated architectural glass fabricator located in the south-central region of the United States.  With three plants spanning two states, Tristar operates in over 270,000 square feet of fabrication space and employs more than 250 people. While it may seem like a big company, working with Tristar is like working with family.
Vitro Architectural Glass
Vitro Architectural Glass's industry-leading products include low-e, low-iron, performance-tinted and vacuum insulating glasses. As North America's largest and most trusted glass producer, Vitro strives to realize the future of glass across the architectural, automotive and containers markets through its partnerships and commitment to innovative, sustainable products and processes.
INTERESTED IN PROMOTING YOUR BUSINESS WITH NGA?
600
450
www.glass.org
2022-03-22T07:24:51
NGA Welcomes 2022 Year-Long Event Sponsors
glassonweb.com