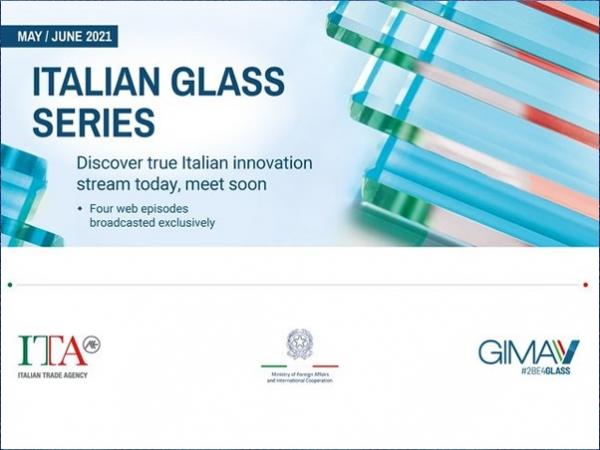 Photo source
Italian Trade Agency
4 video episodes streamed on YouTube to discover the Italian Glass Working excellence
The Italian Trade Agency is proud to announce the release of the Italian Glass video series.
The ITALIAN GLASS SERIES is an online video project in 4 episodes organized and promoted by ITA (Italian Trade Agency, the Governmental agency that supports the business development of Italian companies abroad), GIMAV, the Italian Association of manufacturers and suppliers of machinery, equipment and special products for glass processing and in collaboration with National Glass Association (NGA).
In this series, short videos realized by leading Italian Glass Working companies will detail many of the new techniques and products they have developed through the years, carefully selected for their cutting-edge impact on the US Market. Intended for a wide audience of experts, these videos will feature selected glass working machinery in motion, along with exclusive interviews with developers, engineers and entrepreneurs showing the stunning depth and dedication observed by the Italian glassbuild community.
The series will be simultaneously released on three YouTube Channels on Tuesday, May 18, 2021: Glass Magazine YouTube Channel, GIMAV YouTube Channel and MachinesItalia YouTube Channel.
According to the US Department of Commerce, since 2019 Italy has been the first world supplier of glass working machinery to the U.S. Throughout 2020, Italian machinery exports arrived at a value of more than $123million dollars with a global market share of 19.6%. A trend confirmed for these first months of 2021.
In the first episode of the series "Italian Innovation", the Italian companies Adelio Lattuada, Elettromeccanica Bovone, Fratelli Pezza and Italcarrelli will detail many of the new techniques and products they have developed to meet the needs of their customers. While some trends come and go, Italian glass Machinery industry has been a consistent international staple for the sector
Episode 2 "Italian Ingenuity" highlights the new product development of Mappi International, Schiatti Angelo and Skill Glass. Each video will demonstrate how Italian ingenuity has long been a focal point in the global glasswork sector.
Episode 3 "Bespoke Business" dives further into the bedrock of Italian ingenuity in the glasswork sector and shows to what incredible lengths these companies go to deliver world class, one-of-a-kind products to their customers across the globe: Cugher Glass, OMV Vismara, Triulzi Cesare Special Equipments and Glass Service.
When handed the specifications for difficult projects, how do Italian manufacturers habitually rise to the challenge and make the impossible possible? In Episode 4 "The Impossible Made Possible" the Italian companies Cefla S.C., Star, and RBM (ADI) will try to answer.
Another goal of this initiative, though not secondary, is to promote the Italian presence at Glassbuild America (Atlanta Sep. 13/15, 2021), where Italy is planning a dedicated Pavilion and to invite glass professionals to Vitrum (Milan Oct 5-8, 2021), the biennial international glass expo at his first edition after the pandemic lockdown.
The Italian Glass Industry has its own dedicated section (with history, data and company profiles) on GlassMagazine.com, launched in October of 2020.
If you are interested in organizing a B2B meeting with one of the companies involved in this project, please contact the ITA Houston office at houston@ice.it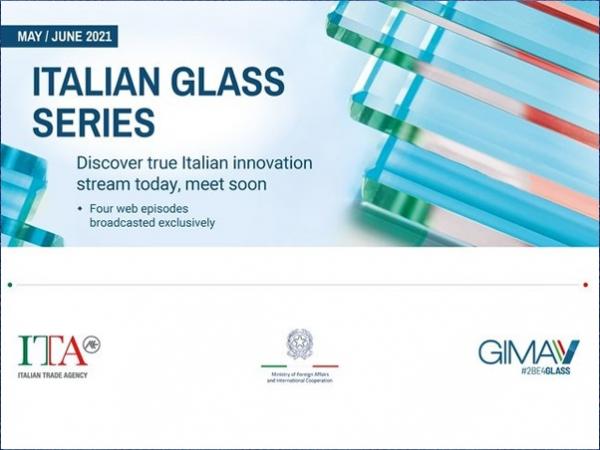 600
450
Italian Trade Agency
2021-05-06T11:02:14
Italy promotes the Italian Glass Series on the web
glassonweb.com